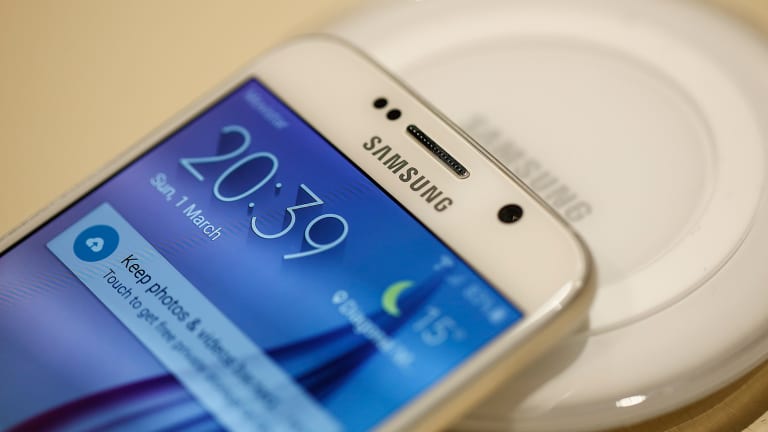 Samsung Galaxy S6 Review -- Contender for Top Smartphone of 2015
Samsung has done a great job overhauling its flagship Android phone. It's a huge improvement -- but not perfect.
NEW YORK (The Street) -- Samsung (SSNLF) really needed a winner, as its recent smartphones haven't attracted potential buyers in overwhelming numbers. Its rivals, including Apple (AAPL) - Get Apple Inc. Report, HTC and LG,have done a much better job at producing blockbuster phones that people actually want.
Well, Samsung listened.
Its Galaxy S flagship smartphone has been completely redesigned. This new phone is slimmer, lighter and just better in nearly every way. It's arguably the best phone that Samsung has ever made.
The S6 measures 5.65 by 2.78 by 0.27 inches and weighs a scant 4.87 ounces. Unlike previous Galaxy S models, there is no cheap-looking plastic to be found anywhere. Built on a strong but lightweight metal frame, the Galaxy S6's new design incorporates a Corning (GLW) - Get Corning Inc Report Gorilla Glass panel on the back. The look is stunning.
Although the new phone doesn't have largest display among Samsung's models (that honor goes to Samsung's Galaxy Note 4's 5.7-inch monster) the new S6's touchscreen measures 5.1 inches diagonally. Samsung calls it a high-definition, Super AMOLED design capable of offering 2560 by 1440 pixels (Quad HD) resolution. It looks great in almost every lighting condition we tried it in, including outdoor use on super-bright days.
Samsung has chosen not to use a Qualcomm (QCOM) - Get Qualcomm Inc Report processor this time around. Samsung had been using its own processors in previous Galaxy S models in phones sold in some Asian markets, and decided with a homegrown, 8-core Exynos 7420 chip for everyone. Without going into techno-speak, this new Samsung chip is fast and efficient.
The S6 comes with 3 GB of RAM and your choice of 32, 64 or 128 GB of storage. There is no microSD expansion slot so you have to determine how much storage you think you need in the future. The battery, unlike previous models, isn't replaceable, but can be charged wirelessly. Samsung offers optional wireless charging pads just for that purpose.
Battery life is an issue for the Galaxy S6. Used sparingly, a fully-charged S6 battery is supposed to last a full day. But that turned out to be the exception rather than the rule. On my AT&T (T) - Get AT&T Inc. Report test unit, I could actually watch battery reserves dwindle as I was using the phone.
On a number of occasions, the S6 received app updates first thing in the morning. As soon as the charger was unplugged, the downloads initiated. Two minutes later, when the installation were complete, the phone's battery level had dropped from 100% to anywhere from 92-88%. Normal juggling of three email accounts, Facebook, Twitter voice calls, a few SMS messages and an occasional online card game drained the battery at an alarming rate.
That lack of battery management would make some users think twice about using an S6 as a go-to device, especially without the ability to swap batteries.
As for connectivity, every Wi-Fi standard you might want is covered -- it offers the latest 1 Bluetooth, NFC and a microUSB 2.0 port. The single oblong button just beneath the screen is now also a fingerprint reader and it's PayPal certified.
S6 cameras have received a big upgrading too. The front shooter now measures 5 megapixels and can provide as much as 1440p at 30 frames per second. On the back is Samsung's new autofocus, 16 megapixel device with LED flash, optical image stabilization, geo-tagging, face recognition, auto-HDR and lots more.
It's capable of shooting stills with 2988 by 5312 pixels. What you need to know is this is the best camera Samsung has ever offered in one of its smartphones and competes with the iPhone 6 and 6 Plus, HTC's One M9, LG's G4 and any other premium smartphone camera you can buy today.
The phone shipped with Google's Android Lollipop, which worked flawlessly during our testing. Samsung should also be commended for reining in the amount of unneeded software to its phones. There's still a number of Samsung apps pre-installed on the phone but they do not dominate like they used to.
Overall, the Galaxy S6 is quite impressive. It is fast, thin, lightweight, feels great to hold and use and is one of the best (if not THE best) performing smartphone used to date.
It takes great pictures and videos and sounds great even though there are only 10 tiny holes on the bottom for the sound to come out. Although it was designed with fortified glass front and back, I've been extra careful not to let the S6 come anywhere near a rock-hard surface. I'm not sure I want to find out what happens if it falls out of my pocket.
Overall score
: 8.7/10
This article is commentary by an independent contributor. At the time of publication, the author held no positions in the stocks mentioned.