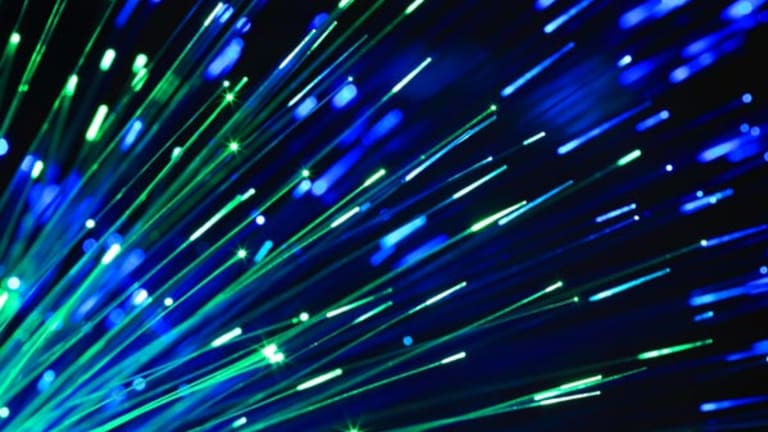 Samsung Galaxy S II: Nice Smartphone, but Time Isn't on Its Side
AT&T's recently offered Galaxy S II is a capable Android smartphone, but it's about to be eclipsed by a Verizon phone.
NEW YORK (
) -- There is good news and bad news about the
Samsung
Galaxy S II, which
AT&T
(T) - Get Report
recently started offering as its top-of-the-line Android smartphone.
The good news is that it is indeed AT&T's best Android smartphone and possibly the best of any carrier, so long as you don't require LTE.
The bad news is that the Samsung Galaxy S II suffers the chronic disease of almost every other top-tier Android smartphone in the market: As Henry VIII said to his wives, "I won't keep you long."
By Thanksgiving, the crown of Android royalty will have been passed atleast twice, first to the
Motorola
(MMI) - Get Report
Droid RAZR and then to Samsung's own Galaxy Nexus.
In the world of Android, product leapfrogging is now measured in just a couple of weeks, as opposed to a year for competing products built on the other three major competing operating systems: iOS by
Apple
(AAPL) - Get Report
, Windows Phone by
Microsoft
(MSFT) - Get Report
and BlackBerry by
Research In Motion
(RIMM)
.
With that caveat, let's examine what makes the Samsung Galaxy S II on AT&T so special in the market today.
A slightly different version of this smartphone already became available a few months ago in many international markets.
Of the three mutations of this product, the AT&T version adheres most closely to the original. The versions made for
T-Mobile USA
and
Sprint Nextel
(S) - Get Report
were modified in a variety of ways: Both have a 4.5-inch screen instead of a 4.3-inch one, the Sprint version has no GSM/HSPA for international roaming, and the T-Mobile USA version has a different CPU altogether.
Featherweight Marvel
The first thing you will notice about AT&T's version of the Samsung Galaxy S II is that it is extremely thin and impossibly light. At first, one assumes the battery hasn't yet been inserted, because the phone feels like a feather in one's hand. When one realizes the battery's installed, he's in awe.
After one gets over the (light) weight shock, the experienced Android reviewer must automatically assume the worst: Android already has a terrible battery life in seemingly every known case, so this lightest of all Androids must suffer from an even worse battery life, right?Will my other Android's crappy 2- to 3-hour battery life look more like 1 to 2 hours?
Lo and behold, fear not. Amazingly, the Samsung Galaxy S II on AT&T has a battery life better than every other Android I have tested. I can get four to six hours out of this thing! That's essentially twice as much as its Android brothers and sisters.
Another way of interpreting this test result is that this Android is the world's tallest midget. In other words, this has the best Android battery life yet, but it's still nowhere near acceptable. Nonetheless, it's material progress.
The 4.3-inch display exhibits Samsung's class-leading vivid colors andis overall the best smartphone display I have seen in the market.
That said, I also found it to be a bit dim at times. The colors are saturated and vivid, but when I hold it next to the iPhone 4S or some other Samsung smartphones, for some reason this one is dim. Perhaps I got a bad apple, but it's worth noting.
Another major plus with the Samsung Galaxy S II is that the CPU feels really snappy. In fact, it feels as snappy as any smartphone I have ever tested.
I am sick and tired of smartphones -- on any operating system -- where there is
any
delay in moving along between inputs and tasks. Seeing that this is Samsung's own CPU, what does this say about companies such as
Qualcomm
(QCOM) - Get Report
and
Nvidia
(NVDA) - Get Report
, or for that matter Apple?
I really don't care for skins that modify the "pure" so-called Nexus experience. They tend to slow things down and change things for no good reason. In this case, though, at least I don't feel like this Samsung skin is slowing things down. It just changes the interfacefor no good reason. Bad, but not as bad as most others. Clearly, this record-speedy processor saves the day on the user experience.
This smartphone has some drawbacks when compared to a RIM BlackBerry.
First, the absence of a big red blinking light when you get an email. Let alone a big red blinking light
only
when you get an email, and not when some social activity has transpired among your thousands of "friends" somewhere in the ether.
Second, the keyboard. Nothing beats the experience of a proper BlackBerry keyboard. I find the on-screen keyboard on the Samsung Galaxy S II to be good for what it is, but it still falls slightly behind that of the iPhone, even though the iPhone's screen is smaller (3.5 inches vs. 4.3, which is a big difference).
I did notice some random problems with the AT&T reception. It would sometimes simply go out entirely for a few minutes for no logical reason, even though other AT&T smartphones and tablets on my cafe table had flawless reception.
Wi-Fi tethering is an important functionality for many people, including me. My experience with it, however, tends to be unimpressive across the board for one reason: lack of stability. The connection simply goes down too often, for any number of reasons, manyof them hard to troubleshoot or basically unknown. This smartphone is no exception to this rule.
This is why I strongly prefer embedded cellular connectivity on myiPad, in my case AT&T, although
Verizon
(VZ) - Get Report
is also available. When instead of connecting using the embedded AT&T HSPA modem, I connect via Wi-Fi to the Samsung Galaxy S II, the connection eventually and inevitably just goes down.
I look at the smartphone and it says it's working ... but the iPad says it's not. Then you have to spend a minute or two resetting the smartphone before you can continue withyour "work" on the iPad. This is just too disruptive.
The argument for WiFi tethering is that it can often be cheaper than a stand-alone plan for your tablet, laptop or whatever. With all of these service interruptions, however, one really has to question whether it's worth it.
It gets tedious to reset the smartphone's connectivity often enough. I'm by no means singling out the Samsung Galaxy S II here, because it happens to pretty much every smartphone and, to some extent, to the stand-alone WiFi routers that you can buyfrom the cellular carriers.
What is the verdict on the Samsung Galaxy S II? If you absolutely need to buy an Android smartphone today, and you don't need a hard keyboard, this is your best choice if either of the two following conditions apply:
You need it to be on AT&T.
You don't need LTE, which is really only useful if you tether yourdevice to a laptop or tablet anyway.
However, if you are an LTE buff, or if you can wait perhaps as little as a couple of weeks, you will have better options. In particular, Verizon will offer both the Motorola Droid RAZR and the Samsung Galaxy Nexus probably already by Thanksgiving. Of those, the Samsung Nexuswill get Android's 4.0 operating system right away and should be theobvious choice.
Most people can probably wait three weeks, so my advice would be to wait and get the first Android 4.0 smartphone on Verizon.
At this point we do not know when AT&T will get its first Android 4.0 smartphone. I suspect that its version of the Samsung Galaxy Nexus may take as much as a month or two or more longer than Verizon's version.
In summary, the Samsung Galaxy S II gets an 8 out of 10 ... today. ByThanksgiving, that rating may fall to 6 out of 10, simply because of the phones that are expected to enter the market in the next few weeks.
That's why in Android smartphones, as with the stock market, timing is everything.
At the time of publication, the author was long AAPL,GOOG, QCOM, NVDA and RIMM.
This commentary comes from an independent investor or market observer as part of TheStreet guest contributor program. The views expressed are those of the author and do not necessarily represent the views of TheStreet or its management.
Anton Wahlman was a sell-side equity research analyst covering the communications technology industries from 1996 to 2008: UBS 1996-2002, Needham & Company 2002-2006, and ThinkEquity 2006-2008.