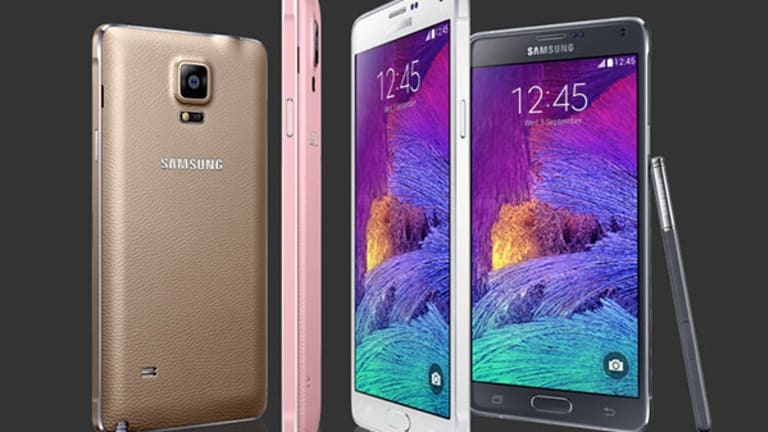 NEW YORK (TheStreet) -- As smartphones have evolved, screen sizes have gotten bigger, having really started to gain traction in 2011 with the first Samsung (SSNLF) Galaxy Note phone. The Galaxy Note 4, unveiled earlier in the fall, is a premium phone at a premium price, but it remains to be seen whether it will help turn the tide for Samsung against Apple (AAPL) - Get Apple Inc. (AAPL) Report and others.
The latest Note keeps the 5.7-inch screen size but now it's of QHD (2560 by 1440 pixels, 551 ppi density) quality. The display is protected by Corning (GLW) - Get Corning Inc Report Gorilla Glass. The U.S. version has a 2.7 GHz, quad-core, Qualcomm (QCOM) - Get QUALCOMM Incorporated Report Snapdragon 805 quad-core processor mated to 3 GB of RAM. There's 32GB of RAM and a micro-SD card slot which allows for extra storage. The rear camera measures 16MP with a 3.7 MP shooter above the screen. We found the cameras were capable of delivering terrific quality snapshots under the right conditions.
Read Now:5 Semiconductor Stocks Delivering Big Shareholder Profits Now
The famous Galaxy Note stylus, known formally as the S-pen, and its companion digitizer have been given improved functionality. There's also a fingerprint scanner and a number of other features which have been borrowed from the company's slightly smaller Galaxy S5 phone.
Just like its predecessors, this phone's frame is made of plastic, which has always been a sore point for many users. Despite the fact that plastic is one of the lightest and most durable materials to use in a phone nor does it interfere much with the sending and receiving of certain cellular, Wi-Fi, Bluetooth and NFC signals seen in other smartphones with metal casings, it's been perceived as a giant negative for Samsung. The Galaxy Note 4 does has metal trim around the edges but the case is mostly plastic. Its molded plastic is made to look like leather but it's still plastic. It's something to consider if that bothers you.
Physically, the Note 4 measures 6.04 by 3.09 by 0.33 inches and weighs in at 6.2 ounces, demonstrating just how really thin and lightweight it is. It's obvious when you pick one up and hold it in your hand. When you begin using the Note 4, you realize just how smooth and refined this phone really is.
There is a massive 3,220 mAh rechargeable battery pack inside which in our tests, under heavy use, lasted for a full day. Unlike the previous model, this phone returns to using a USB 2.0 (rather that USB 3.0) battery charger. That change means the GN4 can be recharged really quickly. Samsung claims you can get a 50% charge in only 30 minutes - about half the time previous models were able to achieve.
As for pre-installed software the Galaxy Note 4 comes loaded. It runs Android 4.4.4 and should be upgradable to Android 5 as soon as your carrier makes the software available. As with previous models, it also comes with a slew of Samsung branded apps to deal with security, productivity and nearly everything else you could think of. To their credit, Samsung engineers have done a much better job at keeping those added apps from taking full control of the device.
All four major U.S. carriers offer the Galaxy Note 4. AT&T (T) - Get AT&T Inc. Report , Sprint (S) - Get SENTINELONE, INC. Report and Verizon (VZ) - Get Verizon Communications Inc. Report will sell you the phone for $299.99 when you agree to a 2-year service agreement and T-Mobile (TMUS) - Get T-Mobile US, Inc. Report is charging $31.24 each month for two years or the full, retail price of $749.76, up front.
Our overall impression of device was smooth, as it oozes quality and class. Everything worked as described and everything operated glitch-free. It's as if Samsung added some 20W-50 motor oil inside to lubricate the parts. Programs opened quickly; Screen response was quick whether you use your fingers or the stylus (historically a feature responsible for annoying amounts of screen lag). The phone never hinted that there was a task that it couldn't handle.
However, the major question for Samsung and for potential customers remains - is all of this is enough. When the first Note phone hit the marketplace it was unique. The GN4 now has to compete with Apple's (AAPL) - Get Apple Inc. (AAPL) Report large iPhone 6 and 6+ models, the upcoming Google (GOOG) - Get Alphabet Inc. Class C Report / Motorola Nexus 6, as well as big phones from LG, Sony (SNE) - Get SONY GROUP CORPORATION SPONSORED ADR Report , Microsoft (MSFT) - Get Microsoft Corporation (MSFT) Report / Nokia and an ever-increasing number of terrific, affordable models from China. The Note 4 is a very worthy contender but this fourth generation Samsung phablet faces a giant uphill battle in the coming months.
Read Now:17 New Hollywood Movies You Will Want to See Over the Holidays
-- Written by Gary Krakow in New York.
To submit a news tip, send an email to tips@thestreet.com.
Gary Krakow is TheStreet's Senior Technology Correspondent.