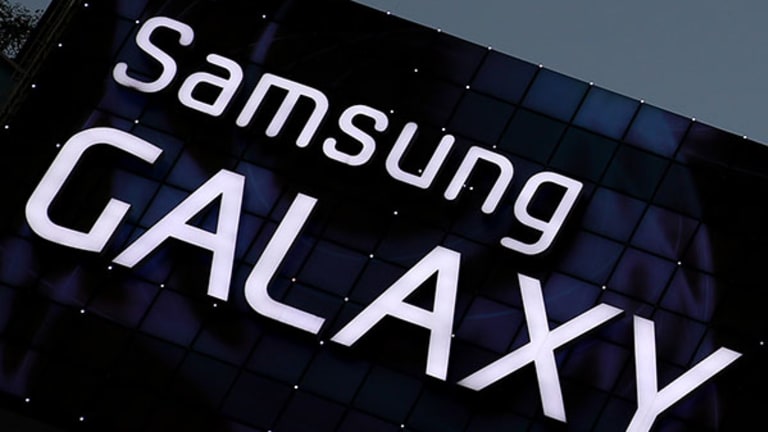 Samsung Eyes Second-Quarter 'Rally'
Samsung said Tuesday that the company expects to see profits "rally" in the second quarter and beyond.
NEW YORK (TheStreet) -- Samsung said Tuesday that the South Korean technology giant expects to see profits "rally" in the second quarter and beyond on the back of improved sales of display panels and home appliances.
"While developed markets are expected to lead global economic recovery, macroeconomic uncertainties, such as currency fluctuation in emerging markets due to QE tapering in the U.S., are expected to continue in 2014," Robert Yi, the company's senior vice president and head of investor relations said in the earnings statement. "However, we expect our overall earnings to improve starting from the second quarter, driven by improvements in the Display Panel segment and the Consumer Electronics division in conjunction with steady growth momentum in mobile and memory businesses."
Orders for display panels that are used for premium smartphones and TVs are expected to increase as new mobile devices are rolled out into the market and as consumers anticipate the upcoming World Cup in Brazil. The outlook for household appliances will also pick up on seasonal demand for air conditioners, and orders for high-end TVs based on the World Cup effect, according to Samsung.
To sustain growth throughout this year and in 2015, Samsung says it will strengthen its core business areas with differentiated products through the expansion of the next generation V-NAND market by honing in on not only the enterprise business but also the consumer-focused SSD market. For System LSI, Samsung expects to gain a competitive edge with application processors with 14-nanometer process technology.
Samsung adds that it's poised to expand its new product categories such as wearable devices, strengthen its B2B business footprint through Knox and in the education market, and make advancements in its ecosystem for device connectivity.
For the first quarter, the company posted consolidated operating profits of 8.49 trillion won, representing a 2% increase on the quarter. Consolidated net profit for the quarter increased by 270 billion won to 7.57 trillion won.
Revenues arrived at 53.68 trillion Korean won on a consolidated basis, slipping 9% sequentially due to weaker seasonality but gaining from the same period last year.
The profit and revenue results were essentially in line with the company's April 8 guidance of first-quarter consolidated revenues of about 53 trillion won and consolidated operating profit of approximately 8.4 trillion won.
-- Written by Andrea Tse in New York
Follow @atwtse
>Contact by Email