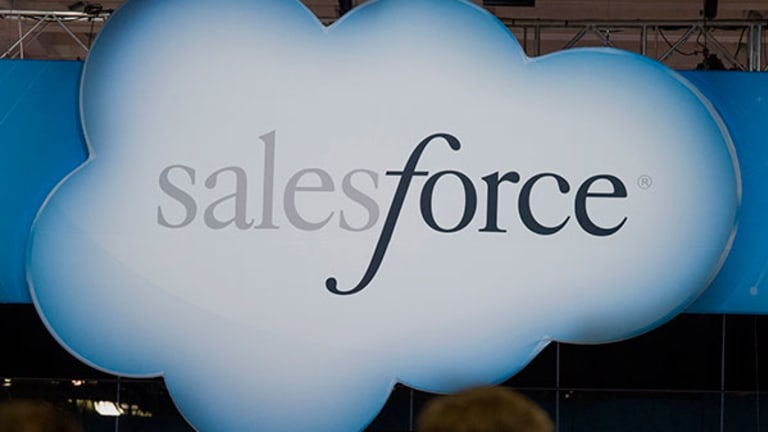 Salesforce.com Slips as CFO Decides to Retire
Salesforce.com shares slipped in after-hours trading as the company reported fourth-quarter results, and announced CFO Graham Smith is retiring.
NEW YORK (TheStreet) -- Salesforce.com (CRM) - Get Free Report was slipping 2.54% to $64.54 in after-hours trading as the cloud computing giant posted its fourth-quarter earnings results, updated its full-year projections, and announced that CFO Graham Smith is retiring.
"My more than six years at salesforce.com have been a fantastic experience -- working with so many talented people to transform the enterprise software industry," Smith noted in the earnings release. "Heading into fiscal 2015, salesforce.com has never been better positioned, and I look forward to ensuring a smooth transition over the next thirteen months."
The company said Smith will retire in March 2015 after being CFO since March 2008. Salesforce says it will initiate a search for a new CFO and Smith will help to ensure a smooth transition of his duties after a new CFO is appointed.
"Graham has made an enormous contribution to the success of salesforce.com and he has been instrumental in helping to scale our business from $750 million annual revenue when he joined the company in 2007 to over $5 billion annual revenue which we are projecting for fiscal year 2015," chairman and CEO Marc Benioff commented in the earnings statement. "We will miss him following his retirement in 2015 and wish him the best."
For the fourth-quarter, Salesforce earned an adjusted earnings of 7 cents a share on a 37% increase in revenue to $1.15 billion, which beat the average analyst estimate of 6 cents in EPS on revenue of about $1.13 billion, according to Thomson Reuters. Salesforce said that the revenues partly benefited from the acquisition of ExactTarget which closed in July 2013.
Subscription and support revenues came in at $1.08 billion in the quarter, an increase of 37% year over year. Professional services and other revenues were $70 million, an increase of 43% year over year.
Deferred revenue as of Jan. 31 was $2.52 billion, a rise of 35% year-over-year, benefited in part by the acquisition of ExactTarget, the company said.
For fiscal-year 2014, the company earned 35 cents a share excluding items on 33% jump in sales to $4.07 billion. That was better than the company's own forecast of EPS of 33 cents to 34 cents a share on revenue of $4.05 billion to $4.055 billion.
Salesforce projects fiscal 2015 revenue to be between $5.25 billion and $5.3 billion, an increase of 29% to 30% year-over-year, vs. the previous forecast of $5.15 billion to $5.2 billion. Non-GAAP EPS is expected to fall in the range of 48 cents to 50 cents. For the first-quarter, Salesforce expects non-GAAP earnings to be between 9 cents and 10 cents, on a revenue range of $1.205 billion to $1.21 billion, an increase of 35% to 36% year over year.
-- Written by Andrea Tse in New York
>Contact by Email