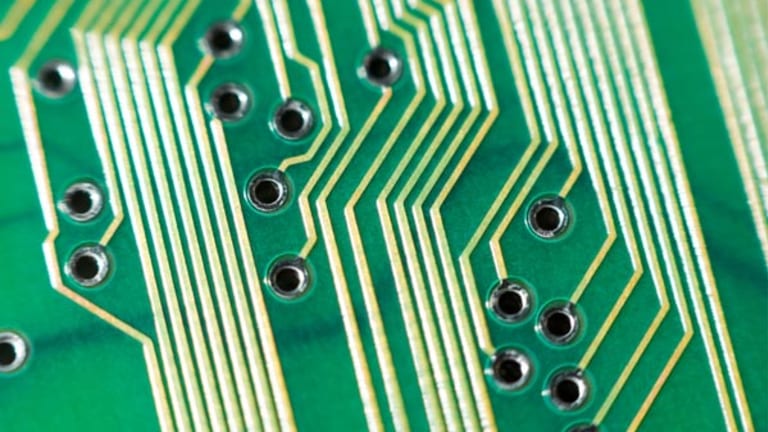 Sales Surge for Tech's Big Hitters
The recession is fast disappearing in the rearview mirror, if recent results from Apple, Google and Amazon are anything to go by.
The recession is fast disappearing in the rearview mirror, if recent results from
Apple
(AAPL) - Get Free Report
,
Google
(GOOG) - Get Free Report
and
Amazon
(AMZN) - Get Free Report
are anything to go by.
Apple
Part company, part technology cult, Apple grew its revenue by a whopping 25% during its recent fourth-quarter, boosted by strong Mac and iPhone sales.
The consumer tech giant blew past
estimates, further cementing its reputation as one of tech's
biggest hitters
.
Despite recent stumbles from gadget makers
Nokia
(NOK) - Get Free Report
,
Research In Motion
(RIMM)
and
Palm
(PALM)
, Apple has successfully side-stepped the recession and is
well-positioned
for the holiday season.
The empire of fruit has carefully carved out its brand in recent years, somehow turning technology into a lifestyle statement. Demand for Apple's clean lines and edgy design aesthetic show no signs of
, as evidenced by the iPhone's ongoing popularity.
During the fourth quarter, Apple sold almost 7.4 million handsets, a 7% increase on the same period last year. Crucially, however, the firm maintained an average selling price of $600, well above the $530 estimated by analyst firm Broadpoint AmTech. Blackberry-maker RIM, in contrast, sold its devices for an average of $325 during its most recent quarter, a figure that is expected to drop to $320.
"In our view, Apple is the best technology company on the planet, with numerous catalysts on the horizon," wrote Broadpoint AmTech analyst Brian Marshall, in a recent note. The global iPhone ramp is still in its early stages, he added, explaining that China is still an untapped market.
"The 'Apple Ecosystem' continues to build momentum, and with less than 5% share in both the global handset/computing markets, we see no reason why Apple's growth would decelerate in the near-term," said Marshall.
At least for now, things are looking rosy in Apple's world.
With netbook and
talk still swirling, the tech giant could get a further boost, and Apple is insulated against the challenges that could derail other firms.
Even if the iPhone, for example, starts to cannibalize the iPod, it will hardly be the end of the world. With millions of devotees dotted around the world, and a cash haul of almost $40 million, there is no reason why Apple cannot continue its upward trajectory.
Google
The Internet giant
its revenue 7% in its recent third-quarter, blowing past analysts estimates, and raising hopes of an ad spending
.
"Strong results and bullish commentary indicates that 2Q09 seems to have marked the trough for online advertising -- Google hit a home run for Q3," wrote Youssef Squali, an analyst at Jefferies & Company, in a recent note. "Sequential lift in pricing, resilient click volumes and financial discipline drove Google's 3Q results comfortably above consensus estimates."
Google reported revenue of $5.94 million, compared to $5.4 million in the same period last year. Excluding traffic acquisition costs of $1.56 billion, the company's sales were $4.38 billion, an 8% increase over the prior year.
Google CEO Eric Schmidt also struck a bullish tone during a conference call to discuss the results, explaining that "the worst of the recession is behind us." Already a Web leviathan entering the downturn, the sheer scale of Google's business has helped drag it out of the recession.
The company's results, for example, owe a great deal to its dominance as the top Internet ad seller Paid clicks, which refer to ads served on Google sites and those of its partners, grew approximately 14% year over year. With
Yahoo!
(YHOO)
and
Microsoft
(MSFT) - Get Free Report
barely
at Google's ankles, the Mountain View, Calif.-based firm has proved adept at winning
ad business, something that looks likely to continue.
Away from search, Google is also rumored to be planning an online
, which would intensify its burgeoning rivalry with Apple.
The company's stock is trading around $554, close to its 52-week high of $561.64. Google's shares, however, could trade even higher, according to recent
price-target
increases. Canaccord Adams, for example, says that the company's stock could reach $700.
Amazon
Observers have leapt on Amazon's third-quarter numbers as evidence of improving consumer confidence. The online retailer posted a massive
as the company's sales jumped 28% to $5.45 billion.
The Kindle e-book was Amazon's bestselling item by both unit sales and dollars, setting the company up nicely for the holiday season. The retailer also enjoyed strength across its main business unites, with media sales growing 17% to $2.93 billion. Electronics and other general merchandise sales were also up, growing 44% to $2.36 billion.
Amazon's international sales were also positive, climbing 33% year-over-year to reach $2.61 billion.
Like Google, Amazon can count on massive scale, enabling the firm to quickly reap the benefits of an improving economy. Although facing price wars with online and offline retailers, the company is expected to continue its share gains against rival
eBay
(EBAY) - Get Free Report
.
"Amazon's surprisingly strong 3Q results attest to a recovering consumer and to the company's superior proposition of massive product selection at very competitive prices," wrote Jefferies & Company's Youssef Squali. "While headline risks remain, we're upgrading the stock to Buy on acceleration growth in Media, EGM and international business."
-- Reported by James Rogers in New York