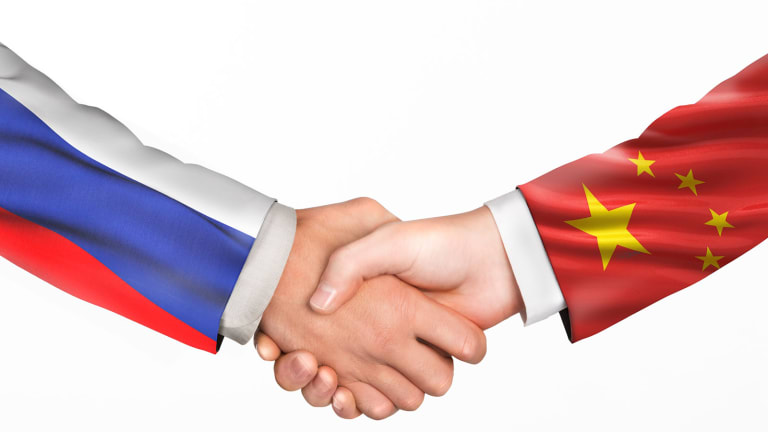 Russia, China Agree Not to Hack Each Other -- What It Means for U.S.
While an official pact likely won't mean much in concrete terms, it could increase tensions between the two countries and the U.S.
NEW YORK (The Street) - In a strange, albeit hardly unprecedented, move, China and Russia have signed an official agreement not to hack each other.
According to the 12-page agreement (written in Russian), along with text posted on the Russian government's website, the two countries have also agreed to jointly work against technology that would "destabilize the internal political and socio economic atmosphere," "disturb public order," or "interfere with the internal affairs of the state."
What does this mean for global cyber-conflicts in the future?
Not much, at least directly, according to James Lewis, the Director and Senior Fellow of the Strategic Technologies Program at the Center for Strategic and International Studies (CSIS), a Washington D.C.-based think tank. "The Chinese and Russians created the Pact to annoy the Americans. It doesn't have much meaning other than that," he said. "They won't stop spying on each other. It's a symbolic and political agreement, not operational."
Adam Segal, the Director of the Digital and Cyberspace Policy Program at the Council on Foreign Relations, concurs that the agreement is "not likely to have a huge impact on the U.S. There will be real questions about whether the two sides implement what they have signed. Symbolically [it's] a poke at Washington."
Although this new agreement is mostly a paper tiger, experts agree that it will likely increase tensions between the U.S. and China -- particularly, over trade and internet access. These conflicts could encompass everything from banning the use of Western technology and the development of different software, to restricting the kinds of development that take place.
According to Richard Bejtlich, the Chief Security Strategist at FireEye (FEYE) - Get Free Report a cyber security consulting and solutions company, as well as non-resident Senior Fellow at the Brookings Institution, "The 'no hack Pact' is another sign that countries like Russia and China are less likely to rely on American, and more broadly, Western information technologies." 
From a market development perspective, this development is not promising. As Bejtlich said, "They are each pursuing indigenous IT projects, including software and hardware, which will reduce market opportunities for Western companies."
That said, most experts also agree that the new agreement is unlikely to create a new 'cyber Cold War.' According to Lewis, "They [China and Russia] won't coordinate actions against the U.S. It's just too hard and there is too much distrust."
Must Watch: Arm Your Portfolio With Cyber Security Stocks as Threats Increase
Beijing and Moscow also favor changes to global internet governance that will inevitably reduce the traditional dominance of the U.S. in this space. Russia is preparing an action plan to stabilize if not harden its own national internet infrastructure. China is proposing to update its national security law in the name of 'cyberspace sovereignty.' As Lewis explained, this appears to be an international offshoot of the 'Code of Conduct' for cyber security.
"Both the Russians and the Chinese would like to return to a more traditional, pre-1945 definition of sovereignty, where states could do what they wanted within their own borders," he said. "The [Sino-Russian cyber] Pact pushes their point about national sovereignty being more important than universal values." 
Segal believes that the real implications of the Pact create "a hardening of two distinct views of cyberspace -- one, global and open, the other, one in which national borders and sovereignty dominate." Segal also thinks this agreement will have industry implications that flow from that. Segal expects to see "increased restrictions on social media operators in Russia and demands for intellectual property rights and source code from China for security reasons."
Bejtlich thinks that the fact that the Russians and Chinese would make a statement like this by signing an agreement is not surprising, given both countries' perspective and history. "Russia and China use more expansive definitions of war, to include not only physical conflict, but conflict in economic, financial, moral and cultural terms," he said. "Often the Russians and Chinese see the West already at 'war' with their societies and values."
As a result, Bejtlich's view is that "2015 is not like 1995 or 2005. Expect continued resistance, and persistent, aggressive theft of company data overseas and domestically."
Similarly, Lewis says that the signing of this new cyber security mutual 'no hack' Pact is not so much a statement about cyber security per se but rather "a political game."
"The ex-communists haven't bought into our ideas or our international structure," he said, "and now they are trying to create an alternative."