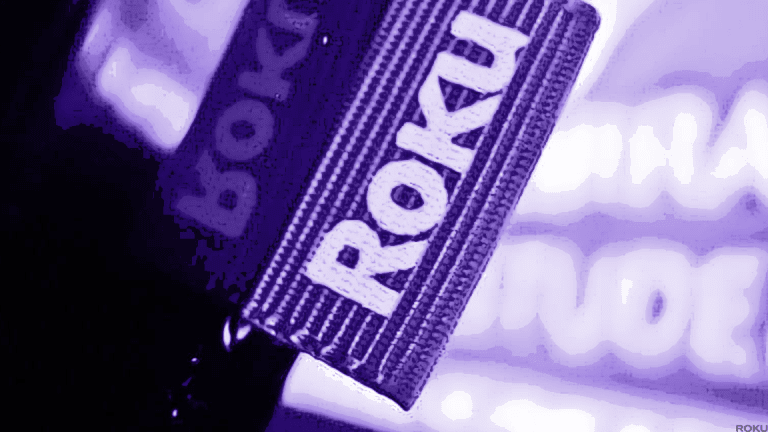 Roku's Stock Is Worth a Look Following Its Post-Earnings Plunge
Though a couple of numbers in Roku's latest earnings report disappointed, the company still has a lot of headroom to monetize a large, rapidly growing and highly engaged user base.
Investors who like Roku's (ROKU) - Get Free Report story but were nervous about chasing its stock as it soared into the $70s should give the streaming hardware and platform provider a fresh look now that it's back near $45.
Roku, which had gone into earnings up over 300% from its $14 Sept. 2017 IPO price, fell 22% on Thursday after it beat Q3 estimates but missed expectations for its high-margin "Platform" revenue, which covers things like ad sales, smart TV licensing fees and a "content distribution" business that takes a cut on subscription sign-ups and content purchases that happen on Roku's platform. After rising 96% annually in Q2, Platform revenue rose 74% in Q3 to $100.1 million, slightly below a $103.2 million consensus.
In addition, while Roku's Q4 revenue guidance of $255 million to $265 million is above a $258.8 million consensus at its $260 million midpoint, gross profit guidance of $103 million to $110 million is below a $109 million consensus at its $106.5 million midpoint. On the earnings call, CFO Steve Louden noted a mix shift within Platform revenue -- it accounts for the lion's share of Roku's gross profit -- toward video ads, together with seasonal weakness for Roku's Player (hardware) margins, will weigh on Q4 margins.
Roku appears to have attracted a fair amount of "hot money" as its shares blasted off in August and September following a strong Q2 report, and it looks as if a lot of that hot money fled for the exits following the Q3 report. Together with the fact that markets have been in a pretty unforgiving mood lately regarding tech companies that have missed sell-side expectations, and Roku arguably saw a bigger drop than what its numbers warranted.
While Platform revenue slightly missed consensus, comments made in the Q3 shareholder letter and on the earnings call suggest that slower growth for Roku's licensing and content distribution businesses, declared to be "lumpy" on a quarter-to-quarter basis, were responsible. Content distribution growth is said to have grown at a pace similar to active account growth, which on an annual basis came in at 43%.
On the flip side, Roku's ad business, which now accounts for over two-thirds of Platform revenue, is still seeing tremendous growth. And it's the ad business -- the video ad portion of it, especially -- that's Roku's biggest long-term profit opportunity.
Video ad sales more than doubled annually in Q3, and management indicated momentum remains strong for the ad-supported Roku Channel, which is now available on the web and via Samsung smart TVs in addition to the Roku OS. And as noted in the shareholder letter, the company has put a lot of work into both leveraging its user data to deliver targeted ads, and to work with third parties to help advertisers gauge the effectiveness of their ads. The "audience development" portion of the ad business, which covers offerings such as display and e-mail ads meant to help owners of third-party Roku channels grow their audiences, also did well.
To some extent, Roku's ad opportunity is limited by the fact that it's not able to sell video ad inventory within some of the most popular apps on its platform, such as Netflix (NFLX) - Get Free Report , Prime Video and (since it handles ad sales on its own) YouTube. Nonetheless, considering how much streaming usage Roku's platform is now responsible for, and how much growth remains ahead of it, there's still a tremendous opportunity in front of the company and its relatively lightly-monetized platform as video ad dollars continue shifting towards online content.
Despite ongoing competition from Amazon.com (AMZN) - Get Free Report and Apple (AAPL) - Get Free Report , active accounts rose 43% in Q3 to 23.8 million. And there's a lot of room for additional growth. Roku notes that over half of its Q3 new account adds came via Roku-powered smart TVs, and with the company only estimating that "more than 25%" of smart TVs sold in the U.S. are currently Roku-powered. In addition, the company's hardware business has been holding its own -- Player revenue rose 9% in Q3, and reviews for the recently-launched, 4K-capable, Roku Premiere and Premiere+ sticks have been pretty good -- and it generally has low penetration rates in the European and Latin American markets it has launched in.
Meanwhile, streaming hours grew 63% to 6.2 billion -- that's better than Q2's 57% growth and implies a healthy 261 hours of streaming per active account. And Roku's Q3-ending ARPU -- defined as its total Platform revenue for the prior four quarters divided by its active accounts over that time -- was a modest $17.34. Even after accounting for the active account growth seen during the past four quarters, this might translate into less than $1.75 per month.
While Roku's stock isn't the kind of bargain it was around IPO time, its ARPU and account growth opportunities still arguably make its current $4.9 billion valuation a reasonable one. A sub-$5 billion valuation for a streaming software and services platform that claims over 23 million active users and high usage rates, and which could possibly have over twice that many active users in a few years' time, doesn't look that bad even if there happen to be some short-term hiccups.
Make Money on Closed-End Mutual Funds. TheStreet's Robert Powell recently hosted an all-star panel of experts who explained everything you need to know about closed-end mutual funds, an often-overlooked investment class. Click here to register and watch for free.
Jim Cramer and the AAP team hold positions in Amazon and Apple for their Action Alerts PLUS Charitable Trust Portfolio. Want to be alerted before Cramer buys or sells FB? Learn more now.