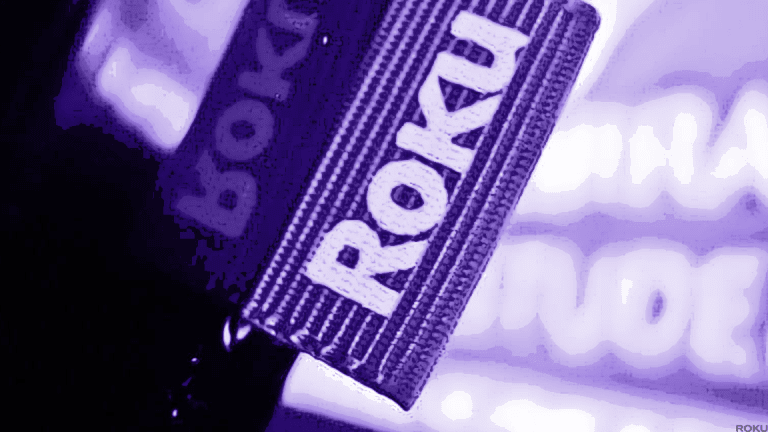 As Roku Plunges, CFO Advises Looking Past 'A Bit of Noise'
Roku's shares plummeted after Wednesday's earnings report offered no upside to Q4 revenue forecasts, but CFO Steve Louden was upbeat about the arrival of Apple TV+ and Disney+.
Shares of streaming media pioneer Roku (ROKU) - Get Roku, Inc. Class A Reporthad a rough Wednesday night despite better-than-expected third-quarter results, falling as much as 16% in late trading, and they were down roughly the same amount on Thursday morning, at around $118 or so.
But Roku's chief financial officer, Steve Louden, told TheStreet to look past all that.
"We don't comment on the stock price," he said in an interview with TheStreet following the report. "We focus on the things we can control, like are we in the right place with competitive moats."
"There is potentially a bit of noise out there," said Louden, adding, "we feel good about the quarter itself, and where we are right now in the middle of these big industry trends."
Louden was referring, of course, to the arrival in recent days of Apple's (AAPL) - Get Apple Inc. (AAPL) Report  Apple TV+ streaming video service, which went live last week with a limited roster of shows, for $4.99 per month, as well as the imminent arrival of Walt Disney's  (DIS) - Get Walt Disney Company Report own "over-the-top," or OTT, offering, Disney+, coming next month.
Those marquee product debuts make it a busy, somewhat confusing time for streaming video investors. Louden's argument is that as a platform that will carry both Apple's and Disney's offerings, on top of the Netflix (NFLX) - Get Netflix, Inc. (NFLX) Report offerings the company already carries, Roku is "essential."
"When they win with new subscribers, we also win," said Louden of Apple and other content owners. "As the number one streaming platform in the U.S., we are a natural place for them to go build new audiences."
The proximate cause of the stock drop may have been a couple metrics that were not bad in themselves but that may not have met the most bullish investor expectations. 
Top- and bottom-line numbers were fine, with revenue of $260.9 million and net loss per share of 22 cents beating the consensus for $257.64 million and negative 25 cents. The outlook for this year's revenue is for $1.106 billion, which is right in line with consensus.
Louden told analysts on the conference call that the forecast includes the company's expectations about the impact of Disney and Apple's new offerings, however, and that may have spooked some given it includes no upside. Total subscribers to Roku rose 1.7 million during the quarter, to 32.3 million.
Of potential concern to investors, the gross profit margin this quarter is projected to decline, and the company cut its outlook for Ebitda. On the call, Louden, along with founder and CEO Anthony Wood, downplayed those two blemishes. The decline in gross profit margin projected for this quarter is consistent, they said, with Roku showing more and more video ads, which come with a lower average gross profit than other aspects of the platform. And the cut in Ebitda is a result of investment in the business, they said. 
The sharp stock drop may also reflect the fact the stock had been up a whopping 360% this year heading into the call, and trades at 16 times this year's projected revenue, while still losing money. That may have prompted some after-hours profit taking. 
Given that Roku shares dropped back when Apple TV+ was announced, TheStreet asked Louden if Apple TV+ could potentially pull subscribers away from Roku more than it helps -- the service is, after all, being offered for free for a year with the purchase of a new Apple device. Louden replied by noting the many ways that new streaming services can boost Roku's business. It might be directly, via marketing dollars the majors spend to bring in new subscribers, but it can also have an indirect benefit.
"People are now incentivized to come to the platform because of Disney+ or Apple+, and we capture more video on the platform," he said. Viewers who initially come looking for Netflix on Roku, for example, see their viewership "broaden" from there to other content. 
"It's all good for us," he said of the expansion of competing offerings.
Roku management has consistently reminded Wall Street that the biggest challenge is getting advertisers to move their traditional linear TV advertising budgets -- $70 billion annually -- over to OTT. Moving that spending is "the single biggest lever Roku has," said Louden. A recent study by advertising agency consortium Magnet Global indicated that while 29% of TV viewing is moving to streaming, only 3% of ad dollars are moving over at this point. 
Will that shift ever surge in a kind of hockey stick inflection, TheStreet asked Louden. The math of advertising on OTT is "pretty compelling," said Louden, but, "I'm not sure I want to speculate how fast it catches up," he said. 
Of course, mobile phone internet usage surged before ad dollars finally caught up, and, "we believe that needs to happen with OTT," said Louden, "but we don't have a good sense when it will happen."
In the meantime, Louden said the main metric for Roku investors to watch is "monetized video ad impressions." Roku doesn't actually reveal the number for that metric, but it comments qualitatively about it. They more than doubled again this quarter, Louden said. "That's a measure of how fast our piece of those impressions are moving over" from linear TV. The figure continues to grow faster than Roku's total number of streaming hours watched or active account growth, he said.  
Beyond what happens with Roku as a result of Apple TV+ and Disney+ this holiday season, the next big test for Roku will be when it reveals details about its international expansion, something investors are eager to learn about. Expect more on that in early 2020, said Louden. 
Apple and Disney are holdings in Jim Cramer'sAction Alerts PLUS Charitable Trust Portfolio. Want to be alerted before Cramer buys or sells these stocks? Learn more now.
Tiernan Ray neither trades nor owns any shares of any companies discussed in this article.