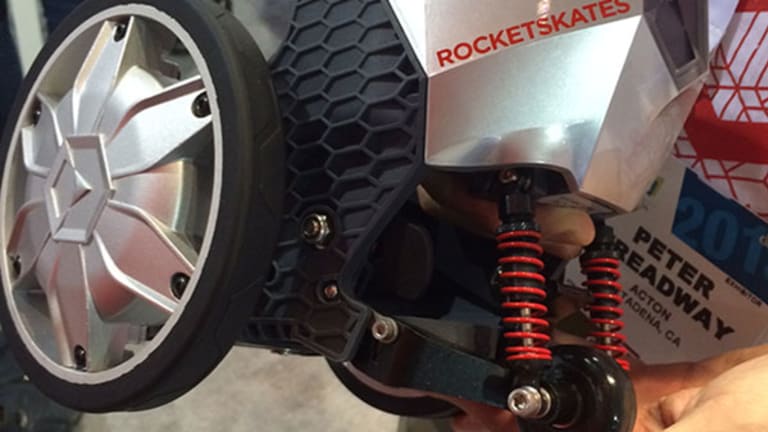 Publish date:
Rocketskates Unveiled at CES Offer Futuristic Mobility for Superheroes
Meant to be motorized shoes, Rocketskates are designed to be motorized shoes that you can wear all day to zip around town.
Meant to be motorized shoes, Rocketskates are designed to be motorized shoes that you can wear all day to zip around town.
LAS VEGAS, NEV. (TheStreet) -- Go, go, Gadget, go!
The Inspector Gadget would get a kick out of Rocketskates, a pair of motorized "smart" skates that strap to your shoes and propel you about town at speeds as high as 12 miles per hour.  
The skates, born as Kickstarter in July of last year, are making their public debut for the first time at the International Consumer Electronics Show (CES) in Las Vegas, Nev. And just like everything like here, the skates most certainly connect to an Apple (AAPL) - Get Report iOS app so speed skaters can be in the know about the whereabouts of other skaters, monitor battery life, or upgrade to more challenging modes.
"It's kind of like being a superhero," Rocketskates CTO Peter Treadway told TheStreet. The skates, he said, were inspired by speedy cartoon characters such as Wile E. Coyote and Inspector Gadget, but serve a practical purpose as a mode of transportation as they're meant to be motorized shoes. And, theoretically, you can wear them all day, though that's probably not very practical, especially since they'll need to be recharged after six to 10 miles of usage.
Each Rocketskate has two hub motors controlled by on-board microprocessor, and they're powered by lithium-ion battery. To use, you strap yourself in, turn on the skates, and kick start your way to cruise control. There is a bit of a learning curve. Riders, for instance, need to know the basics like always having one foot in front of the other, tilting forward to move, using your heels to slow down, and staying on your tippy toes when just walking around.
"It's a blue sky," Treadway said of Rocketskates' "wearable transportation" market. "We're not trying to get into some market. We're creating the market."
In creating the market, the company will need to come with up with some type of raison d'être. The superhero one probably won't fly with the mass market, especially since the skates are a little tricky to use. I gave Rocketskates a go -- or at least I tried to. I couldn't manage to properly kick start the engine and get moving, though others at the Rocketskates booth, which had many onlookers, faired much better than I did.
Rocketskates come in three varieties with the cheapest model retailing for $499. The company's backers on crowdfunding site Kickstarter -- the bunch supplied $550,725 in financing -- are in the process of receiving their shipments. The skates are currently the sole product of Acton, which has raised seed funding outside of its successful Kickstarter campaign, and plans to release two additional products this year.
--Written by Jennifer Van Grove in San Diego, Calif.
>Contact by Email.