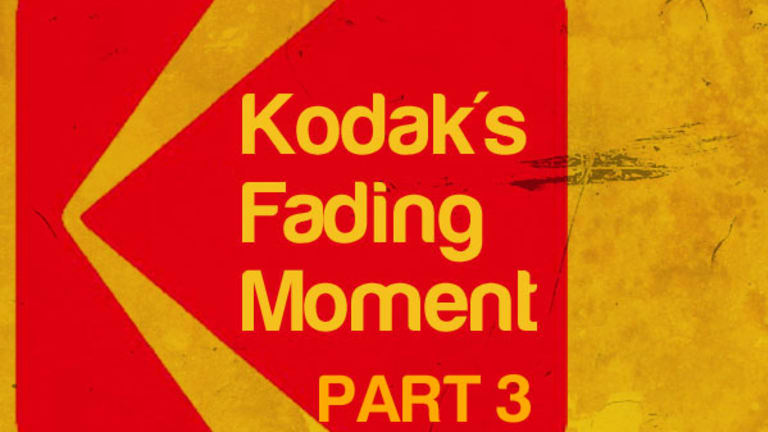 Rochester's Rise Amid Kodak's Demise
Rochester, N.Y.'s population and work force are larger today than at the height of Kodak's power. This is the story of why Rochester didn't end up like Detroit.
Part 3 in a series about Eastman Kodak
ROCHESTER, N.Y. (
) -- Sandy Parker stepped into an elevator with a man and the two struck up a brief conversation about Rochester, N.Y.
"
Eastman Kodak
, is there anything left of your town?" the man asked.
"It was tough, emotionally," Parker said, recalling how she felt when the company filed for bankruptcy.
Parker is chief executive of the Rochester Business Alliance and has been actively involved in the business community there since the 1980s. She helped place workers who were part of the first massive Kodak cuts in 1983 and still keeps an eye on the former photographic filmmaker's emergence from bankruptcy.
Jim Senall, who is involved in supporting Rochester start-ups, said he had a similar experience when close relatives -- his brothers -- asked him on the day of the bankruptcy how Rochester could survive.
But when asked if Detroit's tumble and bankruptcy foreshadows Rochester's fate, Senall and Parker raise eyebrows and grin.
Since the peak of Kodak's hiring in the 1980s, when it employed more than 60,000 people in Rochester, total employment in the metropolitan area has risen to some 520,000 from about 414,000. The population of the area has grown to about 1.1 million from 971,000.
Kodak's multi-decade fade and its descent into bankruptcy didn't spell an end to Rochester, known affectionately as the "Flower City." Unlike Detroit's plight thanks to the decline of the U.S. auto industry, the agonizing fall of Rochester's corporate icon may be supporting an emerging renaissance.
The city's sprawling hospitals, major universities and a burgeoning high-tech manufacturing sector trace their roots to Kodak or its founder George Eastman.
These industries create the spine of a city that today employs more workers and has a larger population than it did at the height of Kodak's power. And it's why Senall, the president of non-profit High Tech Rochester, calls Kodak's bankruptcy a "nonevent" to most Rochestarians.
***
There are literally miles of Kodak's old industrial complex, which includes dormant factories, a power plant, a water treatment system and waste facilities, in addition to a private railroad, that are playing a part in Rochester's move beyond its corporate benefactor.
Eastman Business Park, once the world's largest manufacturing facility and still among the global elite, stands out as an expression of Rochester's ascendance amid Kodak's decline.
The company
demolished more than 100 buildings
and
sold or spun off many of its old business divisions
, but shrinking Kodak is selling and leasing for commercial and industrial use more than 2.5 million square feet of existing facility space and more than 300 acres of developable land, according to the park's Web site.
The park's occupants include more than 45 companies and at least 4,500 non-Kodak employees, according to the Rochester Business Alliance. One of its largest occupants is
Johnson & Johnson's
(JNJ) - Get Free Report
Ortho Clinical Diagnostics, which employs approximately 1,150 people at its Rochester location.
Eastman Business Park Director Michael Alt and Kodak spokesman Chris Verdona declined to comment about the office park, but others in Rochester's business community said it's a great fit for the city's growing high-tech manufacturing sector.
For starters, the complex is self-sufficient and has the capacity for optics and imaging companies as well as medical devices.
Carestream Health
(a former Kodak property) produces medical film and digital imaging solutions.
Optimation
designs, fabricates, installs and maintains manufacturing systems.
Cerion Energy
works in the space of nanotechnology. These businesses were able to move into the business park with much of the infrastructure already in place for their highly specialized sectors.
Bill Pollock, age 65 and founder of Optimation, works in the park and has current and former ties to Kodak.
A slim man, with a square frame and silver hair, he said he started the company by himself in Rochester in 1984. Pollock worked at Kodak for 11 years, which is a short amount of time compared to other former employees interviewed by
TheStreet
who worked there 20 years, 30 years or more.
When asked if he would call himself a Kodak employee who became an entrepreneur, Pollock chuckled and said he was an entrepreneur who worked at Kodak a little while. Optimation was Pollock's idea, but he said Kodak's training and once-hefty endorsement for research and development in disruptive technology influenced him and his company.
Coincidentally, Pollock has now entered into an agreement with Kodak to produce touch-screen sensors by licensing the former photographic filmmaker's silver halide technology.
The deal is with Optimation's Kingsbury Corp., which Pollock said he purchased for a good price as the company was struggling. Pollock said the touch sensor industry is projected over the next "four or five years" to be worth $150 billion.
All tablet interfaces, including
Apple
(AAPL) - Get Free Report
iPads and iPhones,
Microsoft
(MSFT) - Get Free Report
Windows-based tablets, emerging touch-screen monitors, and other touch technology require these sensors so that capacitors can respond to your finger movements.
Until recently, most touch-screen sensors have used indium tin oxide (ITO). ITO is transparent, so you see through it when you're on, say, your iPad. But ITO is brittle and rare.
This is where Kodak and Kingsbury come in.
The silver halide-based sensors aren't as transparent as the ITO ones, but Pollock argued that the sensors are ultra-thin and invisible to the naked eye. Silver halide's advantages are that it's more common and less expensive than ITO.
When asked why no one had been producing silver halide sensors before, Pollock said it's because the demand for touch screens wasn't outrunning the supply of ITO sensors. Now, with major tech companies ramping up touch screen products, producers are rushing to find other sensor conductors, like silver -- some are even experimenting with copper.
Kingsbury has the ability to produce Kodak's technology, which would have been difficult for the imaging company to handle because it has very little capital to start up new product wings as it emerges from bankruptcy. Pollock would not say exactly how long the licensing agreement was for, but did say it would be for "several years." Optimation's 2012 revenue was in the $60 million to $70 million range.
***
If the July bankruptcy of Detroit revived worries about the state of manufacturing jobs in U.S., Senall, the High Tech Rochester head, spends his time in Kodak's shadow on the front lines of what could be a renaissance.
In a global marketplace that can quickly make pioneering products all but obsolete, as was the case with Kodak's film business, Rochester's unheralded breed of startups may occupy a niche in manufacturing and technology markets that can sustain skilled workers.
Senall, who currently works with about 25 businesses and helps to advise 250 entrepreneurs a year, says Rochester's entrepreneurial future rests on businesses that serve specialized imaging, biofuel, technological fabrication, optics and medical device markets.
Incidentally, for the first time in a generation, Kodak may be moving in the same direction as Rochester, after the company shed over 40,000 workers in the past decade but the city saw employment hold up steady.
As Kodak exits bankruptcy, investors in the company say it will be marketed as at a convergence between technology and manufacturing.
Kodak will emerge as a commercial printing company that has the capability to manufacture high-end battery, circuitry, packaging, digital imaging and semiconductor products. Unlike film or consumer printing, those markets are expected to see stable growth in coming years and could position Kodak for its first growth spurt in over a decade.
If the last people heard of Rochester was Kodak's bankruptcy, the city and its corporate icon deserve a second look, said Senall.
California, Boston, Austin, Texas and New York City are seen as hotbeds of entrepreneurs and venture and seed capital investors. Rochester, so far, has garnered the interest of investors with funds of about $10 million. Senall said larger funds have been sniffing around Rochester in recent years, however, it could take a $50 million-to-$100 million seed capital fund to really peak outside interest.
"
My job is to be a little bullish on the economy, but with what I see every day, I really think that it is exciting," Senall said.
***
Videk
is another company that's leading high tech manufacturing in Rochester and traces its founding directly to the research and development labs of Kodak.
The company is a 20-minute drive from downtown. Tom Slechta, Videk's CEO, sits on a chair surrounded by tech trinkets, cameras and rolls of fake checks inside his manufacturing room.
The company produces machine vision automated inspection. In other words, his team of engineers, developers and "solution architects" create software and custom-rig digital cameras and other technology to scan the integrity of labels, checks, bank statements, packages and more.
Slechta said his business partners include the Treasury Department, the U.S. Postal Service, Kodak,
Canon
,
Hewlett-Packard
(HPQ) - Get Free Report
,
Xerox
(XRX) - Get Free Report
, financial institutions (he won't say which ones, but hints that they're large national banks) and others.
An example to illustrate the process, Slechta said, is with its automated inspection of Treasury checks. Videk's cameras can verify the integrity of up to 40,000 Treasury Department checks per hour with 100% accuracy.
Another way to explain the process is if a financial institution wants to be sure the bank statement of John Doe actually gets mailed to John Doe and not Jane Doe, they go to Videk.
The company was spun out of Kodak more than thirty years ago, and some of the engineers who still work there today had helped build the division when it was part of Kodak. Slechta, who has a bio-medical background, said
Bausch & Lomb
recruited and hired him at a young age. Soon, though, he left the eye care company and headed for Videk after it spun out of Kodak.
When asked about Videk's use of cameras and its ties to Kodak, Slechta said Kodak came to them in the late 80s to help design and develop an industrial camera using its megaplus pixels sensor elements.
"So, that kind of was a start of digital cameras, if you will, for Kodak," Slechta said.
The trial didn't work at the time as the cameras were worth thousands of dollars, but Slechta said it was a good idea for Kodak to prototype the function and see what they could do with it.
Beyond Videk's digital cameras, former Kodak employees and status as a former Kodak division, you can find the former photographic filmmaker's footprint in the smallest places at this smaller firm. There's an entire wall in the manufacturing room that has drawers devoted to various trinkets -- bolts and screws, as well as electronic parts -- used for the verification systems. The drawers, though, are labeled with "K-" and then a number. Slechta said that's how Kodak categorized parts. Videk still uses the same system.
***
A reawakening of Kodak's sprawling Eastman Business Park could be an added tailwind for the city and its entrepreneurs. In June, Kodak and the State of New York established a $49 million environmental trust to address company's environmental obligations into the future.
The deal, agreed in Kodak's bankruptcy process and supported by New York Governor Andrew Cuomo, could restart some of the park's industrial capability and attract new businesses.
Kodak, which is poised to exit bankruptcy in the third quarter, meanwhile, believes it can attract new talent to the company as it pursues higher growth markets that could support rising earnings. The company may restart college recruiting and general hiring programs after it exits bankruptcy.
Though job cuts at Kodak lasted decades, talented workers remained in the area.
In the earliest days of Kodak's decline, the company lavished laid-off workers with generous severance and benefit packages that were the seed for new businesses.
Many former Kodak employees in Rochester have been absorbed into small and mid-sized local companies. Some have started their own firms. It has helped to make Rochester a rare center in the U.S. for 21st century jobs and one that is somewhat insulated from the economic change that devastated the metropolis' rust-belt neighbors.
Even if Kodak's bankruptcy had yielded a liquidation, the company's influence would be irrevocably felt in the city.
While entrepreneurs such as Pollock, Slechta and Senall are helping with the rising number of jobs, it is Rochester's hospitals and universities that are the city's biggest employers. And those world class institutions trace back to the generosity of Kodak's founder George Eastman.
"It's a university town," said Larry Matteson, a professor at the University of Rochester's business school. "It's gone from an industrial town to a university town."
Despite decades of struggles of former blue-chip, Fortune 500 companies that called the western New York city home, like Kodak, Bausch + Lomb and Xerox, a bustling private sector has remained.
Inside the George Eastman House, about 8 minutes from downtown, curator Kathleen Connor dumps a large rectangular cardboard box full of old newspaper clippings on a table in her office.
She said she's collected as many articles about the company's history since she arrived at the Eastman house in the 1980s.
"I chose to stay here in Rochester, N.Y. ,and live and raise a family because it's a great community. You can find a job. You can own a car. You can go on a vacation. You can send your kids to good schools, and we have access to some wonderful healthcare," Connor said. "I think that the community still benefits from many of the things Mr. Eastman gave to our community."
Read Part 2 of Kodak's Fading Moment: "Kodak's Bankruptcy: Manufacturing a 21st Century Rebirth"
Read Part 1 of Kodak's Fading Moment: "Kodak: The End of an American Moment"
-- Written by Joe Deaux and Antoine Gara in Rochester, N.Y.
>Contact by
.