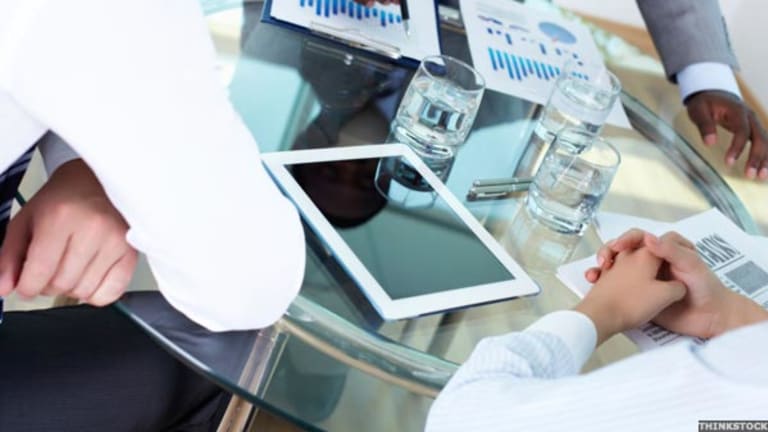 RIM's PlayBook Has Unanswered Questions
Research In Motion has certain issues to resolve before the PlayBook is launched on April 19.
NEW YORK (
) -- For a product that hasn't been made available in its final form, even for a full journalistic review,
Research In Motion's
( RIMM) PlayBook sure is taking a lot of heat. As it turns out, however, some of the negative suggestions appear to be focusing in the wrong area.
For example, one misplaced area of PlayBook criticism is the idea that it somehow can't do email, except when tethered to a BlackBerry smartphone. The answer is that you can access your email through the same browser that you use on a PC or laptop or for that matter the
Apple
(AAPL) - Get Report
iPad. Just go to Gmail, Hotmail, Yahoo or your Outlook Web Access page; nothing unusual here whatsoever. Email (or calendar for that matter) isn't the PlayBook's problem, even from day one.
However, there are many other fundamental unanswered questions with respect to the PlayBook's ability to have a successful launch -- including getting successful journalistic reviews. RIM had better have good answers to most of these questions well before the April 19 launch.
Let's say I buy a PlayBook and want to tether it to my BlackBerry when I'm on the train or when I'm simply walking down the street. Here is what I need to know:
1. Is my current BlackBerry capable of doing the requisite Bluetooth tethering to the PlayBook? If it isn't, when will a software upgrade be available? The cellular carriers have been notorious in delaying OS software upgrades to BlackBerry devices in the past, sometimes by as much as year after they are first introduced. Of course, the same could be said about Android's OS upgrades.
2. What will the cellular carriers charge for tethering the PlayBook to the BlackBerry? So far, they have said nothing as best I can tell. Does this imply that it will be free, that it will simply be part of an existing BlackBerry data plan? If so, kudos to all involved! If not, we deserve to know immediately.
3. What about the data speeds when tethering from the BlackBerry to the PlayBook? This in turn opens up three main cans of worms:
A. Bluetooth is not known for heavy-duty multimedia speed grade tethering speeds. While the Motorola (MMI) - Get Report Xoom will soon be capable of 10 Mbs or more while on LTE, the PlayBook may be constrained to something closer to 1 Mbs if fed Internet via Bluetooth;
B. No current BlackBerry accesses the Internet using HSPA+, LTE or WiMax. This means Internet speeds would likely be relatively close to 1 Mbs, even if not constrained by Bluetooth. HSPA are EV-DO just aren't competitive anymore;
C. Let's say that in addition to a BlackBerry, you also carry a WiFi hotspot. This could be a stand-alone device from companies such as Novatel (NVTL) (MiFi) or Sierra Wireless (SWIR) - Get Report (Overdrive), or it could be a smartphone so equipped, such as Android, iPhone or Palm. Could you get your email/calendar data via Bluetooth while simultaneously connected via WiFi for the media-intensive voice, video and Web surfing apps? If you can't simultaneously connect to a BlackBerry for Bluetooth, and another device for WiFi, it would basically make a full mobile experience impossible. It would essentially prevent multitasking with any degree of performance
.
If the answers to these questions are nonexistent or otherwise unsatisfactory, it seems like my theory of the PlayBook being successful only in medium/large enterprise will be true until the HSPA+, LTE and WiMax versions become available by the end of the summer. Only these kinds of corporate customers, where the focus is on behind-the-firewall critical apps, and where security is paramount, would be able to take the potential negatives I have outlined.
Therefore, for the first six months of PlayBook sales, we may just have to assume that sales will take place primarily to those enterprises where the relevant employees are already using BlackBerry devices operating from a BES (BlackBerry Enterprise Server). The consumer market will happen closer to September. Hopefully, RIM will also have the 10-inch versions of the HSPA+, LTE and WiMax models available by then.
So that's at least the good news: The concerns voiced here will all be solved before the end of the year, when the HSPA+, LTE and WiMax versions of the PlayBook have been launched. In the meantime, can RIM manage the potential for negative criticism that may happen if most of these issues are not resolved by April 19?
At the time of publication, Wahlman was long AAPL, GOOG and RIMM
.
This commentary comes from an independent investor or market observer as part of TheStreet guest contributor program. The views expressed are those of the author and do not necessarily represent the views of TheStreet or its management.
Anton Wahlman was a sell-side equity research analyst covering the communications technology industries from 1996 to 2008: UBS 1996-2002, Needham & Company 2002-2006, and ThinkEquity 2006-2008.