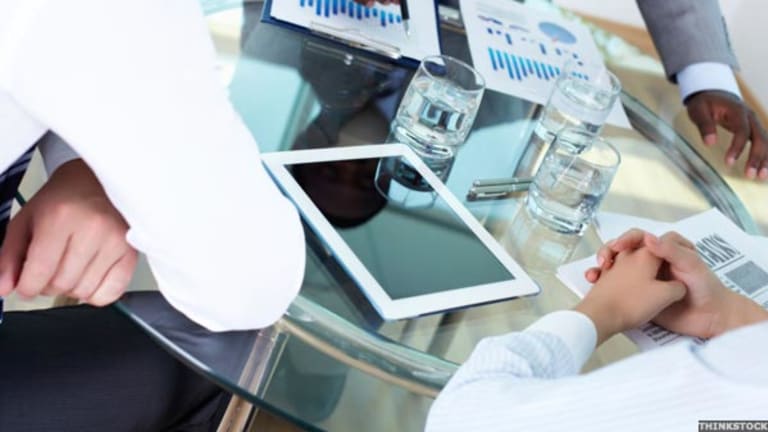 RIM's Playbook Gets Contradictory, Unfair Reviews
Research In Motion's Playbook grants the wishes of CIOs and IT administrators. So why are they now complaining?
NEW YORK (
) -- Many of the reviews of
Research In Motion's
(RIMM)
PlayBook were more or less negative in tone, and I argue that many of the judgments made were unfair and contradictory. Let me first describe the background of the PlayBook's architecture and main features.
About one year ago, RIM was in discussions with its main corporate customers as to their desired feature sets for a potential RIM tablet. These CIOs and IT administrators had two main requests:
1. Unlike products such as
Apple's
(AAPL) - Get Apple Inc. (AAPL) Report
iPad, they wanted a secure connection to the existing BlackBerry that all of their employees carry. They argued that the employees were more likely to lose or misplace the tablet rather than the smartphone. In other cases, a child could nab the tablet and run away with it, start reading/sending email, and generally cause trouble. Therefore, they basically demanded the BlackBerry Bridge architecture for the PlayBook.
2. Unlike an iPad, which requires you to pay for a cellular data plan one way or another if you want cellular coverage, these CIOs and IT administrators demanded free access to the secure corporate apps, such as email, calendar and address book.
With the initial version of the PlayBook, RIM has delivered on both of these requirements. The reviewers who now complain about the PlayBook not yet being optimized for other usage scenarios -- i.e., their own -- are doing the equivalent of writing a car review complaining that a Ferrari isn't optimized for seating six people with tons of luggage and a camper-trailer behind it.
>> RIM PlayBook Flunks Reviews
These complaints are doubly troubling because in many cases the samereviewers had previously argued several things:
1. They wanted someone to combine the data plans for the smartphoneand the tablet so that you don't have to pay for two separate $30 orwhatever plans. Wish granted.
2. They wanted a tablet that could run Adobe Flash so as to surf the Web just like your regular PC (Windows 7, Mac OS or Chrome OS). Wish granted.
3. They wanted a tablet that provided an alternative to Apple's 10-inch 4:3 aspect ratio display. Wish granted, in the form of a 16:9 aspect ratio seven-incher.
4. They wanted a tablet that didn't have a proprietary charger, but that could also charge every smartphone on the market (Apple excepted), such as
Motorola
(MMI) - Get Marcus & Millichap, Inc. Report
,
LG
,
Samsung
,
HTC
,
Sony Ericsson
and
Nokia
(NOK) - Get Nokia Oyj Sponsored ADR Report
, apart from, of course, the BlackBerry itself. Wish granted.
I could go on and on, but just one more: Do you remember when Samsunglaunched its first Android tablet in October 2010 and Motorola just two months ago launched the Xoom tablet? At that time, all these reviewers were up in arms about being forced to buy a tablet that included a cellular modem that increased the hardware cost for the consumer by $130 in some cases. Again, on this point -- wish granted.
What's the bottom line here? The pundits had lots of requests and hadcriticized Samsung and Motorola's first Android tablets. Now RIM's PlayBook fixes a list of these previous objections, and these reviewers turn their backs, contradicting their previous wishes! Adding insult to injury, these reviewers complain that the PlayBook doesn't do what the corporate CIOs and IT administrators didn't wantthe PlayBook to do, even though those additional capabilities will be available in the coming months in the form of downloadable software modules. Can't these people --the reviewers -- walk and chew gum at the same time? Don't they think it's OK for RIM to first launch a device with the corporate feature set and then add the consumersoftware a couple of months after? Is that somehow too difficult for them to understand?
The same reviewers who now pan the PlayBook for not having this or that software module seem to have forgotten that when the iPhone launched in 2007, it had zero third-party apps for about a year. Zero. Critical functionality was lacking, such as multitasking, copy/paste, MMS and for heaven's sake, a decent battery life. Apple, of course, eventually got it very much right, but as with all of these kinds of platforms, it takes about one year in the marketplace to get a new platform up to speed with a full feature set and a stable, integrated experience. Just ask
Microsoft
(MSFT) - Get Microsoft Corporation (MSFT) Report
with its Windows 7 Phone platform right now. One kind of wonders about the double standard of happily waiting a year for Apple to get the iPhone right, and now twisting every previous argument to fail the PlayBook evenwhile testing only the beta software in the weeks prior to the consumer launch.
RIM bears some of the burden for not communicating clearly to the market the expectations for how the PlayBook's capabilities will be rolling out in stages.
Here is what RIM should have said:
"The PlayBook is initially optimized for those who already have a BlackBerry, such as the IT departments of medium-to-large organizations. Through frequent software upgrades over the next few short months, the PlayBook will gain continuously improved capabilities optimizing it for the consumer market and those who don't carry a BlackBerry smartphone."
If RIM had repeatedly stated this kind of expectation starting already at last September's launch and with increasing frequency leading up to last week, the reviews of the PlayBook would likely have sounded much better. How many times does RIM need to learn how to properly set expectations?
It is pretty easy to see now how the PlayBook is on a path to become a complete product and indeed a product portfolio before the end of this year. Software upgrades will add consumer email and related apps, improved media apps to better compete with iTunes, and the crowning achievement may very well be the Android compatibility that's scheduled for mid-year.
On the hardware side, RIM needs two things: 1) A larger version; and2) the HSPA, LTE and WiMax versions. These are likely to show up at various stages during the second half of 2011. With three storage capabilities, four kinds of modem configurations, and two sizes, RIM could end up having 24 models by year-end, topping Apple's current 18 models (two colors, three kinds of modems, and three storage capabilities). This would help catapult RIM into becoming a computingcompany and would greatly increase its addressable market and therefore also most likely its market cap.
RIM continues to be challenged by a supremely competitive environment,and cannot afford any architectural snafus, execution misses, or delays. So far, the PlayBook appears to have adopted a sound architecture, has an "incomplete" in the execution column given that all the major software modules haven't yet been rolled out, and RIM has been late with delivering all of its new products -- not only thePlayBook. I seem to recall that General Douglas Macarthur once claimed that behind every failed military campaign, there are two words: too late. He might just as well have had RIM in mind, because that's a key challenge here.
The ultimate test for RIM will be whether it will attract quality developers that will in turn generate quality apps for the PlayBook. By the time 2011 draws to a close, this will be the yardstick to watch. In the meantime, given the absurdly low valuation of RIM, the risk/reward appears favorable to me.
At the time of publication, Wahlman was long AAPL, GOOG and RIMM
.
This commentary comes from an independent investor or market observer as part of TheStreet guest contributor program. The views expressed are those of the author and do not necessarily represent the views of TheStreet or its management.
Anton Wahlman was a sell-side equity research analyst covering the communications technology industries from 1996 to 2008: UBS 1996-2002, Needham & Company 2002-2006, and ThinkEquity 2006-2008.