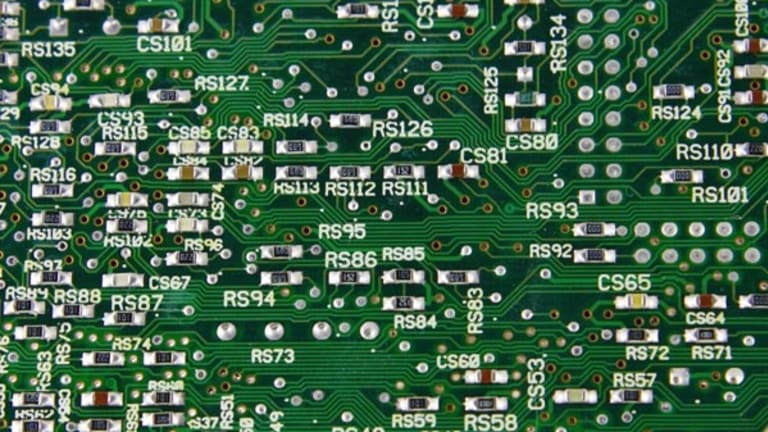 Publish date:
RIM Co-CEOs Show Two Is a Crowd
RIM's less-than-stellar first-quarter results have cast an unfavorable spotlight on co-CEOs Jim Balsillie and Mike Lazaridis.
RIM's less-than-stellar first-quarter results have cast an unfavorable spotlight on co-CEOs Jim Balsillie and Mike Lazaridis.
NEW YORK (
) --
Research In Motion's
(RIM)
first-quarter results have cast an unfavorable spotlight on the handset maker's management double act, co-CEOs Jim Balsillie and Mike Lazaridis.
Participants on
TheStreet's
, released after market close on Thursday, did not pull any punches as they questioned the effectiveness of the dual management team.
Questions are being asked about the effectiveness of the BlackBerry maker's dual management team.
"I think it's harder to see a clear direction from the top if they constantly have to ask 'what do you think' to their partner," said one commenter. Another coined Balsillie and Lazaridis as "the two-headed monster."
"Two CEOs means two salaries -- one should be fired," was the blunt assessment of one commenter, while someone else noted that "the quickest fix for the plunging stock price is the ousting of the two morons."
Balsillie and Lazaridis were quizzed about the value of the co-CEO model during the conference call to discuss the results, with JP Morgan analyst Rod Hall nodding to
Google's
(GOOG) - Get Report
recent moves to
streamline its management structure
.
The RIM CEOs spent a chunk of the call awkwardly explaining why they work well together, a somewhat rambling response that will likely fuel further criticism of their joint leadership style.
"I just don't think it's the issue," replied Balsillie. "I think there are parts that overlap and we highly coordinate it."
"We work very closely together and I don't know where all these things are coming from," added Lazaridis.
Co-CEO partnerships are few and far between in the tech sector; they rarely seem to work. The former co-CEOs of underperforming Indian tech giant
Wipro,
for example, resigned earlier this year, to be replaced by a sole CEO, T.K. Kurien.
RIM handset rival
Motorola
also boasted two CEOs, who eventually parted ways when the company split earlier this year in an effort to become better focused on its two sectors. Sanjay Jha become the sole CEO of the consumer-oriented
Motorola Mobility
(MMI) - Get Report
, while his counterpart Greg Brown took the helm at enterprise and networks-focused
Motorola Solutions
(MSI) - Get Report
.
Not everyone, however, is convinced that RIM's management team is the company's most pressing problem.
"I honestly don't think that it's the biggest issue for them," Ron Gruia, principal telecom analyst at Frost & Sullivan told
TheStreet
, adding that he wants to see RIM refocus its attention on the enterprise. "That, to me, is a much bigger issue in the overall grand scheme of things."
With RIM coming under increasing pressure from
Apple
(AAPL) - Get Report
and Google Android devices in the corporate arena, Gruia wants to see the co-CEOs re-awaken the company's spirit of invention.
"They are going to need to find another competitive differentiator," he explained. "They could come up with something that's truly innovative -- maybe a true multi-tasking environment with their QNX operating system, and
enhanced battery management."
RIM, during its first-quarter conference call, made great play of the fact that its QNX Playbook tablet is in 1,500 enterprises, but investors are eagerly awaiting the arrival of the company's first QNX superphones. The handset maker reiterated that these phones will be available in early 2012.
Balsillie and Lazaridis certainly have their work cut out convincing investors that the company's turnaround is imminent. RIM's results sent the
company's shares into a tailspin
on Friday as investors reacted to forthcoming job cuts and a profit warning. The company's stock plunged $7.89, or 22.33%, to $27.44.
Charlie Wolf, an analyst at Needham & Company, warned that speed is of the essence for the co-CEOs as they attempt to get the BlackBerry maker back on track. "Consumers now want phones that provide a broad selection of software and services," he explained, in a note released on Friday. "RIM has responded far too slowly."
RIM has not yet responded to
TheStreet's
request for comment on this story.
--Written by James Rogers in New York.
>To follow the writer on Twitter, go to
http://twitter.com/jamesjrogers
.
>To submit a news tip, send an email to:
.