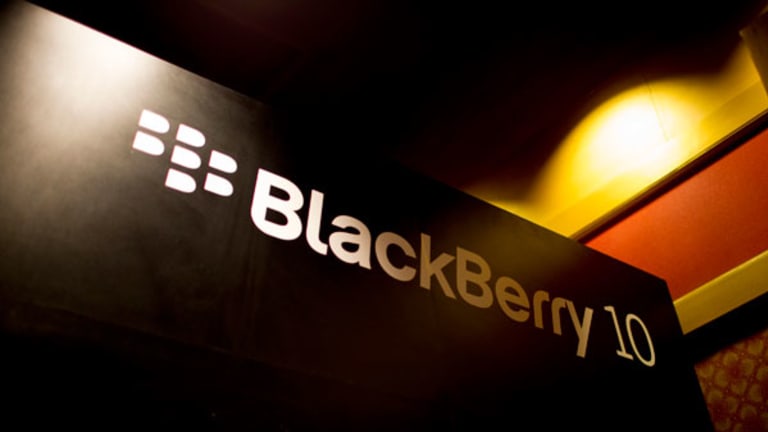 Updated to reflect earnings call and CEO comments and late day trading action.
NEW YORK (
) --
Research In Motion
(RIMM)
reported fiscal 2013 third quarter earnings that beat diminished expectations but faced selling pressure in after-hours trading.
Research In Motion shares initially traded higher by over 8% in after-hours trading after results were released. Gains reversed to declines in excess of 10% during an earnings call after RIM said it would change the way it charges customers service fees, putting a key source of revenue at risk. Meanwhile, the company said spending on the launch of BlackBerry 10 will drive a fourth quarter operating loss.
The change means only subscribers that want enhanced security features will pay service fees. Those fees accounted for 36% of RIM's $2.7 billion in third quarter revenue. On a conference call, analysts pressed for the financial impact of the planned fee change on earnings, but RIM management did not provide a forecast.
Meanwhile, as consumers brace to receive
Apple
undefined
iPhones and iPads and similar
Google
(GOOG) - Get Alphabet Inc. Class C Report
-Android powered mobile devices this holiday season, Research In Motion enters the New Year with no flashy new products.
The BlackBerry maker and smartphone pioneer reported revenue of $2.7 billion and a net loss of 22 cents a share. That beat Wall Street expectations of $2.6 billion in revenue or an adjusted loss of 35 cents a share, according to analyst estimates compiled by
Bloomberg
.
Compared with this time last year, Research In Motion's earnings have turned to an adjusted loss of $114 million from a $265 million GAAP profit a year ago. Revenue has fallen by roughly 50% to $2.7 billion from $5.2 billion a year ago. Crucially, cash at the handset maker came in at $2.9 billion, an increase of $600 million in the quarter. Research In Motion also posted $950 million in cash from operations.
Wells Fargo analyst Jennifer Fritzsche forecast, in an earnings preview, that the company would ship 7.5 million handsets -- slightly above consensus of 7.2 million shipments - and see its gross margins fall to 27%, slightly below year ago levels. Meanwhile, Fritzsche forecast RIM's average selling price per handset would fall to $220, slightly above consensus of $215 a handset, but below year ago levels of $229.
In third quarter earnings RIM sold fewer handsets than expected but saw stronger than expected gross margins of 30.4%. RIM shipped 6.9 million BlackBerry smartphones and roughly 255,000 BlackBerry PlayBook tablets, according to a press release. The Waterloo, Ontario-based company saw its subscriber base shrink to 79 million users, cutting against expectations of user growth.
"RIM continued to execute on its product roadmap plans and to deliver on key financial metrics as it gets set for the global launch of BlackBerry 10," Thorsten Heins, CEO of Research In Motion said in a statement.
On a post-earnings analyst conference call, Heins added "Working capital performance has been very strong... these resources will be reinvested in our BlackBerry 10 launch," while adding that a $1 billion 2013 cost reduction program has already been achieved.
Heins also noted the company continues to speak with partners in an ongoing strategic review to find partners for its consumer and enterprise products; however, he declined to comment on specifics, in the earnings call.
While the earnings give crucial insight into Research In Motion's financial picture headed into the New Year, they are still unlikely to change the longer term outlook of the struggling handset maker. More importantly, analysts and investors await details on the launch of BlackBerry 10, Research In Motion's new operating system and a corresponding set of smartphone and tablet devices.
That launch, slated for late January, may provide more insight than third quarter earnings on whether RIM can reignite competition against
Apple
(AAPL) - Get Apple Inc. (AAPL) Report
and
Google
(GOOG) - Get Alphabet Inc. Class C Report
-powered devices in the ultracompetitive handset and tablet markets, or whether its best option resides in a takeover or asset sale.
That's the perspective of Donald Yacktman, the head of
Yacktman Asset Management
, a mutual fund investor that is Research In Motion's fifth largest shareholder, according to
Securities and Exchange Commission
filings compiled by
Bloomberg
.
In a telephone interview prior to RIM's earnings, Yacktman said he wasn't expecting much out of the company's third quarter earnings. "I wouldn't expect a lot. I think they are burning a lot of cash right now," Yacktman said.
From Yacktman's perspective, the fund's investment in RIM is about the handset maker's discounted price and a set of assets that include cash, patents and an large embedded user base that puts a floor on the company's share prices.
"If the phone works out great, in the future you have tremendous upside," said Yacktman of RIM's BlackBerry 10 launch. If not, Yacktman expects RIM to be acquired by a healthier competitor.
According to
Bloomberg
data as of Sept. 30, Yacktman Asset Management owns just under 4.5% of RIM's outstanding shares worth $325 million. Yacktman said in the telephone interview that the mutual fund is now in the money on its RIM investment.
RIM's stock is down over 6% in 2012; however, shares have gained over 100% in the past three months on optimism the company will be successful in its BlackBerry 10 launch. Shares hit 10-year lows just above $6 a share in late September. In Thursday trading, RIM shares were up nearly 3% to $13.88.
Heading into the third quarter, JPMorgan analysts cut RIM's earnings expectations to reflect a later than expected BB10 launch. The bank also reiterated skepticism the company will be successful on turnaround efforts.
"
We continue to believe that gaining traction in the smartphone market vs. Apple and Android will be difficult," wrote JPMorgan analyst Rod Hall, in a Dec. 18 note to clients.
While RIM is running ahead of expectations on its management of cash flow and a restructuring program, the company's CFO warned that it will post an operating loss in the fiscal fourth quarter as a result of service declines, a cannibalization of potential BlackBerry 7 sales and a significant increase in advertising spending heading into the Jan. 31 launch of BlackBerry 10. RIM nevertheless said it would end the year with significantly more than the $2.1 billion in cash that it entered the year with.
CEO Heins said a mix of improving cash flow, quicker than expected cost reductions and a strong response to BlackBerry 10 means RIM is hitting a bottom heading into 2013 after years of market share losses. "We believe the company has stabilized and will continue to turn a corner in the New Year," said Heins on the analyst call.
For more on Research In Motion's prospects, see
the top 4 risks to BlackBerry 10
. Also see
TheStreet's
of the RIM's new line of handsets and its operating system.
Follow @agara2004
-- Written by Antoine Gara in New York