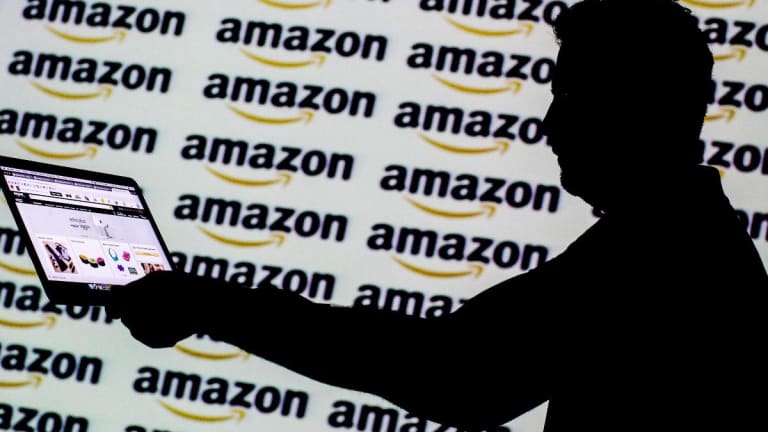 Retailer, Now Ad Giant: Why Investors Should Keep an Close Eye on Amazon Ads
For marketers and advertisers, Amazon's advertising business is starting to really turn heads -- it's already the third most popular ad platform by U.S. ad spend, behind Facebook and Alphabet. But Amazon has more tricks up its sleeve than just display ads.
For marketers and advertisers, Amazon's advertising business is starting to really turn heads -- it's already the third most popular ad platform by U.S. ad spend, behind Facebook and Alphabet. But Amazon has more tricks up its sleeve than just display ads.
When it comes to ads, Amazon (AMZN) - Get Report is just starting to show its cards. 
Among the many hats it wears -- retail giant, cloud provider, media titan and speaker maker, to name a few -- advertising is looking more and more like Amazon's next big revenue rocketship. 
Though it's maintained a low-key advertising segment for some time, Amazon's ad strategy started turning heads last year. In September 2018, an eMarketer survey found that Amazon had become the third-largest advertising platform in the U.S. by ad spend, estimating that advertisers would pay $4.61 billion in 2018, representing a 4.1% share of the ad market. That's still a distant third to Alphabet (GOOGL) - Get Report and Facebook (FB) - Get Report , the latter of which owns Instagram, another popular platform for sellers. But Amazon is fundamentally different from the latter two: Unlike other digital ad platforms, consumers go there prepared to buy, with their payment details already locked and loaded.
That's increasingly compelling for advertisers looking for more than just eyeballs, comments and likes.  
"We are seeing more and more brands and retailers moving to Amazon because they know that's where the consumers are," said Dani Nadel of Feedvisor, which helps brands optimize pricing, performance and more. 
A recent survey of major brands by Feedvisor found that 54% are selling on Amazon, and of that group, 57% are already paying for Amazon advertising. Amazon has been gradually carving out more space on its site for ads -- and it seems that it won't have much trouble filling the inventory. The Amazon advertisers spend more than $40,000 per month on average, according to Feedvisor's data, and virtually all (97%) reported that they saw value in the results.
"As they're going to the marketplace, it's becoming more and more complex for them: there's more data, more competition, and they now need to find ways to get discovered," Nadel added. "Advertising becomes one of the biggest levers they have."
In an August 2018 report, PiperJaffray's Michael Olson explained the basis for Amazon's expanding advertising business: Amazon more than a retailer (or cloud provider, or media titan, or speaker maker); it's a search engine, too.
"While there's no crystal clear market share data available, we believe Amazon's product search market share is now well above 50%, exceeding Google & other search engines, and ahead of company specific product search pages," Olson wrote. "Being the world's largest product search engine has its advantages and Amazon is starting to leverage them."
Translated into income, Olson forecast in a Jan. 9 note that operating income from Amazon's advertising segment could reach $10.6 billion; and by 2021, profit from advertising is likely to exceed that of Amazon Web Services.
If Amazon's ad business lands in that range, it would represent a notable shift in Amazon's business model: Amazon makes about 61% of its revenue from its online stores, another 18% from third-party seller services, about 10% from AWS and 11% from "other," a category that includes its advertising segment. And as growth in Amazon's e-commerce segments loses some of its steam, advertising -- an area that Amazon is starting to go after more aggressively -- is surely a reassurance to many investors. 
Display ads -- as in, Facebook and Alphabet's bread and butter -- are also just one piece of the advertising puzzle for Amazon. 
Earlier in January, reports emerged that Amazon is testing a new program that sends free product samples to buyers based on predictions of what you might like -- a capability unique to Amazon, given their logistics network . A service like that could make for a hard-to-resist option for certain advertisers, added Jo Ann Sanders of Optimizely, which helps marketers test and improve their digital reach. 
"If I'm an advertiser, I could make a Facebook ad that talks about my product, or I could have an opportunity to send a physical sample. That's pretty compelling," she said. Other potential avenues for advertising growth are just starting to take shape, such as sponsored ads in Alexa or developers paying for placement in Alexa's skills marketplace. 
"In terms of platform revenues, our view remains that nice things happen when you have over [100 million] installed base," Mahaney wrote about Alexa in December 2018. 
Amazon is tougher than ever to define -- but for investors, that can hardly be called a bad thing.
Alphabet, Facebook and Amazon are holdings in Jim Cramer's Action Alerts PLUS Charitable Trust Portfolio. Want to be alerted before Cramer buys or sells these stocks? Learn more now.