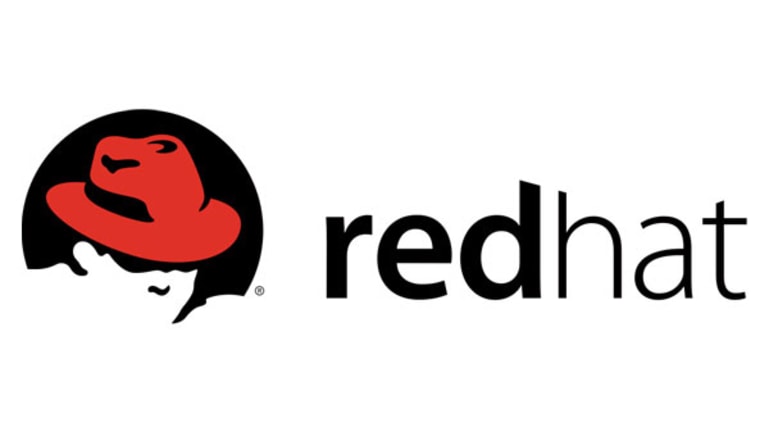 Red Hat Springboards into the Cloud, Big Data
Red Hat has found itself to be in a position to release the floodgates of new revenue generation.
NEW YORK (TheStreet) -- Red Hat (RHT) - Get Free Report looks to have found itself to be in the right position to release the floodgates of a new revenue driver. Potential, fresh revenue streams are emerging amid the rising deployments of cloud architectures and higher mobilizations of big data solutions anticipated for this year.
Red Hat CEO Jim Whitehurst says that 2014 will be a "defining year" for the technology industry and underscored to TheStreet that Red Hat's leadership in open source and expanded work around OpenStack will be central to the software company's ability to capture these opportunities.
IT research firm IDC has been studying the opportunities as well, with storage systems and software research director Ashish Nadkarni weighing in. Nadkarni said 75% of the scale-out file-and-object storage market, much of which forms the plumbing for public and private cloud build-outs, is based on open source platforms, "meaning that it is falls within the reach of the total addressable market for Red Hat's systems, middleware and storage platforms."
The entire scale-out file-and-object storage market is forecast to reach $14.8 billion in 2014 in the U.S. and could grow at a compound annual growth rate of 24% between 2013 and 2017, as cloud storage spending reaches nearly $16.6 billion this year, according to Nadkarni.
Nadkarni says in that market, Red Hat Storage Server and OpenStack can serve as the storage platforms for private and public storage-as-a-service build-outs, while Red Hat Enterprise Linux can be leveraged as the systems platform for many of these deployments, given that they're software-defined storages built with commodity servers instead of commercial systems.
Nadkarni highlights that Red Hat's total addressable market in the infrastructure component of big data is composed of the storage aspect of infrastructure that is poised to reach $3.5 billion in 2014, as the overall market for big data infrastructure increases to $16.9 billion in 2017 from $7.8 billion in 2014, equating to a compound annual growth rate of 32.6%.
By way of partnerships with Hadoop distributors like Hortonworks, Red Hat can also make a play for the software component of the big data market that is expected to reach $3.7 billion in market value in 2014, Nadkarni noted.
CEO Jim Whitehurst addresses how Red Hat is unlocking the monetization opportunities of cloud and big data:
Tse: Jim, in what way has Red Hat's leadership role in open source been the company's springboard to the cloud?
Whitehurst: Red Hat's history of delivering highly-scaled, enterprise and government-grade quality and security based on the tenets of open source community development gives us an excellent baseline for distinguished positioning vs. closed vendors.
Red Hat has had the benefit of working with and in communities of customers and developers during a very strategic period during the commoditization of IT and this has matured core technologies, products, and service offerings in such a way that Red Hat is now well-positioned to help lead the market forward with both cloud and big data.
By working with enterprise customers and community members to develop technologies which accommodate some of the highest volume transaction systems in the world, we have a baseline for building a breadth of services from storage through middleware which address the scale and throughput required for big data needs. Likewise, our community sponsorship and product offerings in hypervisors, orchestration tooling, hardware certifications, and innovative business models based on subscriptions, positions Red Hat well to help customers leverage both public and private clouds as their needs mature.
Tse: How has open source facilitated in the advancement of cloud and big data marketplaces vs. the more traditional vendor approach?
Whitehurst: Red Hat is focused on maturing our business models to match the consumptive behavior of cloud and data analytic trends. In both cases we have technology and service offerings which help customers and partners both build cloud and run big-data analytics but also have matched our subscription business models to accommodate consumptive characteristics and high-volume data and service models.
Open source communities provide an exceptional base of projects which spontaneously grow in response to specific needs of cloud and big data needs. Red Hat has recognized the power of collaboration within communities to instigate, innovate, and iterate on the most challenging problems within IT.
And with industry and community collaboration, the best solutions are identified and acknowledged, ultimately resulting in offerings for customers which have been and continue to be stress-tested and improved by a user-base much larger than any single software vendor can build.
Tse: On that note, have you been satisfied with the pace of OpenStack adoption by enterprises?
Whitehurst: Cloud computing is just a prime example of where it's more about how you operate a data center than anything else.
So, it's natural that big hosting companies like Rackspace (RAX) , who run big data centers, have developed their own software run-up. That's how OpenStack got started. It actually started off with NASA and Rackspace originally working together to say "hey you know, we've got this massive infrastructure and we need to make it manageable." And so they started working on it and then others started using it, and then vendors started jumping in and saying, "wow, this could be valuable to our customers."
And so OpenStack, which is probably the hottest open source project for managing clouds, has a lot of big users involved and has vendors who are all in because they recognize that that same functionality that helped Rackspace run its datacenters could be very helpful for enterprises running their own datacenters. This comes back to, in the same way, in the industrial revolution where the people who optimized manufacturing weren't the machine tool makers. They were the big manufacturers, the General Motors (GM) - Get Free Report of the world.
That whole community has grown to be the leading infrastructure, cloud-based piece of software. Enterprises are saying "I want to run infrastructure as a service on my own datacenter," and OpenStack's the leading alternative that they're all looking to work with. And we're obviously very involved in that. Again, we didn't start OpenStack, we just jumped in after a bunch of people started contributing great things, but we're now the largest contributor to it. It's not that we're running big datacenters, but we add the functionality that enterprises require there.
So again, it should be no surprise that the people who know best how to operate datacenters are also the people who operate datacenters. And it's also not surprising that cloud is a core area where the innovation is happening better and faster in open source.
-- Written by Andrea Tse in New York
>Contact by Email