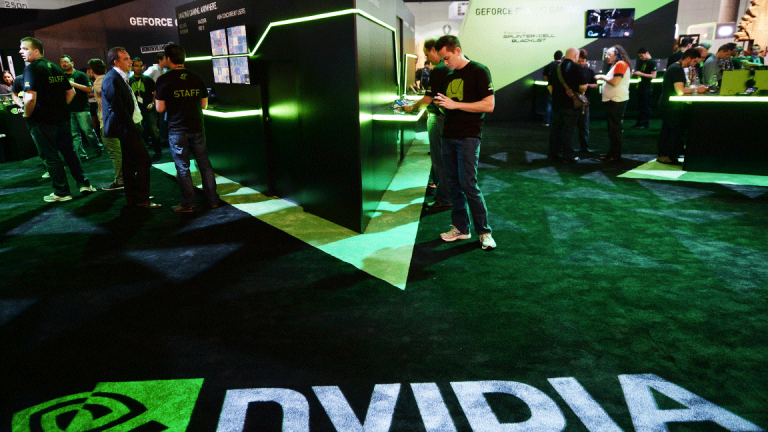 3 Big Reasons to Stay Away From Nvidia
The hot chipmaker has fallen from grace, but there's still more downside risk than upside potential at its present valuation.
Nvidia's (NVDA) - Get NVIDIA Corporation Report shares have fallen out of favor with investors. Is it time to get back into Nvidia? I argue that it's not. And here are three significant reasons why.
1. Growth Stalls
Nvidia has been a very successful poster-boy for the strong bull market of the past five years. However, given that it trades at such a huge premium and has no margin of safety, it should be posting not only stellar financials quarter after quarter, but its guidance too should be sizzling. However, that has not been the case with Nvidia for some time now.
As the graph above illustrates, not only is Nvidia's revenue growth rate very quickly decelerating, but its revenue has actually been falling year-over-year recently (the company just completed its fiscal fourth quarter of 2019 at the end of January). Furthermore, compounding issues for Nvidia's shareholders, going forward, Nvidia's guidance does not look all that strong either.
Specifically, we can see that in Q1 2020, Nvidia's top line is expected to be down by roughly 31% year-over-year. And then, for its fiscal 2020 guidance, Nvidia's top-line is expected to come in flat to slightly down. Now, at this point, we should question this assertion. Can we trust that during this never-ending crypto hangover, that Nvidia's second half of fiscal 2020 can truly be as phenomenal as this guidance implies?
If we stop and think about it, what CEO Jensen Huang and his team are implying would be that in fiscal Q4 2020, we should see Nvidia posting growth rates akin to what we witnessed during the strong crypto bubble back in calendar January 2018 (fiscal Q1 2019). Hence, I contend that we should at a minimum question this level of growth.
2. Operating Margin Plays Both Ways
Nvidia was able to grow rapidly during most of fiscal 2019, and together with its very small fixed-cost base and tailwinds from the crypto bubble, Nvidia's gross margin was able to continuously expand.
However, now that the bubble appears to have deflated and there is a reported excess of inventory in the channel, we can see that Nvidia's non-GAAP gross margins have also deflated.
Furthermore, once again looking out to Q1 2020, we can see that at the same time Nvidia's revenue appears to have brutally come down and its gross margin has deflated, that Nvidia is guiding its total non-GAAP operating expenses to be up just over 16% year over year.
Nvidia does have a share repurchase program in place, but this is expected to be insufficient to meaningfully address the drop in non-GAAP EPS. To put numbers to it, non-GAAP EPS are expected to be down roughly 60% in Q1 2019, to somewhere in the ballpark of $0.81 per share.
3. Valuation - Still Priced Red Hot
As the table above highlights, Nvidia is being priced at north of 20x cash. As I have discussed throughout the article, there is no scenario where this is aligned with Nvidia's present growth rates.
Once again, for now, Nvidia's growth rates are likely to hover between 0% in the near-term to potentially 5% within two years' time. Hence, it is simply too challenging to make a cohesive and unemotional argument as to why Nvidia should trade at the premium it presently does.
Further, at roughly $95 billion market cap, and with just under $12 billion of sales expected for fiscal 2020, we can see that Nvidia presently trades at 7.9X forward sales (data not shown in the table). That number is still higher than its historic valuation, in spite of having weaker growth expected ahead.
Takeaway
In summary, it is very difficult to make a rational argument about why Nvidia new investors will find a strong bargain opportunity in Nvidia. Its top line is coming down at the same time its margins are compressing. Yes, there is a share repurchase program in place. But these repurchases offer roughly 2% return of capital to shareholders. Accordingly, given that the stock is priced north of 20x, I argue that this is simply way too little return for the large risks entailed in investing at this price.
The author has no positions in any stocks mentioned.