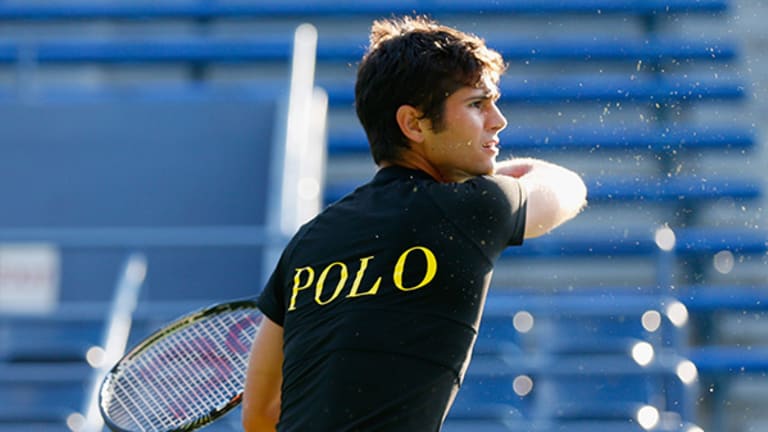 Ralph Lauren Introduces Smartshirts at U.S. Open
High-tech wearable devices will be used to record and analyze biometric data from ball boys and players.
High-tech wearable devices will be used to record and analyze biometric data from ball boys and players.
NEW YORK (TheStreet) -- Ralph Lauren (RL) - Get Report is unveiling its high-tech Polo Tech shirt at the 2014 U.S. Open tennis tournament, a garment the company calls "the next evolution of wearable technology."
The new compression shirt features silver thread sensors knitted into the fabric, which will be able to read biological and physiological information for instant analysis.
Several ball boys will be wearing the smartshirts during select matches at the National Tennis Center in Flushing, NY. In addition, Marcos Giron, the No. 1 singles player in the Intercollegiate Tennis Association, playing in his first Grand Slam, will also wear the shirt during practice to track his biometrics, and then make real time adjustments to his play.
Shares in Ralph Lauren were advancing 0.34% to $170.35 in early morning trading in New York.
Researchers from CCS Insight believe the wearables business is just in its infancy. The company's latest survey estimates 22 million such devices will ship this year, ultimately growing to 135 million units by 2018 with smartwatches accounting for almost 90% of the total sales.
The new Ralph Lauren interactive wear shirt was developed using proprietary technology from Canadian-based OMsignal, whose experts includes neuroscientists, sports medicine and engineering researchers. The shirt itself is the sensor and the system is designed to send the physiological data directly to a special application on a user's smartphone.
The data is stored by a black box, and transmitted into the cloud, where it is run through algorithms to determine a wearer's heartbeat, respiration, stress level and energy output.
Ralph Lauren is reportedly considering building the same new technology into a number of other items including dress shirts with sensors weaved inside.
-- Written by Gary Krakow in New York.
To submit a news tip, send an email to tips@thestreet.com.
Gary Krakow is TheStreet's Senior Technology Correspondent.