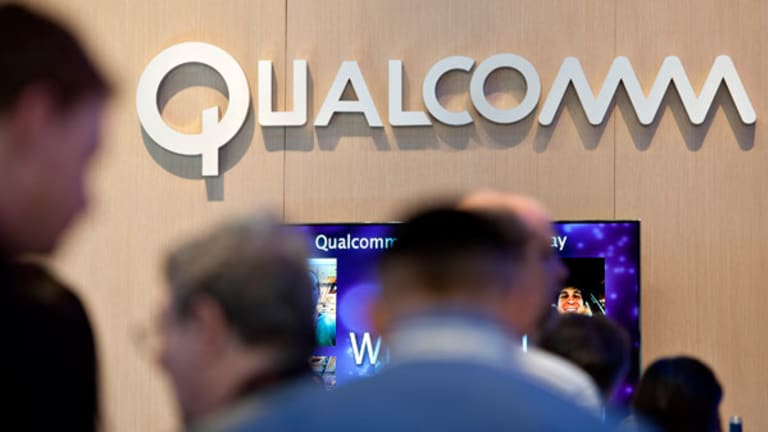 Publish date:
Qualcomm to Return 75% of Free Cash to Shareholders
Qualcomm announced xx at its analyst day, while also announcing two new products, including the latest Snapdragon processor.
Qualcomm announced xx at its analyst day, while also announcing two new products, including the latest Snapdragon processor.
NEW YORK (TheStreet) -- Qualcomm (QCOM) - Get Report was slipping 0.2% to $71.95 as the company host its analyst day in New York, focusing on LTE deployment and capital allocation.
Qualcomm, which is live streaming the event, announced it will return 75% of its free cash flow to shareholders through dividends and buybacks.
Last year, Qualcomm bought back $4 billion in stock last year, and recently announced an 11% increase to its dividend.
Qualcomm's senior vice president Bill Davidson was kind enough to make a visit to TheStreet's New York offices yesterday, where we talked about LTE deployment in 2014, average selling prices (ASPs) and why the company announced the new Toq smartwatch.
Davidson noted that there are 222 networks in 83 countries with LTE capabilities, and that there will be continued deployment in 2014, especially in data heavy areas.  Davidson noted that we're headed towards more ubiquitous coverage, though we're not there yet.  As for when he thinks we're likely to see 4G really sprout up in China with China Mobile (CHL) - Get Report launching its much-awaited 4G network, he thinks it's likely it happens around the Chinese New Year, but that it was just a guess, and nothing official.
With regards to the slight 1% decline Qualcomm saw in ASPs saw this past quarter, Davidson noted it was more about mix than price erosion, as emerging markets are not dragging down ASPs as much as people thought.  The smartphone market will continue to get bigger for emerging markets,  he noted.
Operating margins, which has been something of a concern on Wall Street, will likely improve towards the back half of 2014, due to mix and the San Diego-based Qualcomm keeping costs in line.  Year over year, the licensing business and the chip business continue to be stable.
Regarding the Toq watch, Qualcomm is not interested in being a consumer-facing company, but Davidson noted the company is showing off what smartwatches could potentially do, as the company seeks to expand is mobile chip business into other forms of technology, outside of smartphones and tablets.
"Our next big challenge is something we call the 1000x challenge," Davidson said.  "It's about expanding the capacity 1000 times over the next ten years, as data becomes a bigger part of our daily needs."
In separate announcements Wednesday, Qualcomm introduced its fourth-generation 3G/LTE multimode solutions with the newest modem chipset, the Qualcomm Gob 9x35, and RF transceiver chip, the Qualcomm WTR3925. This will continue to advance the roll out of 4G LTE networks across the world, offering improvements in performance, power consumption and printed circuit board area requirements.
Qualcomm also announced the next generation Snapdragon 800 processor, the Qualcomm Snapdragon 805 processor, designed to deliver a better Ultra HD (4K) experience.
The Snapdragon 805 processor is expected to be available in commercial devices by the first half of 2014.
--Written by Chris Ciaccia in New York
>Contact by Email.