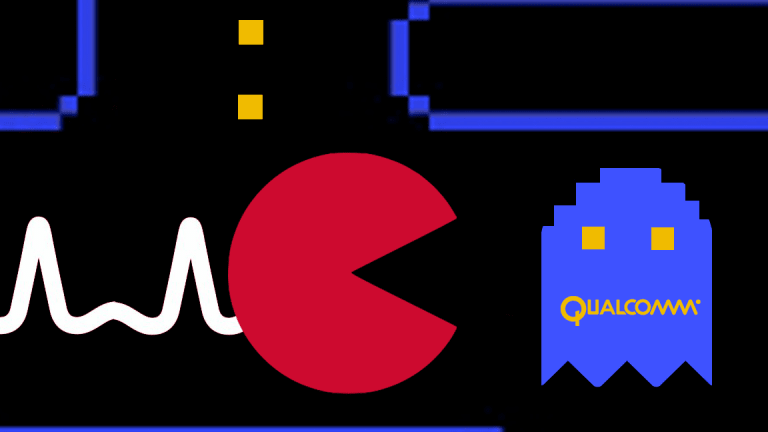 Qualcomm Says Broadcom Bid Could Be 'Quite Destructive'
As a shareholder vote looms, the chipmaker says Broadcom's $130 billion hostile bid would require destructive divestitures if it could win regulatory approval at all.
Qualcomm Inc. (QCOM) - Get Report continues to rally shareholders against a hostile bid by Broadcom Ltd. (AVGO) - Get Report , with a video posted Tuesday, Jan. 23, alleging the $130 billion transaction would face daunting regulatory scrutiny around the globe and require destructive divestitures.
Broadcom, in response, said the claims are "simply unfounded, misleading and a disservice."
Shares of Qualcomm were down 0.6% to $68.28 on Tuesday afternoon, while Broadcom stock was up 0.2% to $262.60.
Qualcomm general counsel Donald Rosenberg said in the video that a deal would take 18 months if it could get approval at all and would require divestitures.
"Mergers, supposedly -- certainly from a regulator's perspective -- are supposed to be constructive," Rosenberg said. "This merger has all of the elements of potentially being quite destructive."
Rosenberg called Qualcomm an "R&D engine" that had driven innovation in the mobile business for decades and said that some of Qualcomm's customers have expressed concerns about the effects of a Broadcom deal.
In a statement, Broadcom countered, "There is no antitrust issue concerning this transaction that could not be satisfactorily resolved during the merger clearance process," The suitor, which said it has completed the antitrust reviews for all of its deals within 12 months, says it already has identified regulatory fixes for closing the deal. Broadcom said it already has filed for Hart-Scott-Rodino clearance, which involves the Department of Justice and Federal Trade Commission, and met with antitrust authorities.
Broadcom CEO Hock Tan offered to buy Qualcomm for $70 per share in November. The valuation comes to $130 billion, including debt, and would be the largest tech deal ever. Private equity firm Silver Lake Partners LP is providing $5 billion in convertible debt financing for the deal.
Tan's chipmaker has proposed an entire slate of directors to replace Qualcomm's board at a March 6 shareholder meeting.
Qualcomm has said that Broadcom is making an opportunistic attempt to benefit from a long-running royalty dispute with Apple Inc. (AAPL) - Get Report . Last week, Qualcomm CEO Steve Mollenkopf said in a webcast that Qualcomm is worth more as an independent company, as the the wireless industry nears an "inflection point" with the launch of 5G networks and the rise of telemedicine and smart cars. Growing sales to China present a bigger opportunity than Apple, Mollenkopf added.
Broadcom's filings with the Securities and Exchange Commission list Qualcomm as one of five primary competitors. The companies overlap in WiFi, Bluetooth and GPS chips for smartphones and routers. The two are also leaders in radio frequency filters and modules that process and amplify cell signals in handsets. Qualcomm is attempting to buy NXP Semiconductors NV (NXPI) - Get Report , the leader in near-field communications, or NFC, components used in smartphones for payments apps that transmit short distances. Broadcom is also a player in NFC.
The bid would face extra scrutiny before the government's Committee on Foreign Investment in the United States, Qualcomm argued, because the company is domiciled in Singapore. Just days before Broadcom announced its hostile bid, Tan joined President Trump in the White House to announce that the company would redomicile to the U.S.
Broadcom said Monday that it has filed a proxy with the Securities and Exchange Commission for a shareholder vote to change its domicile. The company anticipated receiving approval from investors and the Singapore High Court by May 6, the end of its fiscal second quarter.
Qualcomm also asserted in a Tuesday letter to shareholders that Broadcom's directors would have an inherent conflict.
"Ask yourself: "Would Broadcom's nominees truly operate Qualcomm to maximize its value if doing so meant Broadcom, the company which nominated and paid them, had to offer a higher price for Qualcomm?'" the chipmaker wrote.
Qualcomm's $47 billion acquisition of NXP, meanwhile, faces similar criticism from Paul Singer's Elliott Management Corp. In a letter to shareholders earlier in January, the activist fund argued that Qualcomm's bid shortchanges NXP shareholders and lacks a premium. Elliott cited chip valuation data from Mollenkopf's own presentation about Broadcom's hostile bid.
Broadcom, Apple and NXP are holdings in Jim Cramer's Action Alerts PLUS Charitable Trust Portfolio
. Want to be alerted before Cramer and the AAP team buy or sell AVGO, AAPL and NXPI?
.
More of What's Trending on TheStreet: