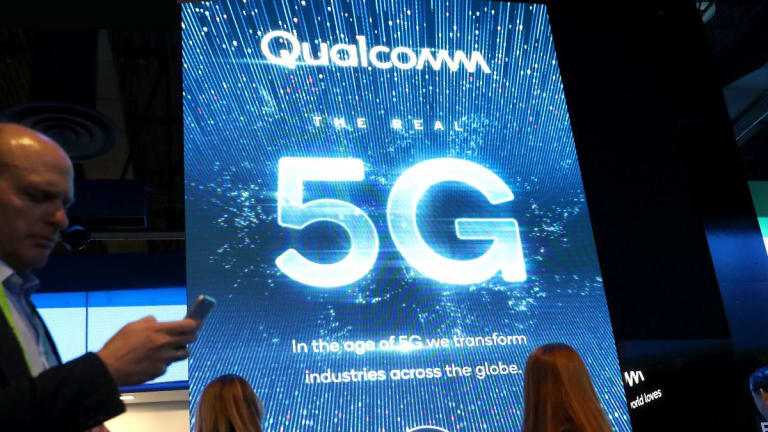 Qualcomm's Legal Setback Is Likely to Have Major Consequences -- If It Holds Up
Among other things, the ruling just issued in Qualcomm's legal battle with the FTC could significantly affect its smartphone royalty revenue, including that from Apple. That is, provided much or all of it isn't overturned.
A month after settling a battle with one major legal adversary, Qualcomm  (QCOM) got confirmation that its fight with another one is far from over.
The Qualcomm/FTC Ruling
On Wednesday morning, a Northern California federal court issued a ruling for an FTC lawsuit against Qualcomm that gave the FTC nearly everything it was looking for. The ruling followed a trial that was held in January, and a partial summary judgment in the FTC's favor that was issued last November.
In line with the partial summary judgment, the ruling by Judge Lucy Koh orders Qualcomm to license its giant and valuable portfolio of standards-essential patents (SEPs) for cellular radio standards (3G, 4G, 5G, etc.) on fair, reasonable and non-discriminatory (FRAND) terms to rival modem developers. To date, Qualcomm has only licensed these patents to hardware vendors.
Qualcomm is also ordered to refrain from striking exclusive modem supply deals with customers, and from making the sale of modems conditional on the OEM having a license in place. Notably, Qualcomm is also ordered to "negotiate or renegotiate" its licensing terms under conditions free from the threat of modem sales being halted.
To top it all off, Qualcomm is prohibited from interfering with a customer's attempts to complain to a government agency about law enforcement or regulatory matters, and is required to submit to "compliance and monitoring procedures" for seven years.
Not surprisingly, Qualcomm quickly responded by stating it plans to seek an expedited appeal of Koh's ruling to the U.S. Court of Appeals for the 9th Circuit, as well as seek an immediate stay of the ruling. Nonetheless, its shares were falling 11.2% in Wednesday trading to $69.08, as of the time of this article. They're still up about 20%, however, since news first broke on April 16 that Qualcomm and Apple (AAPL) had settled their licensing dispute and agreed to a multi-year chip supply deal.
Apple is a holding in Jim Cramer's Action Alerts PLUS member club. Want to be alerted before Jim Cramer buys or sells AAPL? Learn more now.
Potential Implications for Qualcomm
If large portions of Koh's ruling are ultimately upheld, the consequences for Qualcomm's licensing business, which still accounts for the majority of its pre-tax profit, would likely be enormous. In particular, the part about licensing SEPs to modem makers would probably do a lot of harm by leading Qualcomm to only collect royalties on SEPs based on the price of a modem rather than the price of a device (subject to a cap).
While Qualcomm also has many non-standard essential patents it can assert, the SEPs account for a large portion of the total value of its patent portfolio. Together with the parts of the ruling that requires Qualcomm to avoid tying its modem sales to licensing deals, the licensing of SEPs to modem makers could have a large impact on the royalty rates Qualcomm sees on phone sales.
Separately, the parts of Koh's ruling that prohibit exclusive modem supply deals and the linking of Qualcomm's licensing and modem businesses could hurt its chip unit a little. However, the competitiveness of Qualcomm's Snapdragon modem, app processor and system-on-chip (SoC) lineup -- the company's high-end cellular modems have long been seen as best-in-class, and for now has a dominant position in the 5G modem market -- together with the R&D-intensive nature of the cellular modem business should limit the damage.
How Does Apple Respond?
One big question in the aftermath of Koh's ruling is how Apple, which spent two years railing against Qualcomm's licensing policies before agreeing to a six-year licensing deal in April, responds to it. In the near-term at least, there's a good chance that Apple does nothing to rock the boat, particularly if Qualcomm gets a stay on the ruling pending the hearing of its appeal.
Here, it's worth remembering that Apple's decision to settle appears to have much to do with its wish to launch 5G iPhones in 2020, and the fact that Intel (INTC) , which announced after the settlement that it's exiting the smartphone modem market, was reportedly struggling to meet Apple's requirements. Since Apple, which reportedly plans to use Qualcomm modems within 2020 iPhones requiring millimeter-wave (mmWave) 5G radios, is bound to prioritize its 2020 iPhone launches over cutting its iPhone royalty bill, the company could choose to avoid restarting its fight with Qualcomm until Qualcomm's FTC battle is fully resolved.
Over the long run, however, it's hard to imagine Apple not seeking better licensing terms from Qualcomm if significant portions of Koh's ruling are upheld. On top of a one-time payment of $4.5 billion to $4.7 billion, Apple's licensing deal with Qualcomm has been estimated by analysts to feature a royalty of around $8 to $9 per iPhone -- a rate well above what Apple was once seeking. One has to think that Apple will seek a better deal if Qualcomm is required by law to license SEPs at the modem level and to refrain from cutting off modem sales to a licensee it's in a dispute with.
Will the appeals court end up backing much or all of Koh's ruling? That's clearly impossible to predict at this juncture. One thing that is clear from the ruling, however, is that Qualcomm is now tasked with convincing the appeals court to overturn several different court orders, and in the process countering a very lengthy set of critiques about its licensing policies (often backed up by examples) that were made in a 233-page legal document that goes over Koh's findings and conclusions.
All of this raises the odds that some portion of Koh's ruling will stick upon appeal, provided Qualcomm and the FTC don't reach a settlement first. And with Qualcomm's stock having soared this year with the help of the Apple settlement, such uncertainty has naturally put markets on edge.