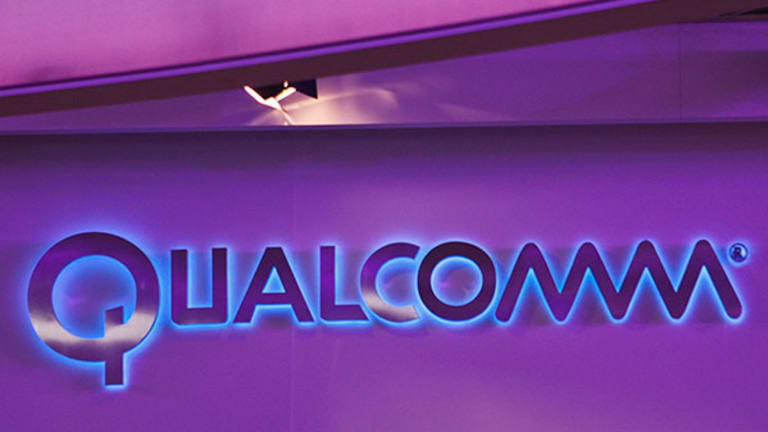 Qualcomm Investment Group Premature in Suggesting Spin-Off of Chipset Division
Qualcomm and major shareholder Jana Partners battled today over whether the chip maker would be better off without its chipset unit.
NEW YORK ( TheStreet) -- Activist investment firm and major Qualcomm (QCOM) shareholder Jana Partners may be premature in its suggestion that the mobile chip maker should consider spinning off its chipset unit.
Qualcomm may be facing the loss of its biggest smartphone customer with Samsung deciding to use in-house developed technology along with pressure in the low end of the phone market. Philip Solis, research director at ABIResearch noted that the growing Internet of Things category could become the go-to market for Qualcomm in the coming years.
"While Qualcomm is still focused on the smartphone it can look to sell chips into the Internet of Things area," Solis said, adding the wireless connectivity space may also offer opportunities for Qualcomm.
Janas said it has a $2 billion stake in Qualcomm, which itself has a market cap of $113.47 billion. Qualcomm shares fell 0.62% at $68.73 on Monday.
"[W]e think they ought to do just a transparent review, and determine whether it makes sense, but we are not definitely saying they should split it up," said Jana Partners' Barry Rosenstein on CNBC, after Jana issued a letter urging Qualcomm to consider a breakup.
Qualcomm's management agrees with Solis. In a letter to shareholders today, it defended itself against against Janas' charges.
"Our opportunities remain strong. Our innovations have made smartphones the most pervasive technology of our time," Qualcomm said in response to Jana's letter. "They come to market through our inclusive licensing program and our cutting-edge chipsets, and continue to play an integral role in the expansion of the mobile industry. We are now bringing the benefits of mobile technologies to new areas such as automotive, healthcare, networking, smart homes, smart cities, and wearables among others."
Qualcomm has been under pressure of late and revised its guidance downward in February.
The company is now forecasting estimated revenue in the $26.3 billion to $28 billion range for fiscal 2015 ending Sept. 27, compared to the $26 billion to $28 billion figure originally forecast. GAAP diluted earnings per share are now in the $3.56 to $3.76 range, down from the prior guidance of $4.04 to $4.34. This includes a $975 million fine imposed by and China's National Development and Reform Commission.
San Diego-based Qualcomm reported on Jan. 29 first quarter revenues of $7.1 billion, up 7% from the $6.6 billion reported during the same period in 2014 with operating income of $2.1 billion, up 38% year over year.
Jana bluntly stated in its letter that it considers Qualcomm's the chipset business has no value.
"At the current stock price, applying just a market multiple to the licensing business (QTL) and backing out the after-tax value of its cash implies that Qualcomm's market leading ~$3.5 billion EBT chipset business is essentially worthless. This anomaly (a substantial discount for any company let alone a mega cap company with leading market share) may be addressed by either better demonstrating the unique operational value provided by combining the chipset and licensing businesses or by evaluating a partial or full separation of the businesses, something the company has considered in the past," Jana said in its investor letter.
Mark Hung, Gartner's (IT)  research VP, noted that Qualcomm is facing a great deal of pressure in the smartphone market also at the low end of the smartphone market with competition coming from MediaTek.
He also saw an upside to splitting the company.
"There might be a difference in perception. Another chip company might want to work with the licensing side  because it is not associated with the chipset business," Hung said, adding there is a chance a spun-off chipset business could also become an acquisition target.
Qualcomm countered this line of thought in its public response.
"Our Board of Directors and management periodically review our corporate structure. Prior reviews have concluded that the synergies provided by our business model create more value for stockholders than could be created through alternative corporate structures. We will continue to evaluate opportunities to enhance stockholder value and are committed to pursuing the right course of action for all of our stockholders," the company said.
Jana made several additional suggestions in its letter. These include accelerated share repurchase, comprehensive cost realignment, better governance by reducing the size of its board and looking at strategic mergers and acquisitions.
In a note issued by UBS in March, the company said Qualcomm's on-going $15 billion stock buyback plan was a positive step, but it kept its rating at neutral due to on-going pricing pressure in the chip market and worry over the company's ability to collect royalties in China.
This article is commentary by an independent contributor. At the time of publication, the author held no positions in the stocks mentioned.