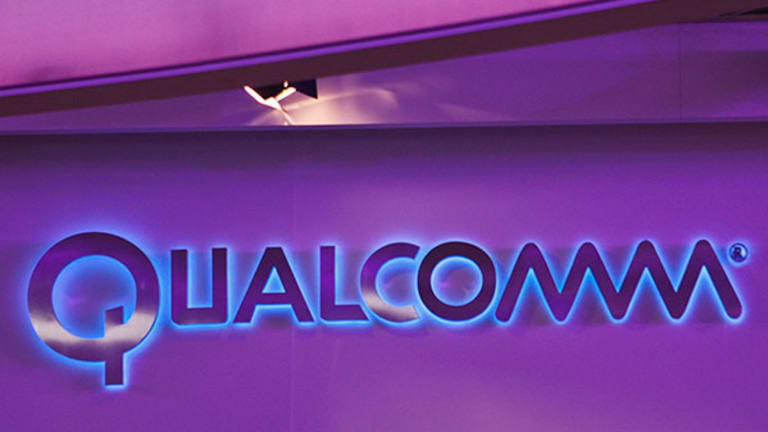 Qualcomm Has a Huge Target on It From Jana Partners -- Here's the Investor Letter in Its Entirety
Jana Partners sent a letter to its investors regarding its Qualcomm investment. Here's the letter in its entirety.
NEW YORK (TheStreet) -- Qualcomm (QCOM) - Get Free Report is under pressure from activist hedge fund Jana Partners to shake up the company's cost structure and return capital faster to shareholders, in an effort to boost its share price.
With an investment of more than $2 billion in the San Diego-based Qualcomm, Jana Partners has outlined several strategies to boost the lagging share price, including accelerating its $15 billion buyback program, cutting costs, aligning executive compensation in line with the share price, and strengthening the company's corporate governance, to name a few.
Shares of Qualcomm were falling in late Monday trade, losing 0.39% to $68.78 after having traded as high as $71.90, following the initial report from The Wall Street Journal.
TheStreet
has received the letter from sources close to the situation.
Here's the letter in its entirety.
Qualcomm Inc. (QCOM) - We have invested over $2 billion in Qualcomm Inc., making us one of the company's largest shareholders. Given the size of this commitment, we wanted to share in some detail our rationale and enthusiasm for the investment.
Qualcomm's wireless IP licensing (~65% of EBT) and chipset businesses (~35% of EBT) have market leading positions backed by extensive IP and engineering talent and are beneficiaries of several secular growth drivers in the wireless market. Despite these excellent businesses, Qualcomm trades at a depressed absolute and relative valuation with a fiscal year end 9/16 P/E multiple of only ~9x after backing out more than $30 billion in net cash.2 Following a long period of share price underperformance,3 the company is out of favor with investors and analysts whose focus on short-term data points leads them to ignore Qualcomm's significant improvement potential, its strategic importance, and the underlying earnings power afforded by the strength and positive long-term secular drivers of its businesses.
Over the past several months we have been engaged in a constructive dialogue with the company regarding the steps it can take to restore investor confidence and unlock shareholder value. We believe that the Board and management recognize the need to address its historical underperformance and improve investor perceptions of the company. The company's recent $15 billion buyback announcement begins to address these issues but significantly more remains to be done. We expect that aggressive execution of the following steps, coupled with the realization of our favorable fundamental outlook for the business, will close the significant price to value gap reflected in the share price.
• Accelerated Share Repurchase: Qualcomm's recent $15 billion buyback announcement is a great start to using its excess cash balance (almost 30% of its market capitalization) to create shareholder value, but the $10 billion to be deployed over the next twelve months can be deployed sooner, ahead of realizing value from the additional self-help steps it can pursue, and, provided Qualcomm remains undervalued, this should be immediately followed by aggressively deploying the remaining $5 billion.
• Comprehensive Cost Realignment: A comprehensive cost review can help Qualcomm reverse years of expense base growth. As an analyst recently noted "the company continues to find ways to lose with profitability and execution misses yet does too little to curb spending."4 One area of particular focus is the chipset business (QCT), the cost base of which should be right-sized (margins are ~1,300 bps below prior peak levels despite tripling unit volumes). Qualcomm should conservatively be able to adjust its cost structure to achieve its long-term 20% to 22% margin target on current run rate revenues and business mix, taking 2015E margins up 400 bps assuming the midpoint of the targeted range. We believe there are other significant cost opportunities and our experience has shown that experienced, independent cost consultants and strategic partnerships (e.g., foundry) can significantly enhance internal efforts to achieve them.
•Improved Incentive Alignment & Disclosure: Qualcomm can help emphasize shareholder value creation by moving away from its revenue and operating income based compensation targets and introducing, for example, earnings per share and ROIC targets. This change would eliminate the incentive to grow at any cost, drive improved capital allocation, encourage value-creating share repurchases, and provide an important check on stock-based compensation (which is currently excluded for purposes of calculating management's operating income based compensation target and has been a source of significant shareholder dilution). Lastly, improved segment level disclosure (e.g., gross margins, R&D, capex, stock compensation, headcount and SG&A) would provide more complete metrics for management and shareholders to track and assess performance.
• Governance: Qualcomm can strengthen its governance and improve decision making and oversight by right-sizing the board (currently unwieldy at 15 members), renewing the board (currently three members each with tenures of over 20 years) and introducing new directors with an owner orientation and a focus on operational performance including cost management. This type of refreshment would not only reinvigorate the board but would also give shareholders greater confidence in Qualcomm's ability to drive shareholder value.
• Corporate Structure: The company can also look to its corporate structure to unlock value. At the current stock price, applying just a market multiple to the licensing business (QTL) and backing out the after-tax value of its cash implies that Qualcomm's market leading ~$3.5 billion EBT chipset business is essentially worthless. Looked at the other way, the same analysis suggests the QTL business is being valued at a low single digit P/E multiple. This anomaly (a substantial discount for any company let alone a mega cap company with leading market share) may be addressed by either better demonstrating the unique operational value provided by combining the chipset and licensing businesses or by evaluating a partial or full separation of the businesses, something the company has considered in the past.
• Strategic M&A: Qualcomm can also consider its strategic M&A potential as a means to unlock value. Semiconductor companies are being rewarded for M&A, with several recent large deals having meaningfully outperformed the market, and with those deals focused on industry consolidation/cost synergy delivering even greater returns. One analyst recently highlighted Qualcomm's strategic value noting, "We also think a QCT listing would make for an attractive take-out by Intel, who has long struggled to keep up with the radio features of Qualcomm's modems and is losing over $3 billion a year in its mobile division."
In addition to this extremely attractive self-help story, Qualcomm offers an attractive fundamental story. Qualcomm's QTL licensing segment is a highly durable IP supported profit stream and one of the best ways to invest behind the key growth areas in mobile: China, global 4G/LTE penetration, and global smartphone adoption. Growth in these areas coupled with the recent favorable resolution of a 15 month investigation into its licensing model by China (one of the toughest IP markets in the world) provides a durable and growing set of very high margin (~87%
EBT margin) cash flows. Qualcomm's QCT chipset segment is a highly strategic asset providing market leading mobile chipsets that is well positioned to participate in growth from adjacent markets (e.g., the data center and connected devices) and rebound from a series of temporary setbacks that have caused it to under-earn.
The QTL business licenses its portfolio of proprietary wireless IP to global handset manufacturers in exchange for a royalty based on the value of every phone sold. The licensing agreements are long term in nature (15+ years or perpetual), creating a highly durable cash flow stream. QTL's IP portfolio has the greatest share of essential patents for the key wireless standards (3G and 4G/LTE) which are required for the operation of every phone globally. These wireless standards will remain dominant for at least the next decade: global LTE penetration is in its early days (~30% of phones shipped last year were LTE enabled), two out of three wireless carriers in China (the largest wireless market in the world) are just beginning to offer LTE service, and 5G technology is at least 10 years away and is likely to rely heavily on 4G technology where Qualcomm is already the leader. With 3G wireless networks remaining the backbone of many global networks for the foreseeable future and 4G still in its relatively early stages on a global basis, the QTL patent portfolio will stay relevant into the distant future.
The strength of QTL's business model and IP portfolio was reaffirmed two months ago when the Chinese government agreed to a royalty rate in China in-line with the company's overall average rate. This settlement enhanced the long-term value of the business and will lead to upward revisions to Qualcomm's earnings power (with full realization by 2016). During the Chinese government's 15 month review of Qualcomm's royalty practices the majority of Chinese smartphone OEMs stopped paying royalties, resulting in no growth in QTL revenue and depressed overall earnings. As a result of the settlement, Chinese handset OEMs will resume paying Qualcomm royalties this year, which we believe will lead to a meaningful rebound in QTL revenue at a very high incremental margin.
QTL is expected to benefit from healthy smartphone unit growth for the foreseeable future. Smartphone penetration rates are still below 50% globally and smartphone replacement cycles are relatively short given their fast pace of innovation and rapidly increasing utility. With smartphones in the sweet spot of emerging market adoption, the low end mix shift has pressured global average selling prices providing a misleading trajectory of pricing. In fact, we can imagine this level of pricing pressure proving temporary. Looking to the PC market as an analog, average annual pricing declines during the peak years of emerging market PC penetration were similar to levels observed in today's smartphone market. However, as the PC market approached maturity, pricing declines moderated significantly, suggesting a more positive outlook for smartphone pricing in the future. Additionally, as smartphones replace more PC functionality, consumers will pay more for these devices as usage and utility derived both increase, the latter in part due to their rapidly advancing capabilities as well, in some cases, their position as a status symbol. Evidence of this can be seen at Apple, where smartphone average selling prices have actually increased year over year for the last two quarters.
The QCT business is the dominant chipset provider for LTE devices globally, operating a concentrated product portfolio with leading technology in one of the most strategic end markets in the semiconductor space. However, QCT's earnings are temporarily depressed due to the combination of a technology shift and execution missteps on its latest chipset offering. The company was cautious in embracing the transition to both 64-bit architectures and leading edge 14nm process technology. This left the company in a vulnerable position with a current generation product that did not achieve Qualcomm's usual high standard, resulting in subsequent market share loss, margin compression, and depressed earnings (margins in the second half of 2015 are expected to be 650 bps below targeted levels and well below historical and peer margin levels).
Qualcomm has already embarked on corrective measures to improve the trajectory of QCT, the benefits of which we expect to be fully realized in 2016. Shifting its higher-end chip production to the leading edge with Samsung's 14nm foundry process should restore its position of leadership in chip price/performance and lead to an improved cost position as the one-time expense to move production abates, and they realize the benefits of a more diversified supplier base. This move also strengthens the strategic relationship between Qualcomm and Samsung as Qualcomm becomes a large, high volume foundry customer for Samsung. Returning to its proprietary core architecture should re-establish Qualcomm's traditional performance advantage versus competing offerings. With these fixes, and acceleration of the timetable for their next integrated Snapdragon product, Qualcomm is well positioned to win back market share. Integrated chipsets, the traditional forte of QCT, provide indisputable cost, design, and power consumption advantages that have historically enabled the company to fend off well capitalized competitors such as Broadcom, Texas Instruments and Ericsson (who have all exited the market) as well as Intel and Marvell (who have yet to generate a profit). In the interim, we believe that QCT can adjust its cost structure to return to targeted margin levels by pruning less productive peripheral R&D projects (recall the company's ~$1 billion investment into their short-lived Mirasol display technology) and focusing on production efficiencies, setting the stage for further potential margin expansion by winning back market share with its next generation product.
Beyond this, QCT also offers significant optionality as Qualcomm seeks to leverage its technology leadership and strong mobile market position into adjacent markets to drive revenue growth. The datacenter presents a large and rapidly growing incremental market where customers are actively seeking alternative chip suppliers and where Qualcomm has several options to accelerate its market penetration. Over the next two years we expect to see tangible evidence of early success in this market. Over the longer term, the trend of connected devices (e.g., autonomous cars and connected homes) also presents incremental avenues for profitable growth where QCT is well positioned to be a market leader by leveraging its existing cost base.