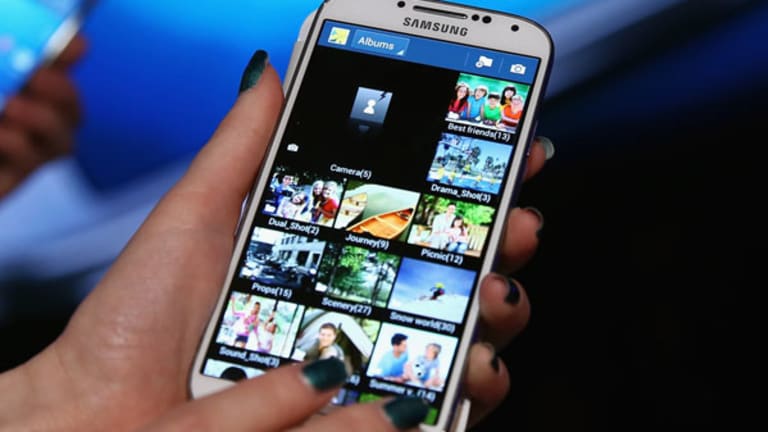 Psst! Customers Are Still Buying Cellphones
But not all buyers are ready for Smartphones.
NEW YORK (TheStreet) -- With the relentless coverage of mobile apps, one would think that everyone owns a smartphone.
We're close. But not quite. And we may never be a nation of exclusive smartphone users. Depending who you ask, research puts non smartphone users in the U.S. at around 55% (Pew Research Center), 42% (Business Insider Intelligence) or 40% (Strategy Analytics). In fact, market researcher IDC projects that this year will be the first time ever smartphones out-ship other mobile phones around the world. And only by a smidge -- at 50.1%.
While there will always be Luddites with an aversion to owning a smartphone, most of those who go without do so because of cost or complexity. And a good chunk of the population will probably never own a smartphone, said Neil Shah, senior analyst of Strategy Analytics Global Wireless Practice.
These could include seniors, children, cellular users
who cannot afford a data plan or find smartphone too complex," Shah said. "We expect this ratio to decline over
the next five years but still there would be a fourth of North America's total population which won't own a smartphone."
This forgotten market may still use a basic cellphone, but just to call somebody. Or a basic feature phone with text messaging. But companies aren't giving up on this minority. Changes are being made to get us to the point where the only people who don't want a smartphone are the ones who don't have one.
Samsung recently added "Easy Mode" to its new Galaxy S4 smartphone. Icons and fonts are larger and the number of screens and apps per screen are limited to diminish confusion.
T-Mobile
(TMUS)
recently dropped two-year contracts to make it a bit more affordable to sign up and maintain a smartphone plan. Prepaid providers like Virgin Wireless and Straight Talk offers unlimited 3G and 4G data plans starting at $35 and $45 per month, with some caveats.
Also see: Smart Ways Smartphone Makers Are Attracting Basic Phone Users >>
Through its Ready Now program,
Sprint
(S)
store employees help set up new phones before the customer walks out the door. That includes transferring contacts, setting up email and demonstrating the phone's features.
AARP, for one, is pushing to educate seniors -- and the industry -- about what it will take to convert older adults. Jody Holtzman, AARP's senior vice president Thought Leadership, points to the Pew Research Center's Internet & American Life Project last summer that found only 11% of people age 65 and older have a smartphone. Comparably, 45% of all adults over 18 had a smartphone, according to the same study.
"Many older adults aren't convinced" and aren't being marketed to, Holtzman wrote in a blog post
Why Aren't Older Adults Buying Smartphones?
The comments offered added insight: "Too darn complicated to use," said one. "I have no desire to be constantly connected," said another.
The consumer electronics industry needs to improve smartphone design and make it uncomplicated to use, Holtzman said.
"There simply is no excuse any more that products are not really plug and play. And so many have tiny buttons in black on a black background with labels in a 2pt font IN BLACK! Nobody can read it. And why can't a TV remote program itself. IPad is an example of design for all; your TV remote is an example of design for none," Holtzman said in an email interview.
Smartphones have launched or revived many businesses. Just think of the many mobile-app millionaires exist today. Looks at the numerous cases, headsets and other accessories. HTC, Huawei and even
Apple's
(AAPL)
iPhones are thriving because of their smartphone business. And the major mobile operators all report huge growth -- and revenue -- from this relatively new market. They are not ignoring potential new growth to this market.
"When you re-upped your contract,
Verizon
(VZ)
makes it really easy to upgrade. ...When you walk into a store, it will take you awhile to get to a feature phone. They've set up their stores that way and they've trained their staff to sell you on smartphones," said Ryan Reith, program manager for IDC Research's Mobile Device Trackers. "They make more money on a smartphone user than a standard phone user."
Also see: The Coolest Army Jobs for Civilians This Memorial Day >>
With the launch of faster mobile Internet, mobile operators can charge more for data, which is helping offset declines in phone service revenue. According to IDC, average data revenue per user jumped 40% since 2008, while phone revenue declined 19%.
AT&T
(T)
, for one, reported in first quarter this year, that its average revenue per smartphone user is twice that of non-smartphone subscribers.
"We've seen the paradigm shift and it's not moving back to feature phones," Reith added.
Sprint reported in its first quarter earnings this year that 86% of its postpaid handset sales were smartphones. Those users have outnumbered non-smartphone customers for a while now. And Sprint's handheld device offerings -- down to three consumer cellphones -- are evidence of customer demand.
"It (non-smartphone use) has absolutely shrunk over the last three to four years," said Doug Kaufman, Sprint's manager of product development. "What we used to have two and a half years ago when 40% of our sales mix was messaging phones, then the smartphone phenomena came on and we've decreased our offering and right sized it to the sales level."
As for the 14%-or-so of customers, a good chunk are on phones and plans being phased out with the end of Nextel and the iDEN network or are on the older CDMA network. Excluding those, Kaufman said, "The consumer non-smartphone segment is even smaller."
Of course, the major carriers aren't completely ignoring those who choose to stick with basic phones.
"We're trying to maintain an offering in feature and messaging phones," Kaufman said. "If you look in terms of our base, there are still multi-millions of feature phone users."
AT&T offers eight basic phones online. Comparably, it also offers 32 smartphones.
Also see: The Mystery of Meg Whitman's HP >>
"We have a broad selection of devices to accommodate all of our customers, including those who want basic phone features," said Mark Siegel, with AT&T Wireless. "There is a need for this and we're happy to provide it."
At the time of publication the author held no positions in any of the stocks mentioned.
This article is commentary by an independent contributor, separate from TheStreet's regular news coverage.
Tamara Chuang is an outside contributor to TheStreet. Her opinions are her own.