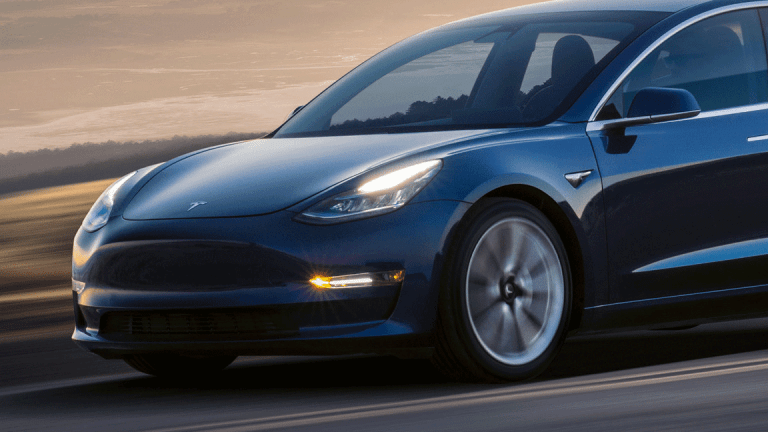 Pro Tears Down Tesla's Model 3 and Here's What He Found
Automotive consultant Sandy Munro recently broke down Tesla's Model 3, all the way down to the nuts and bolts. Here's what he and his team found, both good and bad.
The apple doesn't fall far from the tree.
One thing we have repeatedly said about Tesla Inc (TSLA) - Get Tesla Inc. Report is that the company makes a great product, but the company's not well run. Tesla was able to do what no other automaker could: make electric cars sexy, fun to drive and efficient.
To a large degree, most automakers still haven't found a way to do this, at least at the scale that Tesla has. Despite these accomplishments, Tesla is lacking on the business side. If it weren't for its charismatic CEO Elon Musk, the automaker would unlikely have such a high market cap or been able to raise funds so successfully.
In any regard, Tesla carries a large debt load, burns plenty of cash and continues to struggle from an operations standpoint.
That's how we get to the apple-and-tree analogy. Like the company, the Model 3 is a great car, but it's manufacturing is nothing to brag about. That's of similar opinion to Sandy Munro, the founder of Munro & Associates, an automotive consulting firm based in Detroit.
Breaking Down the Model 3
Munro and his team got their hands on Tesla's latest sedan.
He had a lot of good things to say about the car and of course, some not-so-good things. Basically, the good revolves around Tesla's technology and the car's performance. The battery pack, handling, driving and skateboard chassis were all very solid.
In fact, some of Tesla's components weren't just solid, they were exceptional.
"This is revolutionary and everybody else is sitting there twiddling their thumbs," Munro said. "Anybody that's in the car industry that ignores this car is doing it at their own peril. This is big stuff," he added.
All you have to do is look around to know that Tesla is the undisputed leader in the electric vehicle market. At least when it comes to a high-end ride with impressive performance. Heck, there's even video of a Model X towing an Alfa Romeo 4C while simultaneously racing an Alfa Romeo 4C and still winning.
There's no question about Tesla's performance and capabilities. There are, however, questions about it's manufacturing process. Musk has called it a "production hell" with Model 3 and recently acknowledged that the automaker was banking on too much automation to assemble the vehicle.
"I'm really impressed with the electronics and the battery, I'm not so impressed with the body build," Munro explained.
Tesla's assembly showed a lack of production training in his eyes and the panel gaps were far too big. Although the company said it's improved these gaps and is looking to make them even better.
Part of the what makes Tesla great is its revolutionary technology. While that mindset has led to some groundbreaking improvements, it's also hindered Tesla, particularly as the automaker thought it could reinvent the assembly line.
Tesla ignore 100 or more years of the auto industry's advances, Munro reasoned. It's not that automation doesn't have a role or won't be more relied upon in the future. But in terms of current production, adhering more to industry standards would have yielded a better and more consistent build.
The host speaking to Munro asked if the outcome would have been different had Tesla contracted a manufacturing firm like Magna International Inc. (MGA) - Get Magna International Inc. Report to build the Model 3. "If they would have done that, they'd a hit every target and I think that even Toyota (TM) - Get Toyota Motor Corporation Report would be basically crapping their pants. That's a fact," he reasoned.
Even with just decent manufacturing results, the Model 3 could have "mopped the floor with everybody," he added. But it didn't and so it's not.
The bottom line is simple: The Model 3 is just like Tesla as a whole. It's a great product, but the operations are troubled. The silver lining here is that Tesla can fix this, since it's not as if the automaker has great manufacturing and a terrible product. 
Ironically, the Model 3 and Tesla go hand in hand as well. Improve the manufacturing speed and quality of the Model 3 and it will ease the financial burden weighing on Tesla.
This article is commentary by an independent contributor. At the time of publication, the author had no positions in the stocks mentioned.