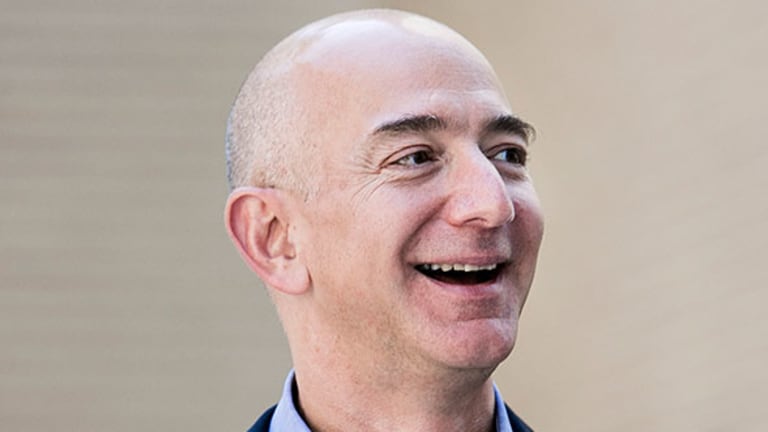 Prime Members Account for Nearly Half of All Amazon Purchases -- Survey
A survey of U.S. consumers pointed to a great month in the e-commerce sector overall, but especially for Amazon.
NEW YORK (TheStreet) -- Amazon (AMZN) - Get Amazon.com Inc. Report is still leading the way in U.S. e-commerce, thanks to some healthy spending from Amazon Prime members, according to the monthly survey from Cowen and Company.
Every month research firm Cowen surveys 2,500 U.S. consumers to get a feel for the e-commerce sector by asking which sites consumers visited and purchased from that month. In May, all seven e-commerce companies in the survey displayed some positive trends. The number of visits to e-commerce sites was up about 1% over April and 2.5% year over year.
Amazon's numbers were largely propped up by Prime members. About 93% of Prime members visited the site in May; about 72% of non-Prime customers did so. Many weren't just visiting the site, they were spending money too. About 82% of Prime members purchased goods on Amazon in May, compared with about 45% of non-prime members. Prime purchasers now account for 46% of total Amazon purchasers, up from 37% in May 2014.
Based on its survey, Cowen estimates that there are about 36 million Prime subscribers in the U.S., which corresponds to one in three Internet-connected households.
"Positive Amazon results continue to be driven by higher Prime penetration modestly offset by softness among the Non-Prime cohort," Cowen analyst John Blackledge wrote in the research note. "In our opinion, we think Amazon Prime continues to improve its product offering, such as the rollout of free same-day delivery for Prime members in 14 major cities in May, driving both retention and new Prime members."
But Amazon wasn't the only winner in May -- Wal-Mart (WMT) - Get Walmart Inc. Report, Costco Wholesale (COST) - Get Costco Wholesale Corporation Report and Target (TGT) - Get Target Corporation Report all showed some strong growth in visitors and purchasers.
Walmart.com saw a 5.1% year-over-year increase in monthly visits and a 3.6% year-over-year increase in monthly purchasers. For its part, Target.com saw a 4.9% year-over-year increase in monthly visits and a 1.7% year-over-year increase in monthly purchasers. Costco.com saw a 3.2% year-over-year increase in monthly visits and a 1.7% year-over-year increase in monthly purchasers.
The other e-commerce companies in the survey-- eBay (EBAY) - Get eBay Inc. Report, Kohls (KSS) - Get Kohl's Corporation Report, and J.C. Penney (JCP) - Get J. C. Penney Company, Inc. Report -- all saw positive growth in purchasers. Kohls and J.C. Penney also had more visitors, although eBay fell 0.6% year-over-year in terms of visitors.
Though eBay was certainly trailing its competitors, Cowen said it expects the San Jose-based company to start to recover as it moves beyond the 2014 security breach and Google algorithm changes.