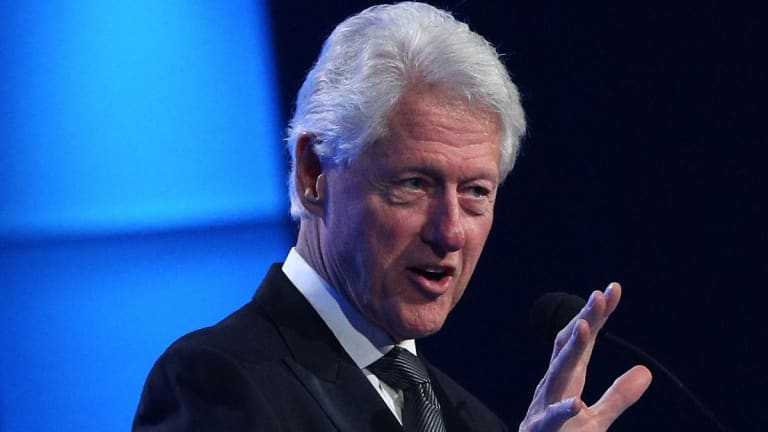 Ex-President Bill Clinton on Blockchain: Don't 'Kill the Golden Goose'
At a Ripple conference in San Francisco, President Bill Clinton said that the blockchain industry must weed out fraud, crime and money laundering to realize the technology's potential. The fintech company announced that its system for cross-border payments is commercially available.
What does President Bill Clinton make of the crypto craze?
Speaking to an audience of technologists and bankers in San Francisco, the former President cautioned the audience to protect the public without killing "the golden goose."
Comparing blockchain to the rise of the commercial internet in the 1990s, Clinton said the primary challenge in advancing the technology is preventing abuse by bad actors, without squelching its economic potential.
"You don't want consumer fraud, you don't want to finance criminal enterprises, and you certainly don't want to make it easier to pull off severe attacks by terrorists," Clinton said. "That's the challenge of each new technology."
The event was organized by Ripple, a financial tech company encompassing a cryptocurrency as well as a payments processor. At the event, Ripple CEO Brad Garlinghouse announced that RippleNet, its blockchain product, supports commercial, cross-border transactions that can otherwise take days and incur high foreign exchange fees.
The cross-border functionality, which uses the Ripple cryptocurrency XRP, is already in use by two payment providers and a credit union: MercuryFX, Cuallix and Catalyst Corporate Federal Credit Union, the company said.
Clinton's wide-ranging remarks spanned on topics from blockchain and border security to gun control and North Korea, but much of it focused on the role of government in preventing catastrophe, whether financial or otherwise. He urged the audience to consider the public interest instead of getting "carried away with the immediate financial rewards" of blockchain and cryptocurrencies, suggesting that the global financial crisis of 2008 could have been avoided with stronger oversight of risky financial products.
"The more the benefits materialize, the more you have to be careful about it," Clinton said, cautioning that the accelerating pace of technology -- specifically in blockchain, AI, robotics and nanotechnology -- has the potential to magnify social inequities. Clinton cited an unsuccessful effort to implement broadband access nationwide as another cautionary tale. 
Startups including Ripple are striving to bring blockchain --the technology that underlies cryptocurrency transactions -- to mainstream financial players and enterprises.
Advocates of blockchain argue that the technology makes business functions such as payments, supply chain and inventory management more efficient and secure. But there are still technological and regulatory hurdles in bringing the technology to a global, commercial audience, chief among them the proper classification of cryptocurrencies and how to regulate them at the point of liquidation. In June, SEC Director of Corporate Finance William Hinman said that Bitcoin and Ethereum, the two largest cryptocurrencies by market cap, won't be regulated like securities.
The companies using Ripple's cross-border payments functionality, dubbed XRapid, said that they had undergone pilots using the technology and had signed contracts to move the pilots into commercial production. Ripple says that its payments system is in use in 40 countries. 
"Catalyst Corporate, through our subsidiary companies' technology platforms, will leverage the XRP digital asset to transfer money across borders instantly on behalf of our 1400+ member credit unions," Brad Ganey, COO of Catalyst Corporate Federal Credit Union added in a press release.