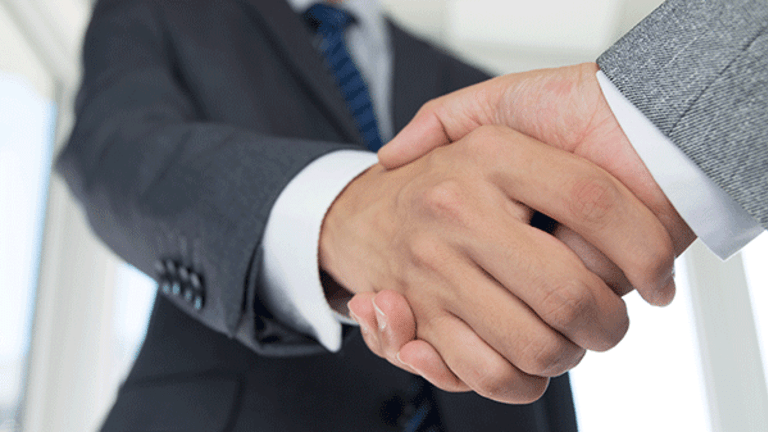 Publish date:
Possible Private Equity Interest Seen for Citrix
Even if other software companies don't show up to an auction, an analyst suggests, a private buyer could bid up to $100 per share.
Even if other software companies don't show up to an auction, an analyst suggests, a private buyer could bid up to $100 per share.
After slimming down with a spinoff of its GoTo worker collaboration software unit, Mizuho suggests Citrix Systems Inc. (CTXS) - Get Report  could be a target for private equity.
Citrix has reportedly retained Goldman, Sachs & Co. to explore a sale, according to Bloomberg. The company might not be appealing to a strategic bidder given its growth prospects, but could fetch as much as $100 per share, according to Mizuho's Abhey Lamba.  
The stock popped as much as 6.8% on Monday, when the news first broke, but has since returned to earth, retreating about 3.4% on Tuesday, then holding flat Wednesday and Thursday at about $82.10 per share. Shares closed Monday at $84.93, well above the $79.53 close on Friday, March 10.
Ft. Lauderdale, Fla.-based Citrix develops virtual workstations that allow staffers to access their desktops and applications remotely. Alternately, an institution like a hospital with a roving staff could allow multiple employees to log onto a single workstation, accessing different apps and documents.
The core business generated $3.4 billion in 2016 sales. After the divestiture of GoTo, Wall Street expects sales to total $2.8 billion in 2017. The remaining core business will grow less than 5% and the company has already squeezed improvements from margins, Pacific Crest Securities Inc. analyst Rob Owens wrote, suggesting little likelihood that another software group would bid.
A financial buyer see greater potential, Mizuho's Lamba suggested. "We think a private equity buyer could potentially make the deal work around $100 per share by slashing costs further and monetizing the maintenance revenue base," Lamba suggested Tuesday, raising his target from $85 to $94 per share.
Editor's note: This article was originally published by The Deal, a sister publication of TheStreet that offers sophisticated insight and analysis on all types of deals, from inception to integration. Click here for a free trial.
Citrix, which declined to comment, completed the tax-free spin of GoTo and a subsequent $1.8 billion merger of the business with business conferencing and communications company LogMeIn Inc. (LOGM) - Get Report  in late January. The divestiture followed the sale of Citrix's CloudPlatform and CloudPortal Business Manager products to Persistent Telecom Solutions Inc. for an undisclosed sum in early 2016.
After breaking off GoTo and other businesses, Citrix "presents a lot cleaner story" to buyers, Lamba wrote.  "It is still tough to identify a strategic buyer, but a financial buyer can potentially make the acquisition work with incremental cost cuts," the analyst wrote. "Given the challenges involved in putting together a large deal like this, we think there is still a lot of uncertainty involved."
Regarding the uncertainty, Bloomberg and Reuters report that only one PE firm is circling. 
The tepid interest may not be auspicious. Still, Qlik Technologies Inc. also faced limited private interest last year, Lamba observed, and arranged a $3 billion cash sale to Thoma Bravo LLC. 
Citrix, with a $12.8 billion market cap, would require a much larger commitment from a private equity buyer. "An acquirer would likely have to look at additional cost savings to make the LBO work, which we think is possible as the current plan includes additional investments that private equity investors would likely slash," Lamba wrote.