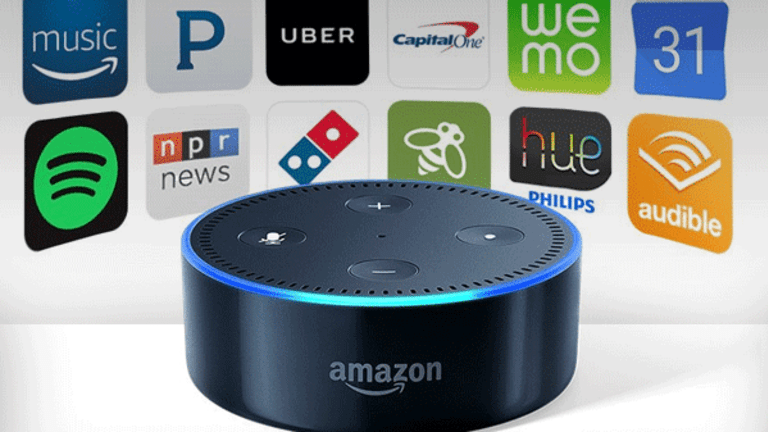 The ease of simply announcing your music selection to Alexa, the name given to Amazon Echo's virtual home assistant, remains the top reason Victor Miltiades, a Boston-based public relations account executive, and his roommates utilize it.
Picking a song hands-free is the main attraction, although asking entertaining questions emerges as a close second.
"She is pretty responsive and good at hearing what we are looking for, although, she did have some trouble finding Hall & Oates," he said. "Jeff Bezos, the CEO of Amazon, said in the last earnings call that they know over 250,000 people have proposed to her."
As the use of artificial intelligence-based virtual home assistants becomes more commonplace, consumers will gravitate toward its other uses such as shopping and not just seemingly innocuous chores such as turning off lights, changing the temperature or playing movies or TV shows. Consumers can already shop instantaneously through Amazon's Echo, but that is not an option yet with Google Home.
Cybersecurity Concerns
Since both personal assistants were created to listen to consumers all of the time, privacy remains a large concern, especially as hackers are always on the prowl to lift personal information, especially data to gain access into your bank and credit card accounts or even more critical ones, brokerage and retirement ones.
While artificial intelligence-enabled assistants are in their nascent stage, more questions and concerns about cybersecurity will emerge as their use becomes more ubiquitous and expands into the financial arena.
"Industry rumors of the extension of functionality in AI-based assistants like the Echo, Google Now/Home, Siri and Facebook's assistant for Messenger called M into the financial area have been circulating lately," said Joram Borenstein, a vice president of marketing of NICE Actimize, a New York-based financial crimes software solutions provider.
"The full extent of the initial functionality is still unclear, but one can expect small person-to-person payments, bill payments to existing payees and other low-risk financial transactions to be the first," he said.
Another growing issues is what each company intends to do with the increasing data they collect from their users. Amazon claims that its recorded data from Alexa are not sent to its servers unless the words such as "Alexa," "Echo" or "Amazon" are uttered, Borenstein said.
"A simple experiment at home with a packet sniffer can confirm that no unexplained network activity by the device is seen," he said.
The company also denies selling the data to a third party, but "it's no big secret that there is still significant value in the improvement to its speech recognition algorithms and which can later be offered as one of Amazon's many hosted services," Borenstein said.
While data collected from these virtual personal assistant devices are not being sold on the DarkWeb currently, hackers will not be complacent for long.
"I suspect that in time, this will change and criminals will want to purchase buying patterns in order to more strongly socially engineer someone that they are targeting," he said.
The federal government has refrained from commenting on whether it is using these AI-enabled tools as a mechanism to listen to private conversations, said Chris Roberts, chief security architect at Acalvio, a Santa Clara, Calif.-based provider of advanced threat detection and defense solutions.
"It's interesting to note that the federal chaps have waived all discussions on these devices by simply stating 'they can neither confirm or deny' when it comes to the topic of tapping and listening in on conversations through them," he said.
Since the aim of both Amazon Echo and Google Home is to simplify the lives of consumers by consolidating their accounts for music, entertainment and shopping, what emerges is an entire household or office "full of people's data showing on your account, be it good, bad or ugly," Roberts said. "Look at how these devices learn, so if someone in that group has nefarious purposes, it's going to show up on your metadata. That's probably not ideal."
The growing reliance on connected technology such as wireless security cameras, navigation systems inside vehicles and smartphones with voice-activated microphones can create more security concerns.
"We have gotten to a point where we are conditioned to accept new technology and new ways of doing things," he said. "Hollywood tells us it's 'cool' to have a talking robot in our homes all the time, so why wouldn't you want that. Personally, I won't be using one of these anytime soon."
Voice authentication with many of these devices remains scant and more questions arise, said Borenstein.
"Should it assume the speaker is its rightful owner or how about when several people live in the same house and have their own accounts and identities?" he said.
While Miltiades and his roommates are not concerned about the data being collected by Amazon, they are cognizant that this aggregation of personal information is akin to the survey of details gleaned from companies from social media and online shopping.
"As for privacy issues, I know that Amazon is using the data from questions we ask," he said. "I'm interested to see how they use the data. I haven't used Alexa to purchase anything yet, but it would make sense collect that purchase data from Alexa since they do that for everything else."
Privacy should remain on the forefront for everyone, even casual users of social media, Miltiades said.
"I would recommend the same caution with Alexa as I would with all internet usage," he said. "If you don't want people to know about it, don't put it online - same story, different device."
On Twitter, the majority of the sentiment has been more positive than negative about Alexa with 76% comments which were neutral, 16% positive and 8% negative, according to Spredfast, an Austin, Texas social software company, which examined 801,582 mentions of Alexa during the past 90 days. None of the comments included cybersecurity as an issue, although a few included the risks to privacy due to Alexa recording conversations.