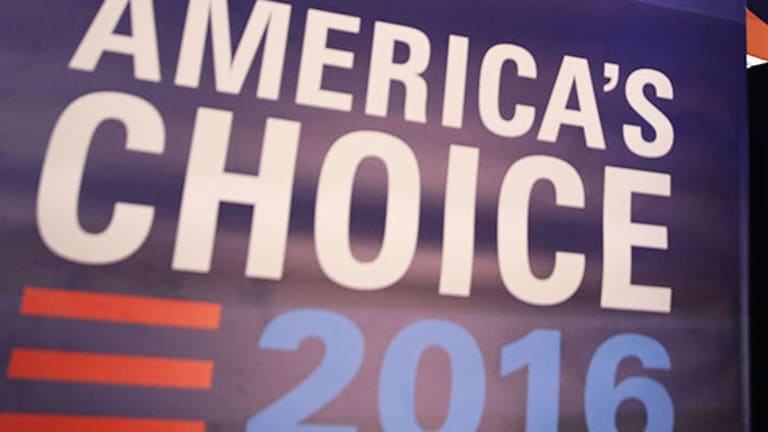 Political Advertising Spending Will Boost These Media Stocks
Political advertising is expected to top $6 billion in 2016, giving the boost to TV owners and fresh revenue to online platforms. We map out the winners and losers.
As politicians vie for the support of voters, television companies are deep into a parallel battle for political advertising.
The pool of spending on political advertising next year is expected to reach $6 billion, according to a report led by Wells Fargo (WFC) analyst Marci Ryvicker. Given that two-thirds of the spending is headed for television, pure-play TV station owners E.W. Scripps (SSP) and Gray Television (GTN)  stand to gain the most from the bonanza.
Both companies own several network-affiliated TV stations in swing states: E.W. Scripps has two or more affiliates in Colorado, Ohio, Florida and Wisconsin. Gray Television has broadcast affiliates in Wisconsin, Virginia, Colorado, Florida, Iowa and Nevada.
E.W. Scripps, which reported a $24 million third-quarter loss earlier this month, stands to gain the most with 41% "revenue exposure" to swing state politics, said Ryvicker, based on an analysis of the company's station holdings. Gray Television, which in September acquired KCRG-TV, the No. 1 ranked station in Cedar Rapids, Iowa, the state's largest city, has 27% revenue exposure.
Considering the amount of advertising spending that candidates earmark for swing states, network affiliations give broadcasting giants Scripps and Gray a major advantage, according to Kyle Kondik, a political analyst at the University of Virginia's Center for Politics.
"There's a very small number of states that campaigns actually focus political ads on — ten states saw all the ad revenue for the Obama-Romney race," Kondik said. "With maybe the exception of a couple new states, I suspect that will be the state of campaigning next year as well."
The total political funds raised in 2016 will reach $7.5 billion, with 80% allotted to advertising, Ryvicker's report estimates.

Comcast's (CMCSA) NBCUniversal and Disney's (DIS) ABC, which also have network affiliates in "hot race states," according to Ryvicker, are positioned to gain 28% each of the total ad inventory. CBS (CBS) , another diversified company, is positioned to gain 24%. In the 2012 election cycle, political advertising boosted earnings for both Comcast-owned NBC Universal and Disney-Owned ABC.
As for digital—mobile, online and email political advertising—spending will reach $650 million; a 100% increase over 2012, but a market share of only 11%, Ryvicker estimates. That's because digital campaign efforts are mostly free, she said.
"Having a Facebook page doesn't mean advertising dollars are being spent," she said. "People can 'like' Donald Trump on Facebook without it costing him anything."
Elizabeth Wilner, senior vice president of the media research firm Kantar Media, said that while digital advertising initiatives are "growing exponentially," television ad spending will continue to outpace digital in the election year. 
"There's a lot of digital ground that hasn't been plowed," Wilner said. "But there's still a long way to go in terms of growth, and digital falls far behind the kind of share that a TV or cable spot on a local broadcast can get."
In July, Kantar released its own set of political spending estimates, focused solely on TV advertising dollars. In Kantar's prediction, political TV ad spending will hit $4.4 billion in 2016 -- a number that hovers around Ryvicker's prediction, but falls short of other industry estimates. One highly-circulated study from Borrell Associates, for instance, predicts political advertising will top $11 billion in 2016, with a record $1 billion spent on digital media.
It's a pot of money media companies are eager to grab.