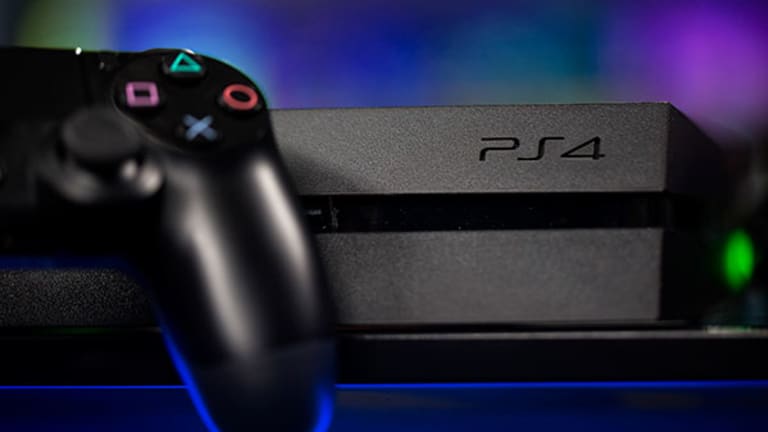 PlayStation 4, Xbox One: The Out Of Stock Epic Battle
Didn't preorder your PS4 or Xbox One? You will now be playing the epic battle called 'out of stock' and your quest is to find the elusive game console.
NEW YORK (TheStreet) -- Woe to the parent that didn't pre-order a game console for the holidays because PlayStation 4 and Xbox One are this year's Tickle Me Elmo and Cabbage Patch Doll. The must have item that isn't in stock.
Naive parent that I am, I thought that with a launch this big for Sony and Microsoft that there would be plenty of stock. Sony (SNE) - Get Sony Corp. Report is launching the PlayStation 4, while Microsoft (MSFT) - Get Microsoft Corporation Report is offering the Xbox One. Boy, was I wrong. Sony sold 1 million units the first weekend and there are no more available. Not in the store, not online.
I then called GameStop (GME) - Get GameStop Corp. Class A Report to find out when it would get another shipment. The store associate said they had no information as to when they would get more or how much, and to just keep calling back. (This is feeling like trying to buy a generator during Hurricane Sandy and calling Home Depot (HD) - Get Home Depot, Inc. Report every day.) So I call the next day. Here's where my blood starts to boil on these types of things.
GameStop says it has no more, but I can get one if I order the bundled version.
Here's how it went own:
Me: Ok, how much?
Clerk: $949.
Me: Wait, what? $949!!
Clerk (well-trained): This includes eight games, 1 year membership, and more...
Me (in parental shock, and has tuned out from hearing all the other features): They call this the "Epic" bundle. Oh it's epic alright. The clerk doesn't understand why I'm upset. I explain that the unbundled version is $399 and they are trying to sell me one that is more than $500 more.
Clerk: But it has eight games, you need new games.
Me: But these are not the games I want.
Clerk: You can exchange them.
Me: But I don't need eight games.
I make my 14 year old teenage boy buy his own games and pay for his own memberships - with his own money that he earns on his own. This is why I want the basic version. I then proceeded to wait a day, and called GameStop again. This time, I drag it out of the clerk that a shipment will be there for Black Friday. Well, isn't that special? So there is more product, but you'll make me wait until the worst shopping day to get it? Why? To generate buzz? To pump up those Black Friday numbers for shareholders? This really burns me up.
So, why am I team PS4 and not team Xbox One? We have a "classic" Xbox 360 (that means really old), but my teenaged son and all his friends have decided they are switching to PlayStation, because they are sick of Xbox live. They also don't want Kinect, it reminds them of Nintendo's Wii, which is for little kids. I have learned not to question the mind of a teenager.
Even if I wanted to get the Xbox One, which is $100 more, I'd find myself in the same situation. Xbox One preorders were double that of the Xbox 360 when it came out. Marc Whitten, the Chief Product Officer at Microsoft said the company was trying to make sure it had enough for the holidays, but demand is very heavy.
I can understand how in Christmases past, a Tickle Me Elmo or a Cabbage Patch doll could catch a company off guard. The desire for these toys was completely unexpected setting off a shopping frenzy. Yet, these game console makers knew they hadn't updated their products in years; the companies the demand would be huge. How can they not make enough?
I feel like they have manufactured the out of stock mania in order to incite shopping madness. Perhaps I should have powered up and pre-ordered and then I wouldn't be in the situation of trying to unlock the purchase level. Lesson learned.
Well played, Sony, well-played.
--Written by Debra Borchardt in New York
Disclosure: TheStreet's editorial policy prohibits staff editors, reporters and analysts from holding positions in any individual stocks.