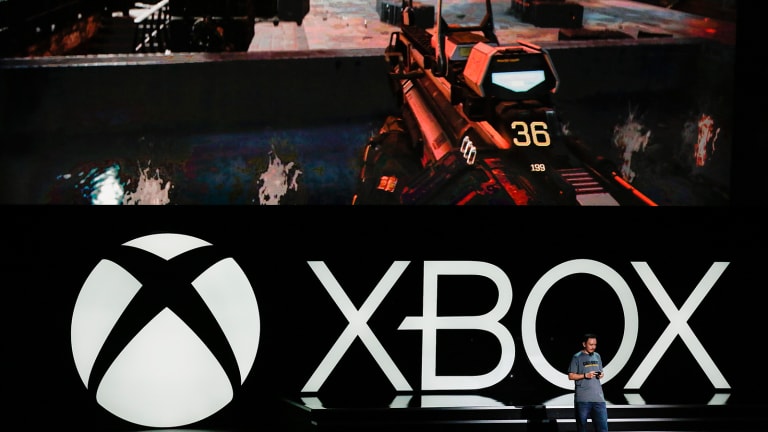 'Pick Your Flavor' From These Video Game Stocks
Baird analysts suggest investors interested in video game stocks take a look at these picks.
Baird analysts suggest investors interested in video game stocks take a look at these picks.
The Electronic Entertainment Expo, E3, is finally here. 
For investors, this is the time to look into video game stocks, since the public video game developers and studios will be announcing and showing off their line-ups for the next year. 
Baird Equity Research released a note on Sunday, June 10, which goes through the major companies. 
Baird suggests that investors take a "pick your favorite flavor" approach to these stocks. To make it easier, the companies are listed below with their expected announcements at E3 and how they've done in the market so far this year. 
Microsoft held its Xbox presentation on Sunday, June 10, so it makes the most sense to start with it. 
The tech giant is preparing to take on Sony's Playstation empire, which is apparently beating Xbox sales. But the exact numbers are unknown. Microsoft stopped releasing the number of Xbox's sold.
"PS4 sales have greatly outnumbered Xbox One sales, largely the result of an impressive slate of console exclusive releases, and a perception by some gamers that Sony took a more 'user friendly' approach to the market," said Baird. Think of games like Detroit: Become Human, the Uncharted series, Horizon Zero Dawn and, of course, the epic God of War. These are all PS4 exclusives. 
In 2017, Xbox rolled out Sea of Thieves and State of Decay: 2 as its exclusives, but neither received stunning reviews.
While Microsoft announced games like Crackdown 3, which has been delayed yet again to 2019. But, Crackdown will have a battle royale mode, meaning it is Xbox's competitor to Fortnite. 
Microsoft, in response, has started the process to acquire other game studios. These include Ninja Theory, Undead Labs, Compulsion Games, and Playground Games. But, it doesn't stop there.  Microsoft will be launching its own studio, called The Intiative. Seems like Microsoft is prepared to go big or go home. 
The E3 announcement of acquisitions comes a week after KeyBanc announced that Microsoft's gaming division is a "$100 billion opportunity for Microsoft."
The studio acquisitions aren't the only tricks that Microsoft has up its sleeve. 
It announced Halo Infinite, which is the next game in the Halo franchise. The previous game, Halo 5, made more than $400 million in sales. Its success pushed the franchise to over $5 billion in total sales. So, yeah, the release of a new Halo is a good sign for shares of Microsoft.
Microsoft also announced that it's beginning work on the next Xbox, which has a timeline of 2020 or 2021. 
Seems like Xbox is ready to bring it this year. 
In the past year, shares of Microsoft have gone up nearly 44%. 
On Monday afternoon, Microsoft was down slightly. 
Electronic Arts Inc. (EA) - Get Report
Electronic Arts Inc. EA doesn't participate in E3, it throws its own EA Play conference instead.
The conference was held on Saturday, June 9. 
EA announced its plans to include a battle royale mode in the upcoming Battlefield V, and it teased a new Star Wars game that isn't part of its Battlefront series. 
EA's Battlefield 1 drew in around 54 million players. 
Baird rates EA as an Outperform stock with a $148 price target. 
EA was up 1% Monday afternoon.
Activision Blizzard Inc. (ATVI) - Get Report
Activision is expected to show off its new Call of Duty: Black Ops 4. The game has already been making headlines after it announced it will be replacing the story mode with a battle royale mode. 
The Black Ops 4 community reveal, which took place in May, was the most-watched reveal in COD's history.
Activision will also be rolling out a fall DLC for Destiny 2, and while the game hasn't been as popular as the original Destiny, the DLC may help to re-engage players. 
Back in 2014, after the release of Destiny, Bungie - which is owned by Activision - saw an impressive 3.2 million players online per day. 
Baird currently has a price point of $8. The stock fluctuates around $75. 
"We believe Activision should trade near peak multiples, given improving margin and growth dynamics of digital distribution," said Baird. 
On Monday afternoon, Activision was up 1.2%. 
Take-Two Interactive Software Inc. (TTWO) - Get Report
Take-Two will be absent at E3 2018, but that doesn't mean that investors shouldn't be paying attention to this stock.
Take-Two will still be rolling out Red Dead Redemption 2 in the fall. The game - which is a sequel to the original that sold 14 million copies worldwide - is produced by Rockstar Games, the studio that produced the Grand Theft Auto series. 
Baird has Take-Two at a $137 price target. The developer will become even more of a competitor to EA and Activision. Currently, the stock hovers around $114 a share. 
Take-Two was up slightly in afternoon trading.
While GameStop is not a game developer, it is directly affected by E3 and the developers.
Baird has this stock at an $18 price target. It's currently trading at $14 a share. 
"Risks include console/hardware transition, declines in spending on console games, competition from big box retailers, the shift from physical to online game distribution, Q4 seasonality, pricing pressure and a hit-driven business," Baird reasoned. 
Baird believes that the "global video game industry will generate $144 billion in revenues (inclusive of hardware sales), with approximately $70 billion in North America and Europe."
The ever-increasing popularity of the video-game industry shows investors that it's a pretty solid industry to be invested in.
Microsoft is a holding in Jim Cramer's Action Alerts PLUS member club. Want to be alerted before Jim Cramer buys or sells MSFT? Learn more now.