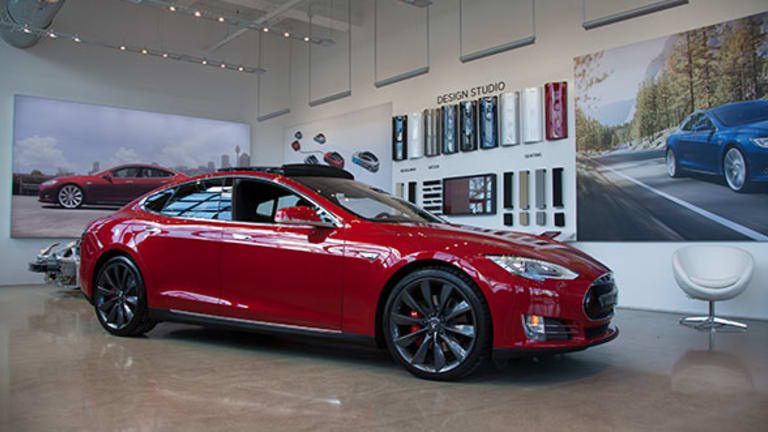 Photos: Here's What Tesla's Amazing New Showroom In New York City Looks Like
The electric car maker just opened up a new sales and service center in Red Hook, Brooklyn. TheStreet went for a visit to look at the impressive new location.
Tesla (TSLA) - Get Tesla Inc Report  continues to dazzle and delight car fans, the media and investors with its latest high-tech vehicles, but the company's most recent unveiling is all about making things easier for owners.
Earlier this week, Tesla unveiled its latest Sales and Service Center in the Red Hook section of Brooklyn. The Palo Alto, Calif.-based Tesla put the Center in an area accessible to trucks, the Red Hook Terminal and most importantly, customers, as the company responds to growing demand in the area.
The new center will sell and service both the Model S sedan and the Model X SUV; the Model X was unveiled in a glitzy event last fall. Tesla is slated to show off its mass market vehicle, the $35,000 Model 3, at an event later this month in Los Angeles at Tesla's design center.
The store in Brooklyn, which will be finished in a couple of weeks, is a massive single structure that originally was five buildings, all spanning between 75 and 125 years old, according to one of the construction workers on the project.
TheStreet went for a visit to look at the new building and see the grand opening.
This is the Red Hook section of Brooklyn, where Tesla has put its new Sales and Service Center.
This is the exterior of the building, which was originally five buildings. You'd never know it now by looking at it!

Here's a shot of the famous Tesla logo, which is outside the store.
This is a shot from when you first walk in the showroom. Note the brick exterior on the walls to the left. And smack dab in the middle is a bright, shiny Model S!

Behind the completed Model S is the underbelly of the Model S, truly a sight to behold if you're a car lover.
Here's a close-up of one of Tesla's Supercharging stations. The chargers are free for life for Model S and Model X owners, and can recharge the battery in about one hour.


This is a first shot of the center's beautiful service bay, which runs five lifts deep, plus room for more. You'll notice the bay is painted white, just like Tesla's factory in Fremont, Calif.
Here's a look at a Model S in a lift being worked on by a technician.

This is the very back of the service bay, with one Model S showcased on a lift and another one next to it.
Last but not least, here's the Model X SUV. This particular Model X is a Signature Series, which means it can run up to $142,000!