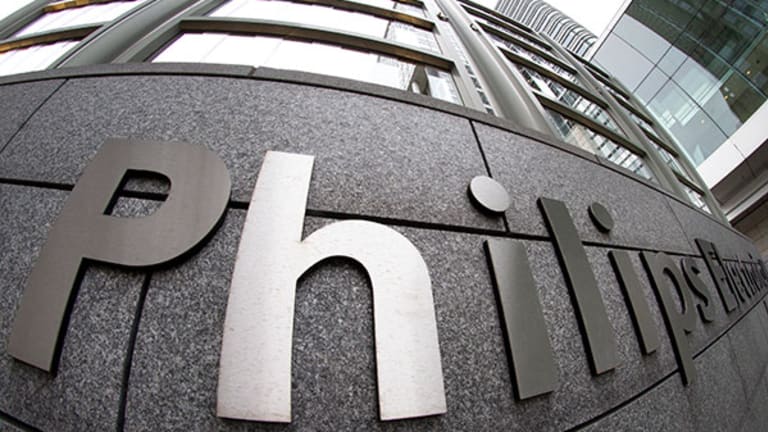 Publish date:
Philips Leads Euro Stoxx 50 Gainers as Cost Cuts Bolster Earnings
Enthusiasm about margin expansion and order intake eclipses a slight shortfall against expectations in third-quarter profit.
Enthusiasm about margin expansion and order intake eclipses a slight shortfall against expectations in third-quarter profit.
Royal Philips, a Dutch maker of hair trimmers and electric tooth brushes, reported 14% growth in profit amid cost cuts and positive currency exchange rates. 
The stock was recently up 4.7% at €27.42 as the company made upbeat commentary about orders, especially from China and the U.S. It was the top gainer among the Euro Stoxx 50 constituents.
The Amsterdam, Netherlands-based group reported adjusted Ebita of €649 million ($706 million) for the third quarter, up 13.8% from €570 million in the same period a year earlier. The figure reflects restructuring, acquisition-related costs and other items and came in just marginally below consensus expectations for Ebita of €653 million.
But Philips' adjusted Ebita margin rose to 11.0% from 9.8%, while its Ebita margin increased to 9.6% from 7.4%, reassuring analysts, who are counting on margins to continue rising in the coming years. 
The company also reported net profit of €383 million on sales of €5.9 million, each up 1% and 18% year-on-year on a nominal basis. Sales grew 2% on a comparable basis. The company said sales were driven by growth in the healthcare, or HealthTech, operations, which include personal health; diagnosis and treatment; and connected care and health informatics businesses. A 5% sales increase in the HealthTech operations was partly offset by a 3% decline in its lighting business.
The company this May sold a quarter of its Philips Lighting unit in an IPO to boost its focus on healthcare technology. Philips raised $750 million from the IPO.
"I am pleased with the solid 5% comparable sales growth and 8% order intake growth in our HealthTech portfolio in the third quarter," CEO Frans van Houten said. "Overall, Philips posted 2% comparable sales growth, and the operational improvements at the Personal Health and Diagnosis & Treatment businesses, combined with continued improvements at Philips Lighting, led to the 120-basis-point increase in the Adjusted Ebita margin for the Philips Group."
Cost cuts in the quarter included €12 million in overhead cost savings and €102 million in procurement savings. The firm also gained €66 million from improved productivity.  So far this year, the company has achieved €170 million of overhead cost savings out of a planned €200 million, and €255 million in procurement cost savings out of a planned €340 million.  
On a conference call, van Houten expressed optimism regarding order intake, especially in China and the U.S. On a constant currency basis, order intake grew by double digits in China, and by a mid-single-digit percentage in North America.
For China, which he said the firm was concerned about last year, orders improved both for the overall market as well as for the company itself. Van Houten added that he expects this to continue "for the foreseeable future."
Van Houten also said that Philips was enjoying order growth slightly ahead of the market in the U.S.
Meanwhile, European orders were down by a low single digit partly due to uncertainties caused by Brexit as well as upcoming local elections, van Houten said.
The firm maintained its outlook for fiscal 2016, adding that it excepts earnings to continue improving in its important fourth quarter.