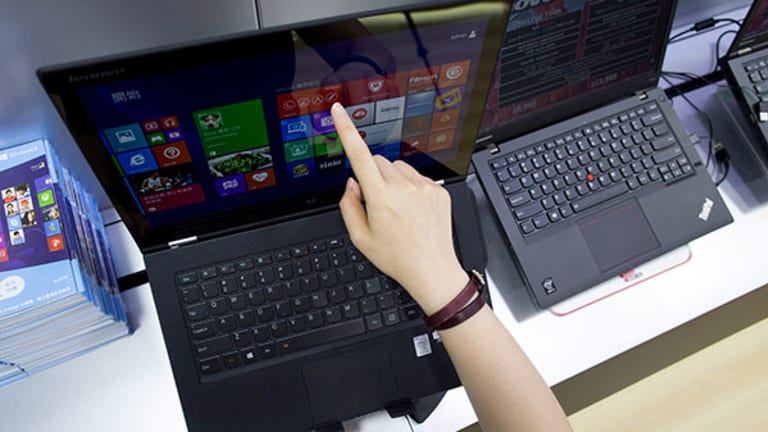 PC Shipments Surprisingly Rise in Second Quarter
Both Gartner and IDC report almost flat - but better than expected personal computer numbers.
NEW YORK (TheStreet) -- Both Gartner and IDC reported PC shipments were better-than-expected in the second-quarter, with Gartner showing a 0.1% increase, while IDC said sales fell 1.7% in mature markets, better than the expected 7% decline, indicating some additional life in the PC market.
The top three producers
Lenovo
,
HP
(HPQ) - Get HP Inc. (HPQ) Report
and
Dell
all saw good year-over-year increases in both surveys.
According to Gartner's numbers, Lenovo increased its lead in worldwide PC shipments raising its market share to 19.2%. HP was second with 17.7%, Dell third with 13.3%, Acer was fourth with 7.9% and Asus came in fifth with 6.9%. The results were different in the U.S. market with HP garnering 27.7%, Dell close behind with 26.0%, Lenovo 11.5%, Apple (AAPL) - Get Apple Inc. (AAPL) Report 10.6% and Toshiba owning 6.4% of the market.
Gartner principal analyst Mikako Kitagawa noted the stabilization in the domestic markets, helping offset the declines elsewhere in the world. "While the worldwide PC market stopped two years of declining shipments in the second quarter, there were mixed results, as stabilization in developed markets was offset by a decline in emerging markets," Kitagawa said in the release.
HP shares was off 0.56% to $33.46 in early morning New York trading.
Citigroup analyst Jim Suva noted that while the PC market is still weak, there are some positive signs being seen. "The -2% YoY decline remains inline with our call on PCs which is based on geographic trends that we believe consensus may not be fully incorporating: 1) continued emerging market demand weakness, 2) better-than-expected near-term corporate demand in mature markets, 3) the uncertain longevity of the upgrade process prompted by Win XP expiration, and 4) emerging markets becoming less of a headwind," the analyst wrote in a research note.
Earlier this week, Gartner announced its most recent predictions for the mobile device market, noting tablet sales should top PC sales in early 2015, but there's still work to do for tablets. "We are seeing a slowdown in premium tablet sales, which have already penetrated a large number of households. PCs are now growing off a smaller installed base of newer devices, with more engaged users," Kitagawa stated.
IDC noted enterprises are replacing older computers and consumers are returning to the PC market after years of favoring smartphones and tablets. According to its Worldwide Quarterly PC Tracker PC shipments slipped to 74.4 million units from 75.7 million in 2013, the smallest quarterly drop in two years.
IDC's second quarter worldwide shipments show the same top five PC manufactures in the same order but with slightly different shipment results: Lenovo 19.6%, HP 18.3%, Dell 14.0%, Acer 8.2% and Asus 6.2%. Similarly, in the United States HP 27.3%, Dell 25.7%, Lenovo 11.5%, Apple 10% and Toshiba 6.1%.
A large beneficiary of the most recent sales surge is Intel (INTC) - Get Intel Corporation (INTC) Report maker of processors for both PCs and Apple computers. Intel stock has been surging in the past month, since it raised its second-quarter revenue outlook (from $13 billion to $13.7 billion) and gross margin outlook based on improving computer sales. Intel is expected to report earnings on July 15.
Intel shares were off 0.71% to $30.67 in early morning trading in New York.
-- Written by Gary Krakow in New York.
To submit a news tip, send an email to tips@thestreet.com.
Gary Krakow is TheStreet's Senior Technology Correspondent.