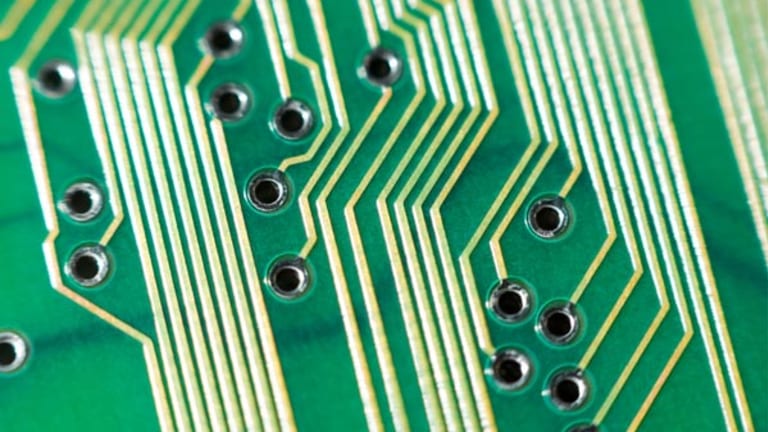 PayPal's Late With Own Killer Mobile-Pay Plan
Google and the credit card shops leave virtual wallet giant PayPal stewing on the sidelines and launching a court challenge.
NEW YORK, (
) --
Google
(GOOG) - Get Free Report
leapt into mobile payments Thursday with partners like
Citi
(C) - Get Free Report
and
MasterCard
(MA) - Get Free Report
. Totally outmaneuvered,
eBay's
(EBAY) - Get Free Report
PayPal
cried foul.
Instead of firing back with its own pay plan, PayPal -- the giant of ecommerce transactions, the company that practically invented the virtual wallet -- filed a
lawsuit
saying Google stole its secret recipe.
"The lawsuit at least indicates they still care about mobile payments," says Recon Analytics' Roger Entner. PayPal has built a successful franchise online, and you'd think they should have realized online includes mobile," says Entner.
Mobile payments, or the use of smartphones as wallets, have been a
lately, where credit card firms vie with phone companies that have to take on tech giants like Google, PayPal,
Amazon
(AMZN) - Get Free Report
and
Apple
(AAPL) - Get Free Report
.
And while PayPal may look like a laggard today, Entner points out that it is still early in the game.
"Getting an early position is critical because the window will close in the next year or two," and says Entner. "Absolutely PayPal will get in."
PayPal has been a little quiet about its mobile pay plans lately. In October, the company outlined what it called Titanium-Commerce but nothing much has been heard about that initiative since. At least until the lawsuit PayPal filed yesterday.
"Over the past year, PayPal has been developing capabilities to provide large retailers with next generation 'mobile payment' point of sale technology and services," PayPal said in the filing Thursday.
PayPal claims nearly 300 million users and some 90 million active accounts. PayPal already has what Google and the credit card companies are just now trying to create -- a virtual wallet, says Morgan Keegan analyst Robert Dodd.
"The bad news for PayPal is after having the virtual wallet space to themselves for years, it's getting a lot more crowded with big, powerful, deep-pocketed brand owners," Dodd says.
At stake here is the future of credit cards, say analysts.
The rise of mobile payments won't create more sales; it simply threatens to divert the transactions and all the fees away from credit card companies. And merchants want two things that PayPal promises to deliver: lower fees and more access to the buyer's profile.
What PayPal can't deliver on its own is the near field communications, or NFC chip embedded in the phone, or the in-store phone reader for that matter.
"PayPal doesn't control either, so it has to wait for the infrastructure to develop," says Dodd. "But they will be in a fine position to take advantage of it, whenever it does."
In the meantime, Google -- foregoing its own Google Checkout payment system -- has built a base inside the credit card camp.
"What Google shows us is that the credit card companies aren't getting bypassed in mobile pay," says Entner. "They have played it well."
For comparison, by crying foul, PayPal didn't exactly play the strongest card in its hand.
--Written by Scott Moritz in New York.To contact this writer, click here: Scott Moritz, or email: scott.moritz@thestreet.com.Follow Scott on Twitter at MoritzDispatch