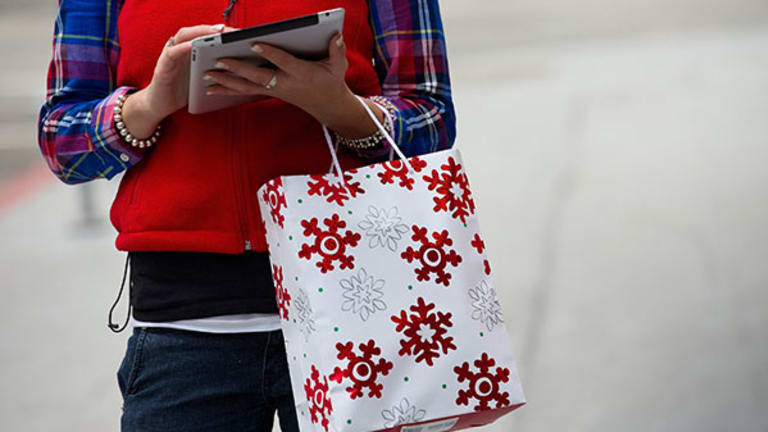 Publish date:
PayPal, Vantiv, Visa Poised to Gain From Thriving Mobile Commerce
As consumers become more comfortable shopping on their phones, Vantiv, Visa and eBay's soon-to-spin-off PayPal stand to win.
As consumers become more comfortable shopping on their phones, Vantiv, Visa and eBay's soon-to-spin-off PayPal stand to win.
NEW YORK (TheStreet) -- It's no secret that mobile is an enormous channel that reaches consumers like none other before. Consumers spend hours on their phones, rarely leave their home without them, and many even sleep beside them.
A byproduct of these habits is that consumers are becoming more comfortable spending money on their phones.
According to Pacific Crest analyst Josh Beck, this positions a few companies quite nicely. Beck specifically points out eBay's (EBAY) - Get eBay Inc. Reportsoon-to-spin-offPayPal, plus Square, Stripe, WorldRemit, Vantiv (VNTV) , Visa (V) - Get Visa Inc. Class A Report, MasterCard (MA) - Get Mastercard Inc. (MA) Report, Alliance Data (ADS) - Get Alliance Data Systems Corporation Report and Verifone (PAY) as the likely winners.
The research firm has a $76 price on Visa, which has gained 3.5% year to date and currently trades in the $67 range. MasterCard has a $110 price target, up from its $93 range now. Verifone, Vantiv and Alliance Data have $39, $47 and $340 price targets, respectively, up from around $33, $38 and $296 in Thursday trading.
Shares of Verifone have fallen 11.3% since the start of the year, while Vantiv is up 14.9% and Alliance Data has eked out a 3.7% gain since the start of 2015.
PayPal is about to separate from its parent company, eBay, and analysts are divided on whether or not investors should rush to buy the new payments company immediately.
These companies stand to benefit from the rise of mobile commerce and the potential to reach consumers in even more ways.
"Consumers typically visit physical stores or desktop/laptops on a weekly/monthly/daily basis," Beck wrote in a research note Thursday morning. "True mobile platforms like smartphones capture consumer attention on average every five minutes, which has the potential to fundamentally change how and where commerce is conducted."
The mobile commerce industry is expected to surpass $130 billion by 2018, according to eMarketer, and Pacific Crest estimates that number is conservative considering the potential with omnichannel service marketplace opportunities.
This offers huge potential for companies that take part in the mobile transactions.
PayPal has the broadest set of mobile assets, according to Pacific Crest, but Square and Stripe also stand to gain from the mobile payments taking place. WorldRemit will benefit from the growth in mobile money transfers, as will Verifone, Visa, and MasterCard. In-store mobile payments could be particularly lucrative.
Vantiv's e-commerce assets like Litle & Co. stand to benefit. Alliance Data can gain from its tools to better understand mobile purchases.
While consumers are spending a lot of time browsing e-commerce sites on their phones, conversion rates are still pretty low, primarily because of low-quality experiences on mobile, Beck explained. While 59% of time spent on retail sites stems from mobile, only 15% of dollars spent on retail sites comes from mobile, according to ComScore.
"Retailers/developers must improve the consumer experience to reduce the mobile commerce monetization gap," he said. "Low-friction checkout, adaptive/responsive Web and scalable development frameworks form the key tenets to improve the mobile commerce experience, in our view."