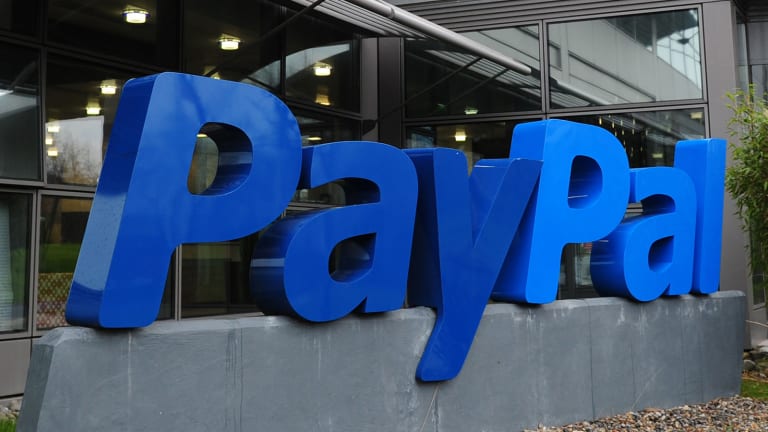 PayPal to Acquire Money-Transfer Provider Xoom: What Wall Street's Saying
Just ahead of its spinoff from eBay, PayPal agrees to purchase the digital-money transfer company for $890 million.
NEW YORK (TheStreet) -- Just as PayPal gets ready to separate from eBay (EBAY) - Get eBay Inc. Report, it has decided to spruce up its portfolio a bit and get into the $600 billion digital-money transfer market.
On Wednesday, PayPal announced that it has agreed to acquire Xoom (XOOM) , a San Francisco-based digital-money transfer provider for $25 a share, or about $890 million. Many analysts, however, noted that another company could potentially outbid PayPal here.
"Expanding into international money transfer and remittances aligns with our strategic vision to democratize the movement and management of money," PayPal President Dan Schulman said in a press release. "Acquiring Xoom allows PayPal to offer a broader range of services to our global customer base, increase customer engagement and enter an important and growing adjacent marketplace. Xoom's presence in 37 countries - in particular, Mexico, India, the Philippines, China and Brazil - will help us accelerate our expansion in these important markets."
Following the announcement, Xoom shares spiked as high as 25%, and as of this morning, the shares are up around 21.3% to $25.11. San Jose, Calif.-based eBay, meanwhile is up 1.7% to $61.42.
Here's what Wall Street has to say about the deal:
Andrew W. Jeffrey, SunTrust (Xoom: Buy, $29 PT)
"The strategic value of Xoom to PayPal is obvious, in our opinion, and we assert that the company will be acquiring Xoom at a compelling price if it can complete the transaction. We believe a competitive bid is possible, based on Xoom's one-of-a-kind cross-border remittance franchise and market-leading ACH risk management technology.
We believe Xoom's leading cross-border remittance franchise, strong market position and relatively early-stage penetration ($9B on a $100B TAM) could make it attractive to another bidder. Possible acquirers include Facebook or SnapChat.
Acquiring Xoom makes sense for PayPal - and should bolster its franchise value - as it gives the company a true cross-border remittance platform and augments its already-robust ACH risk-management technology. In addition, it could accelerate PayPal's eCommerce settlement by leveraging Xoom's proprietary bank-based payout infrastructure. Finally, it would protect PayPal from potential exclusion from AndroidPay and ApplePay wallets."
Bob Peck, SunTrust (eBay: Neutral, $62 PT)
"We see synergies/opportunity between Xoom and Venmo inside the PayPal ecosystem enabling lower cost (ACH, or debit worse-case) wallet funding (PayPal, Paydiant) and in-market and cross-border C2C and C2B transactions. This could serve to sustain relevance on the consumer side and (interrelated) preserve/lower funding cost and strengthen the value proposition on the
merchant side."
Colin Sebastian, Baird Equity Research (Xoom: Neutral, $25 PT; eBay: Outperform, $69)
"PayPal can leverage its ~68 million active US account base (versus 1.34M for XOOM as of 1Q15) with XOOM's technology and leading market position in key remittance corridors (i.e. India, Mexico, Philippines, China). Additionally, PayPal already operates in >100 countries, making it easier to roll out XOOM's product to new transfer corridors (both send and receive markets) with pre-existing regulatory approvals and merchant relationships. Much of XOOM's 2014 stock performance was related to investor perceptions around management's more disciplined growth approach (i.e., low fraud losses partially at the expense of user growth); however, having access to PayPal's user base could help reaccelerate growth.
While Xoom's engine was initially built using concepts borrowed from PayPal, they have since extended the functionality to peer-to-peer international remittance, and are the only pure-play company offering an instant transfer product at fraud-loss rates of <20 bps. During the June PayPal road show, management explicitly stated that international remittance would be an area of focus, and by combining XOOM's proprietary technology with PayPal's scale and user base, we believe these aspirations will be more quickly realized."
Ronald V. Josey, JMP Securities (eBay: Market Perform)
"With Xoom, we believe PayPal automatically enters the $600 billion international money transfer market (World Bank) at scale. We view Xoom as complementary to PayPal's existing product offerings, which include its flagship PayPal service and Venmo. In addition, we believe Xoom should benefit from PayPal's global reach-PayPal is currently available in 200+ countries-as it expands its money transfer service to more countries. Interestingly, we believe Xoom has a strong presence in India, the Philippines, Mexico, China, and Brazil."
Sanjay Sakhrani, Keefe, Bruyette & Woods (eBay: Outperform, $70 PT)
"Acquiring Xoom allows PayPal to offer an additional product to existing customers and broaden its appeal to new customers, while also heightening customer engagement (remittance is a high-repeat business) with a focus on key regions (more specially, Mexico, India, the Philippines, China and Brazil). Additionally, international money transmittance is a highly adjacent business to P2P payments and digital wallets, which is PayPal's core business. Acquiring rather than building a money remittance platform provides instant capabilities and should accelerate time-to-market. Lastly, PayPal notes that Xoom carries compelling and reliable technology that provides a solid customer experience along with excellent customer service.
Remember, cross-border and international are a large opportunity for PayPal and getting into a market with high-repeat business is an important component for relevance as money continues to digitize. We think adding to its consumer value proposition is the right thing for the company to do and given the expected cash position of about $6 billion at the time of the split, we are encouraged by the company's willingness to add to its technological capabilities and continue to build its competitive moat."
Darrin D. Peller, Barclays (eBay: Equal weight, Xoom: Overweight)
"We believe that this transaction is good for Xoom shareholders, given slowing customer acquisition trends in Xoom's remittance corridors, and increased competition risk from PayPal's plans to enter the global money transfer market (noted in PayPal's June 12 investor presentation). Given that Xoom shares have recently traded slightly above our $20 price target, we believe the $25 all cash offer is a positive as well.
With PayPal's plans to enter the remittance market, building off of its global financial institution network (15,000+), and its cross-border transaction volume (~25% of PayPal's business), we believe this acquisition notably adds regulatory expertise around money transfer, an understanding of the remittance market (marketing, pricing, etc.) and real-time ACH-based money transfer along with Xoom's best-in-class fraud management capabilities.
We view this news as leading to increased risk for Western Union, as we believe PayPal's existing cross-border relationships and branding power could lead to increased customer acquisition, higher send volume, and new send and receive markets more quickly than Xoom had been entering on a standalone basis (Xoom currently only services the U.S. outbound market). While WU is still the market leader in overall money transfer services, there have been notable concerns around the longterm prospects for the offline money transfer business (represents ~75% of WU's revenue), primarily from online service providers like Xoom."