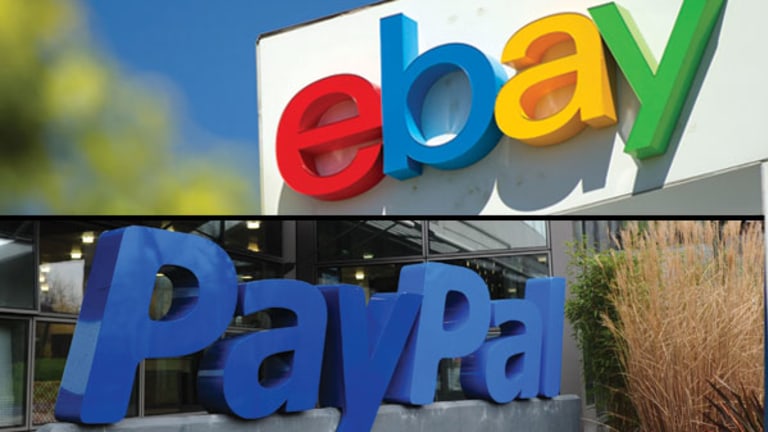 PayPal Spinoff Happens in Two Weeks: What Wall Street's Saying
eBay has announced it will complete its spinoff of PayPal by July 17.
eBay has announced it will complete its spinoff of PayPal by July 17.
Updated from 10:09 a.m. to correct revenue numbers for eBay.
NEW YORK (TheStreet) -- On Friday eBay (EBAY) - Get Report finally announced when it would be completing the spinoff of its payments division PayPal. The company had been discussing the spinoff for months now, but it will all be over on July 17 when PayPal becomes an independent company separate from eBay.
On July 8, eBay shareholders will receive one share of PayPal common stock for every share of eBay common stock they own. The distribution will be finalized on July 17, and on July 20 PayPal will begin trading on the Nasdaq under the ticker "PYPL."
The two companies hope that as independent entities they will be able to focus more on their respective core businesses -- marketplaces and payments.
While eBay has been struggling a bit -- with $8.8 billion in revenue from Marketplaces in 2014, up from $8.3 billion in 2013 -- PayPal has been doing relatively well.
In the most recent quarter, PayPal revenue exceeded Marketplaces revenue for the first time ever, with PayPal bringing in $2.11 billion and Marketplaces bringing in $2.07 billion. Despite there being an increasing amount of competition in the payments space, PayPal has a head start and has quite the foothold in the industry with more than 165 million active customer accounts. In 2014, PayPal processed $235 billion in payment volume and handled one billion mobile transactions across 10 million merchants around the world.
Here's what analysts are saying ahead of the spinoff:
Doug Anmuth, J.P. Morgan (Neutral, $64 PT)
"Overall, we are modestly raising our PT on eBay Inc. to $64 to account for higher SOP valuations for both PayPal and eBay. We currently value PayPal at an EV of $38B, market cap of $44B, and a post-spin share price of $36. We currently value eBay at an EV of $30B, market cap of $33B, and a post-spin share price of $29.
"As a standalone company, PayPal immediately becomes one of the more exciting stories in our payment processing coverage universe, with: 1) mid-teen organic revenue growth, more than 40% faster than our broader coverage universe; 2) high relative exposure to digital commerce, one of the fastest growing areas in payments, & 3) strategic value based on strong brand recognition & global scale (160M users). We are bullish on PayPal in the short run (the next two years), but acknowledge the digital payments landscape is evolving, and strategic decisions and management execution will drive L-T sustainability, arguably more than any name in our coverage universe.
"We view standalone eBay as both returning to its roots & also pushing further innovation as it pivots more toward SMBs & consumers while using structured data to improve the user experience, drive better merchandising, & strengthen the search process. Some of eBay's playbook sounds familiar, & management will now need to show that it can execute better than over the past few years."
Matt Nemer, Wells Fargo (Outperform, $68-$69 PT)
"We believe the imminent spinoff of PayPal will create a unique value opportunity as many growth-oriented investors likely sell shares of the remaining parent company. In our view, this sets up an interesting entry point as EBAY operates an arguably better business model than most retailers (marketplace format with no inventory risk, better margins, greater capital efficiency) with low to mid-single-digit revenue growth (and the potential for double-digit EPS growth driven by share buybacks), and the option for upside potential from numerous initiatives including structured data, category merchandising, and an easier listing process, to name a few.
"We are raising our valuation range for eBay, Inc. shares from $61-$63 to $68-$69, based solely on an updated Sum of the Parts analysis."
Sanjay Sakhrani, Keefe, Bruyette & Woods (Outperform, $70 PT)
"We view the recent announcement as relatively in line with our expectations of the spin occurring in 3Q15, and we are not very surprised that the spin is occurring early in the quarter, as the companies were already engaging with the financial community in early June through road shows. We would view the fact that the spin is occurring in the early part of 3Q15 as a positive for both eBay and PayPal as the companies will be able to focus on the strategic priorities that have been laid out as two separate companies."
Colin W. Gillis, BGC Financial (Hold, $65 PT)
"Haiku: When the split is done, expect PayPal to pop up, market place to sink.
"We are downgrading shares of eBay to HOLD from BUY as we view the pending catalyst of the PayPal split has been factored into the stock price. The company has also issued both near and midterm guidance for each of the new businesses, and we do not expect the outlook for either business to have a material revision to the upside this year. With our view that there are no upcoming catalysts not already factored into the stock, we do not expect shares to outperform the broader index and reduce our rating to hold.
"Given that both PayPal and marketplace have seasonally strong December quarters, we expect both businesses to produce reasonable results in their first full quarter as separate entities. Looking into 2016, depending on the degree of market fervor for PayPal, we may find that PayPal becomes valued as a high growth company with the accompanying volatility in the share price. Our view is that if marketplace shares are materially sold off - which may happen - it may prove to be the more interesting asset in 2016. Marketplace has attractive cash flow characteristics, and may prove to be a target for private equity or a possible acquisition target for a mega-cap technology company. While the market place business faces issues with its search engine rankings and getting its user base to re-engage after the data breach, management should be driving solutions to these issues in early 2016. It should be a relatively simpler task for marketplace to accelerate growth given its anemic recent performance than PayPal - which has been showing strong recent performance."