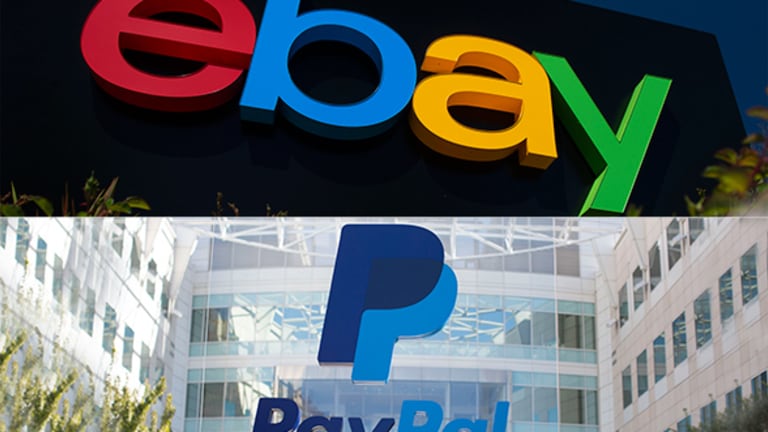 PayPal Spinoff Day Has Arrived -- What Does It Mean for Investors?
Should you be buying PayPal? Holding eBay? Selling both? Here's what half a dozen analysts have to say about the companies post-spinoff.
Updated from July 17 to include PayPal opening price.
 NEW YORK (TheStreet) -- PayPal has officially spun off from its parent company eBay (EBAY) - Get Free Report and today begins trading as an independent company.
PayPal started trading on the NASDAQ on Monday under the ticker "PYPL," returning to its roots with the same ticker it traded under before being acquired in 2002. Each eBay shareholder received one share of PayPal common stock per eBay share.
"When-issued" trading (trading before a stock is available to buy on the open market) began on July 6, giving us a better idea for the valuation of PayPal as a standalone company. PayPal was trading around $38.63 in the "when-issued" market, valuing PayPal at $47 billion. Shares of eBay in the "ex-distribution" market were trading around $27.02, well below what the company traded for when PayPal was factored into the equation.
Now that PayPal is trading on the open market, we can get a more accurate valuation for the two companies. PayPal shares opened up 6% higher on Monday, trading at $40.60, while eBay shares opened at $26.89.
For those who did not already own eBay pre-spinoff, the question is now whether you should buy PayPal, eBay, or both. If you already owned eBay, the question becomes, should you sell PayPal, eBay, or both.
In terms of PayPal, the price may be a bit expensive right now, according to Wedbush analyst Gil Luria, who advised getting in on the stock if it were priced between $45-40. Luria believes that PayPal should trade on a similar trajectory to Visa (V) - Get Free Report and MasterCard (MA) - Get Free Report.
"PayPal is in a better position than most technology companies," Luria said. "PayPal is very unique in its growth profile."
ITG analyst Steven Weinstein is also little hesitant to get in on PayPal just yet, given the heated competition in the digital payments space. He thinks "there's a lot of optimism already baked into the company's outlook," encouraging him to "wait and see" how things play out.
San Jose-based eBay gets an even more mixed reaction from analysts, with some optimistic that the company will rebound following a challenging year, and others having given up hope that the company will be able to turn things around.
In its second-quarter earnings report this week, eBay updated its full year guidelines, saying that it expects revenue growth of 3% to 5%, an improvement from the previous guideline of 0% to 5%, but well below the e-commerce industry average of 15%, according to comScore.
"We believe further progress is needed in leveraging structured data before growth keeps pace with overall ecommerce trends," Needham analyst Kerry Rice, who rated eBay shares "hold," wrote in a research note Friday morning.
J.M.P. Securities analyst Ronald Josey noted in a research note that a "fair value" for eBay shares is in the high $20 range, meaning that today may be a good entrypoint for the stock. Josey rates eBay shares "Market Perform."
So back to our original questions: If you already own eBay, should you hold onto both companies? "If you got it pre-spin and you're holding both pieces, continue to hold both PayPal and eBay," says Jonathan Morgan, deals analyst at The Edge Consulting Group. But he views eBay more as a long-term hold, anticipating growth will come in two or more years.
If you aren't holding eBay yet, the answer gets a bit more complicated. PayPal seems to have a promising future ahead, according to Morgan, but with all the hype around the spinoff, it may be a bit too expensive to get in immediately. He advises investors to wait for the price to come down a bit before buying in.
On the other hand, it may actually make sense to buy eBay today, but only if you're OK with being patient. "If you're happy to hold for two-plus years, you'll see growth," Morgan said.
Nonetheless, the clear winner, according to Morgan, will be those who got in early on. "You need to get in pre-spin in order to really get the value of the situation because everyone's looked at this already and you may have missed out."