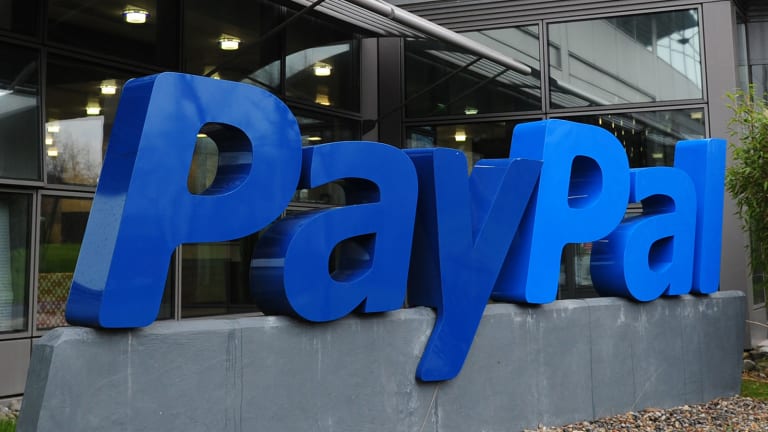 PayPal Is Trying to Keep Up With Revolution in Mobile Payments
PayPal has long been a key player in digital transactions. But now the eBay unit is trying to keep up with with the radical transformation going on in mobile payments.
PayPal has long been a key player in digital transactions. But now the eBay unit is trying to keep up with with the radical transformation going on in mobile payments.
NEW YORK (TheStreet) -- PayPal has long been a key player in digital transactions between consumers and merchants. But now the eBay (EBAY) - Get Report unit is trying to keep up with the radical transformation going on in mobile payments.
Fifteen years ago, before Apple (AAPL) - Get Report, Google (GOOG) - Get Report, and Facebook (FB) - Get Report had given any thought to mobile payments, PayPal had already started working on a digital wallet. At the time it was desktop-centric, but the notion was to find a way to enable easy and accessible online transactions.
Now the game has changed. Laptops and PCs are no longer at the heart of transactions, so it's all about mobile wallets and in-store payments. Google and Apple are vying to be the provider for in-store mobile payments, Facebook is attempting to get in on payments through its Messenger app, and smaller start-ups are working on rethinking the way we hand over money.
This changing landscape poses new questions for PayPal as it prepares to spin off from eBay and become its own company.
Bill Ready, the former CEO of Braintree who now heads up merchant & next-gen commerce at PayPal, says that more than half of all e-commerce transactions come from mobile devices. For Paypal, mobile payment volume last year totaled $46 billion, or only 20% of its total. But the company expects that percentage to grow.
With the growth in mobile payment, it has become a priority to reduce friction and the number of steps it takes in a transaction. The goal is a simpler experience.
PayPal is attacking these issues in two ways. It provides its own wallet, which lets users tap one button to check out on a Web site or app. PayPal's recent acquisition of mobile payments start-up Paydiant will likely help the company bring its wallet into physical stores.
But PayPal also provides the infrastructure behind the scenes, powering transactions within popular apps like Uber, Airbnb and Houzz.
"The consumer may not know that we're the provider, but what the consumer does know is the checkout across the apps -- and it's the easiest way to pay," Ready said.
Consumers are not necessarily aware that PayPal runs these behind-the-scenes transactions, and they may be more excited about Apple Pay, which is more obviously branded.
"While other vendors need to gain consumers' trust, PayPal needs to come first of mind when it comes to mobile, as I do not think your average users naturally think of them," Kantar Worldpanel chief of research Carolina Milanesi said.
From the consumer perspective, it is often simply a point of convenience: which payment solution is most readily available and usable at the moment?
That's where PayPal ultimately may lose out.
"If Facebook is more convenient, and they can get the trust of the individual, it's likely they could bleed some transactions off of PayPal and onto Facebook," Mercator Advisory Group analyst Tim Sloane said.
"The payments ecosystem is a really fragmented ecosystem," PayPal's Ready said. "PayPal is the only player in the space that operates on scale for both merchants and consumers and functions at every layer between those two things."
Ready is not concerned with Apple or Facebook or Google entering mobile payments. He sees more competition as a positive that will bring more attention to the ecosystem. He compares it to choosing to check out with Visa (V) - Get Report or MasterCard (MA) - Get Report -- but now consumers will have the choice between Apple Pay and PayPal.
Analysts aren't as sure that PayPal can withstand the increase of players in the space.
Last week Piper Jaffray analyst Gene Munster published a research note downgrading eBay to underweight with a $49 price target, citing concerns over PayPal's value.
"Last September we downgraded shares of eBay to neutral based on a belief that Apple Pay will become an increasing threat to PayPal," Munster wrote. "Today, we are downgrading shares to underweight based on a belief that over the next 1-3 years Google Wallet, Apple Pay, Facebook, Samsung (SSNLF) and traditional banks will weigh on PayPal valuation and market share."
The concern is that PayPal is behind when it comes to in-store payments, despite its Paydiant acquisition.
"PayPal has the edge right now on the Web as a first-person payment provider," Moor Insights & Strategy analyst Patrick Moorhead said. "Their challenge is in bricks-and-mortar, where Apple has the distinct lead. PayPal needs to find a way to be relevant here."
As PayPal severs its ties with eBay, it may be able to attack these challenges head-on, step outside the shadows of apps and become a prominent payment method for consumers.
"As PayPal spins off from eBay it will become a more nimble company that ideally can adapt to changes in the market with increased speed," 451 Research analyst Jordan McKee said. "This will serve it well as the pace of innovation accelerates around it."