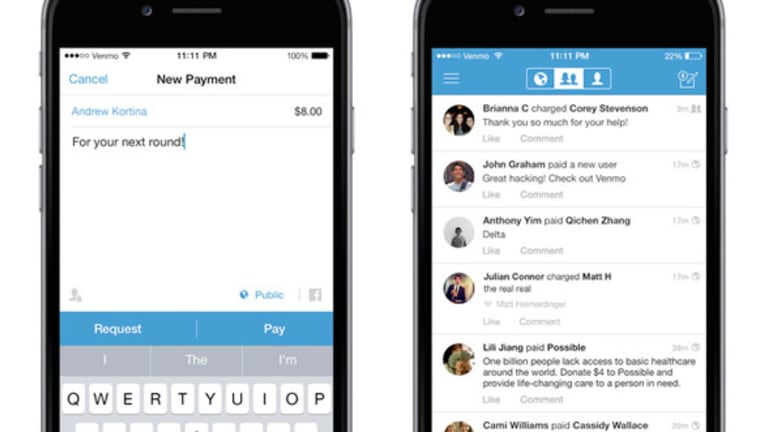 PayPal's Venmo Could Soon Be a Big Moneymaker
Jefferies analysts think the new Pay with Venmo service could boost PayPal's earnings by as much as 4.2%.
Venmo, PayPal's (PYPL) peer-to-peer payment app, has grown quickly and attracted a lot of attention, but that has yet to translate into actual profit for PayPal. A new plan aims to change that, and at least one investment bank thinks the results could be significant.
During its third quarter conference call, PayPal management announced plans to roll out Pay with Venmo, which would let merchants accept payment through Venmo for a small fee, making the app's fast-growing user base actually monetizable. Venmo's core peer-to-peer service doesn't cost its users anything, so the company doesn't make money from it.
Pay with Venmo could eventually boost PayPal's revenue by as much as 2.4% and its earnings by as much as 4.2%, according to Jefferies analysts.
PayPal is testing Pay with Venmo this quarter with plans to fully launch in 2016, and according to Jefferies, that potentially means a big pay-off in 2017.
Before we get into the math, it's important to note that Jefferies' calculations make a lot of assumptions and also don't account for the increased competition in the space, which could deter merchants from participating in Pay with Venmo. Apple (AAPL) , for one, is reportedly working on its own peer-to-peer payment service, which could add pressure to Venmo.
Nonetheless, Jefferies analysts still believe in the potential of Venmo.
"We are not overly concerned about Apple's potential entrance into the already crowded and relatively commoditized domestic peer-to-peer (P2P) money transfer market," they wrote in a note on Wednesday. "We believe Venmo (and PayPal) benefit from a significant first mover advantage and a large and loyal customer base, and the social media component provides a differentiated consumer experience. In addition, assuming Apple's P2P service only works on iPhones, that is a disadvantage vs. Venmo and other P2P services, which are device agnostic."
One other assumption the analysts make in valuing Pay with Venmo is that Venmo's loyal users are interested in using the service commercially. It remains to be seen whether the app's popularity will translate into a merchant world.
"Venmo has been growing at explosive rates, but this is P2P and not merchant-focused so it is tough to tell whether that loyal user base will choose Venmo at merchants or whether the app is too engrained as a sole P2P social service," said TheStreet's Jim Cramer, Portfolio Manager of the Action Alerts PLUS Charitable Trust Portfolio. "Venmo is definitely one of PayPal's key growth drivers for the future so it is something investors are closely monitoring."
Exclusive Look Inside:
You see Jim Cramer on TV. Now, see where he invests his money and why PayPal is a core holding of his multi-million dollar portfolio.
Want to be alerted before Jim Cramer buys or sells PYPL?Learn more now.

Okay, here's how Jefferies got their numbers:
The only metric PayPal shares about Venmo is total payment volume, which for the third quarter was $2.1 billion, or 3% of Paypal's total. PayPal CEO Dan Schulman also noted on the second quarter conference call that the average Venmo user uses the app "two to four times per week," though that doesn't necessarily mean they transacted while using the app.
Jefferies analysts assumed the average user performed transactions 26 times per quarter, and estimated the average transaction size to be $25. The analysts did the math and came to the conclusion that Venmo processed 84.4 million transactions in the third quarter from 3.2 million users.
They then used these numbers to figure out the potential revenue and profit add from Pay with Venmo. The analysts assumed an average e-commerce ticket size of $57.35, which was PayPal's average transaction size for the quarter. They then assumed the average user would use Pay with Venmo 1.5 times per month and concluded that the average Venmo user would spend $1,032 a year through Pay with Venmo.
They assumed a take rate, or commission, of 2.93% and multiplied that by the estimated 3.2 million users and their usage, and got to $98.2 million in incremental revenue for PayPal from Pay with Venmo. That would be 0.8% of the analysts' current revenue forecast, but they noted that these numbers were a base case and could actually translate to as much as 2.4% additional revenue.
The analysts also believe that the margins for Pay with Venmo would be higher since Venmo charges users if they fund their account with a credit card, incentivizing the use of debit cards, which cost PayPal less.
Jefferies estimates PayPal will bring in a profit of 2.24% from each Pay with Venmo transaction, which is well above the corporate average.
All in all, Jefferies believes Pay with Venmo could add $36.3 million in profit to PayPal's 2017 numbers, or about 2 cents per share, a 1.4% increase from current estimates. Again this would be the base case, and the analysts could see that being as much as a 4.2% increase to EPS in 2017.