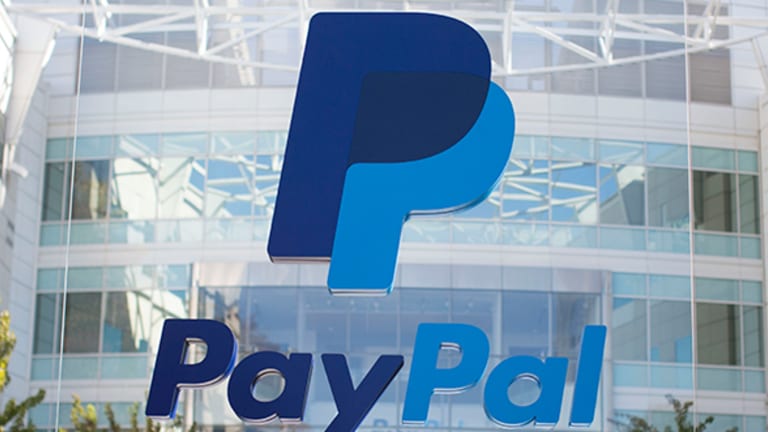 PayPal Raises Some Questions With New Finance Chief Hire
PayPal has hired a former United Airlines executive to be its CFO.
PayPal has hired a former United Airlines executive to be its CFO.
NEW YORK (TheStreet) -- Less than a month after separating from eBay (EBAY) - Get Report, PayPal (PYPL) - Get Report is already shifting things around. The San Jose-based company announced on Tuesday that it was hiring John Rainey to replace Patrick Dupuis as its chief financial officer.
Rainey comes to PayPal from United Continental Holdings (UAL) - Get Report, parent of United Airlines, where he also served as finance chief. But while PayPal is highlighting Rainey's extensive financial background, some serious questions remain unanswered.
PayPal and United are two very different companies, with two very different business models. PayPal has about $6 billion in cash right now, so it's current challenge is to figure out to do with that cash. It doesn't have any serious investments in physical goods, so the money could very well be allocated for acquisitions. United, on the other hand, is "doing huge capital spending" to buy its airplanes and is "in debt all the time," said First Analysis analyst Larry Berlin.
"They're different companies with different skillset needs, and I'm wondering where the skillsets combine," Berlin said.
But PayPal CEO Dan Schulman says he's not worried about bringing in an airlines executives to run a payments company.
"He brings an extraordinary ability to serve as the financial leader of a large and complex organization while remaining sharply focused on the needs of individual customers," Schulman wrote in a blog post on Tuesday. "Most importantly, he holds a deep set of values and has the personal characteristics that we want at the new PayPal."
In Schulman's favor, industry crossovers are not uncommon among publicly traded companies, according to Sanjay Sakhrani, an equities analyst at Keefe, Bruyette & Woods. For example,  Visa's (V) - Get Report current finance chief came from Comcast's (CMCSA) - Get Report NBCUniversal and Starwood (HOT)  while American Express's (AXP) - Get Report CFO came from McKesson Corporation (MCK) - Get Report and American Airlines (AAL) - Get Report .
"[Rainey] brings public company experience," Sakhrani said. "He's worked for a large global organization. Those are important attributes for someone leading charge at PayPal from a financial standpoint."
Rainey will officially take on the CFO role at PayPal on August 24, at which point Dupuis will transition to a new role at the company--senior vice president of simplicity, quality and productivity.