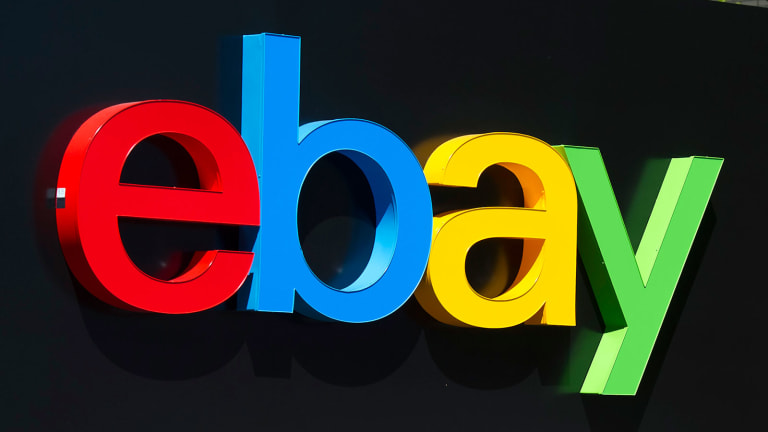 PayPal Plunges as eBay Reveals Switch to New Payment Group in Q4 Earnings
PayPal plunges after online marketplace eBay says it would switch payment service providers.
PayPal plunges after online marketplace eBay says it would switch payment service providers.
PayPal Holdings Inc. (PYPL) - Get Report shares plunged Thursday, while eBay Inc. (EBAY) - Get Report  opened at a record high, after the online marketplace said it would not extend an agreement with the payment systems group as it looks to develop a new partnership with Dutch provider Adyen BV.
EBay posted stronger-than-expected fourth quarter revenues of $9.1 billion, thanks to a 9.7% increase in overall merchandise sales of $24.43 billion over the three month period, but booked a loss of $2.6 billion, or $2.51 per share, as it revalued tax credits in the wake of last year's Republican-led overhaul. It also said that it had signed an agreement with Adyen and, while it would keep PayPal as an option for customers in the short-term, its current agreement "has not been extended and will not be extended."
PayPal CEO Dan Schulman said the decision was "manageable" for the San Jose, Calif-based group, which was spun out of eBay in 2015, and forecast first quarter earnings of between 52 cents and 54 cents on revenues of around $15.15 billion. Both figures were largely in-line with current analysts' forecasts.
"I am very pleased to announce that PayPal and eBay have signed a term sheet to make PayPal available, as a way to pay on eBay, through July 2023," he said in a statement. "We enter 2018 with strong momentum supporting an increasingly differentiated and expansive value proposition, and a focused commitment to deliver increasing value to our customers and shareholders."
PayPal shares were marked 9% lower in New York Thursday and changing hands at $77.72 each, a move that trimmed its six-month gain to around 30.65%. eBay shares surged 13.6% higher from Wednesday's close to an all-time high of $46.1, giving the group a market value of $48 billion and extending its six-month advance to 28.4%.
EBay said it said it expects its first quarter earnings to come in at around 54 cents per share on revenues of between $2.57 billion and $2.61 billion for the three month period. 
"(Fourth quarter) was a record quarter for eBay, representing the fifth quarter in a row of volume acceleration in our US Marketplace," said CEO Devin Wenig. "We have made great progress transforming eBay while delivering meaningful growth and we expect further acceleration in 2018 as we continue to execute our strategy."
Netherlands-based Adyen, which has clients that include Nextflix Inc. (NFLX) - Get Report and Uber Technologies, has indicated plans to list on public markets in the near-term, with Bloomberg news reporting earlier this month that it may raise as much as €1 billion in an IPO that would value the group at between €5 billion and €10 billion. Among the group's current investors are Action Alerts Plus holding Facebook Inc. (FB) - Get Report CEO Mark Zuckerberg and Singapore's sovereign wealth fund, Temasek Holdings. 
PayPal CEO Dan Schulman stopped by TheStreet late last year. Watch below. 
More of What's Trending on TheStreet: