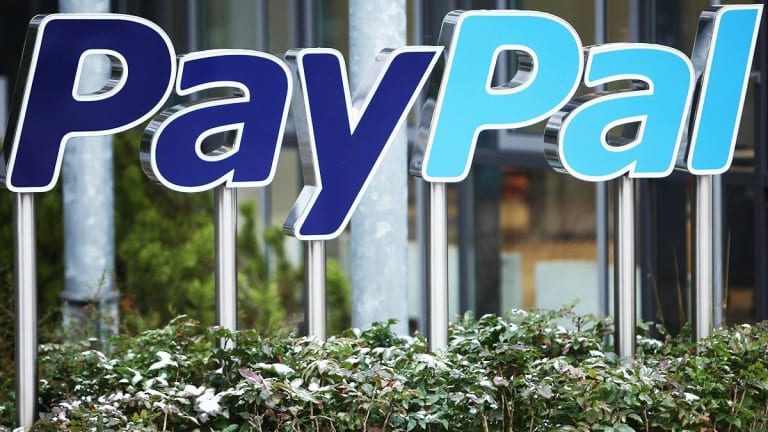 PayPal Jumps on Strong Results and Guidance: 5 Key Takeaways
The payments giant beat estimates, issued a healthy 2019 sales outlook and also offered upbeat comments on its recent efforts to monetize Venmo.
PayPal's (PYPL) - Get PayPal Holdings, Inc. Report core business is still humming along nicely, and the company expects more of the same next year.
After the bell on Thursday, PayPal reported Q3 revenue of $3.68 billion (up 14% annually) and non-GAAP EPS of $0.58, topping consensus analyst estimates of $3.66 billion and $0.54. The company also guided for Q4 revenue of $4.195 billion to $4.275 billion (up 13% to 15%) and EPS of $0.65 to $0.67, favorable at the midpoints to a consensus of $4.21 billion and $0.65.
Not long afterwards, PayPal -- which it should be noted has a history of guiding conservatively -- guided on its earnings call for 17% forex-neutral 2019 revenue growth and roughly 20% EPS growth. The revenue growth outlook compares favorably to a pre-earnings consensus for 16% dollar-based growth, particularly given the dollar's recent strengthening, while the EPS outlook is slightly below a consensus for 21% growth.
Also: Shortly before releasing its Q3 report, PayPal announced an alliance with American Express (AXP) - Get American Express Company Report that (among other things) lets PayPal users apply AmEx rewards points to transactions and calls for PayPal to "more clearly" identify AmEx cards inside of the PayPal wallet. The deal is similar to ones that PayPal has previously inked with Visa, Mastercard and Discover, and follows one with Walmart (WMT) - Get Walmart Inc. Report that will let Walmart shoppers instantly take cash in and out of their PayPal accounts for a $3 fee.
As of the time of this article, shares are up 6.4% in after-hours trading to $82.46. Here are some takeaways from PayPal's report and call.
1. M&A Transactions Are Both Positively and Negatively Impacting PayPal's Growth Rates
Though PayPal officially reported 14% revenue growth, growth would have been 21% if not for the July closing of a $6.9 billion deal to sell PayPal's consumer credit portfolio to Synchrony Financial (SYF) - Get Synchrony Financial Report . And growth would have been higher still if not for PayPal's decision last November to suspend the operations of telco/utility bill-payment firm TIO Networks (acquired in July 2017 for $233 million) following a data breach.
Naturally, the Synchrony deal will continue weighing on near-term growth rates: PayPal expects it to also have a 7-point impact on Q4 sales growth, and a 3.5-point impact on 2019 growth. On the flip side, recent acquisitions, the biggest of which is the $2.2 billion purchase of European/Latin American Square (SQ) - Get Square, Inc. Class A Report rival iZettle, are expected to provide a 1.5-point boost to 2019 growth, albeit while hurting 2019 EPS by $0.08 to $0.10. PayPal predicts the acquisitions will become accretive to earnings in 2020.
2. Core Payment Metrics Remain Healthy
PayPal's total payment volume (TPV) rose 24% annually to $143 billion, and would have grown 29% if not for TIO Networks and a stronger dollar. Payment transactions grew 27% to 2.5 billion, and average 12-month payment transactions per active account grew to 36.5 from 33.3 a year ago. 9.1 million net net active accounts were added, raising the total to 254 million. And mobile payment volume (now 40% of TPV) grew 45% to $57 billion.
PayPal also disclosed its One Touch service, which allows mobile users to pay for items without having to re-enter their login credentials, is now used by 112 million consumers (that's up from 50 million as of March 2017). Though worries about competition from Apple (AAPL) - Get Apple Inc. Report and Amazon.com's (AMZN) - Get Amazon.com, Inc. Report payment platforms hasn't disappeared, PayPal is clearly holding its own right now, while also benefiting from continued healthy growth in e-commerce and other types of digital transactions.
PayPal, Apple and Amazon.com are holdings in Jim Cramer's Action Alerts PLUS member club. Want to be alerted before Jim Cramer buys or sells PYPL, AAPL or AMZN? Learn more now.
PayPal continues to see solid active account growth. Source: PayPal.
3. Venmo Is Still Growing Fast -- And Monetization Is Ramping
Contributing heavily to PayPal's mobile growth: Venmo's TPV rose 78% annually for the second quarter in a row, and reached $16.7 billion. PayPal also reported Venmo, whose social features have made it popular with younger U.S. consumers, added a record number of net new active accounts for the third quarter in a row (no number was given).
And with PayPal having stepped up its efforts lately to monetize Venmo, the company disclosed 24% of Venmo users have now "participated in a monetizable transaction." That's up from 17% a quarter ago and 13% as of May.
The Pay with Venmo service, which allows Venmo to be used on websites and apps, saw monthly active users (MAUs) rise 185% from August to September, while the Venmo debit card that was launched this June with MasterCard saw 320% MAU growth. And Venmo's Instant Transfer service, which (for a fee) lets users instantly withdraw cash from their balances, handled over $1 billion in volume last month.
4. Low Spending Growth Is Boosting Earnings
On a non-GAAP basis, PayPal's non-transaction related expenses grew just 9.5% annually and equaled 33.5% of revenue, down from 34.8% a year ago. The company adds that if one adjusts for both the Synchrony deal and recent acquisitions, such expenses rose just 6%.
With PayPal guiding for EPS growth to exceed revenue growth next year in spite of some bottom-line pressure related to its acquisitions, it looks as if the company will stay disciplined with its spending next year as well.
5. PayPal's "Dependence" on eBay Continues to Decline
On the call, CFO John Rainey disclosed that eBay (EBAY) - Get eBay Inc. Report , which in January announced it plans to make an internal payment solution its primary payment option for a majority of its Marketplace customers by 2021, accounted for only 11% of PayPal's Q3 payment volume. That's down from 13% in Q4 and 20% three years ago.
And while eBay has claimed that the recent rollout of its "Managed Payments" service to a small number of U.S. sellers has been quite successful -- among other things, it asserts sellers are pleased with the service's ease-of-use and lower transaction fees -- CEO Dan Schulman claimed that some of these sellers have seen major sales declines as a result of PayPal no longer being a payments option.
"[I]f you look at the seller feedback on the eBay seller forum and look at what those sellers are saying, those that have moved over to intermediated payments, you'll see comments from them that their sales have dropped 40% to 60% and they're clamoring to come back to PayPal," Schulman said. PayPal, it should be noted, is expected be offered as a payment option for eBay's Managed Payments starting in the summer of 2019.
Make Money on Closed-End Mutual Funds. TheStreet's Robert Powell recently hosted an all-star panel of experts who explain what you need to know about closed-end mutual funds, an often-overlooked investment class. Click here to register and watch for free.
Apple, PayPal and Amazon are holdings in Jim Cramer's Action Alerts PLUS Charitable Trust Portfolio. Want to be alerted before Cramer buys or sells these stocks? Learn more now.