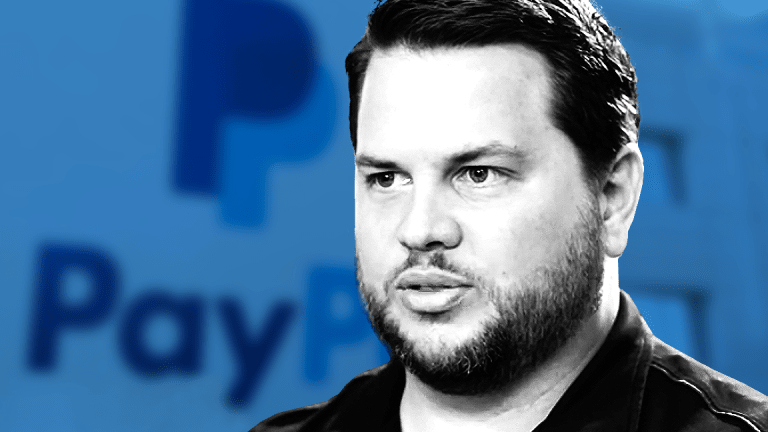 PayPal COO Talks M&A Plans, How to Monetize Venmo and Q2 Earnings
PayPal's COO Bill Ready talks about the payment giant's Q2 earnings, its dealmaking strategy, how it plans to monetize Venmo and more.
What's the big picture for PayPal?
PayPal may have beat revenue projections for the 13th straight quarter, but its stock dipped 4% Wednesday as third-quarter guidance fell slightly short of analysts' expectations. We jumped on the phone with PayPal COO Bill Ready to talk through the payment giant's busy year, including 4 acquisitions since late May and the growing popularity of Venmo, its social payments app.
PayPal has committed to more than $2.7 billion in acquisitions in the past two months, buying iZettle, a Square-like (SQ) - Get Square, Inc. Class A Report  European payments platform; AI startup Jetlore; rideshare payment app Hyperwallet; and fraud protection provider Simility. iZettle was PayPal's largest-ever acquisition, worth $2.2 billion. And PayPal is just getting started, with CEO Dan Schulman saying this month that he's prepared to spend billions per year on M&A. 
Ready elaborated on the company's dealmaking strategy, how it'll make money off Venmo and more. 
Q: When PayPal's Q2 earnings came out, much of the initial focus was on the disparity between analysts' expectations for Q3 and PayPal's guidance. How do you account for that gap?
A: We raised our full-year guidance. In the first look at that, analysts [looked at] what was in Q3 versus what was in Q4. I think the difference was between what the analysts had in those quarters and what we had in those quarters. But to be very clear, we just raised our guidance for the full year, so I think it's just a matter of what what was in Q3 versus Q4.
Q: PayPal is on an acquisition streak, and CEO Dan Schulman has said that PayPal could spend up to $3 billion per year on M&A. What's your acquisition strategy?
A: We've done four in the past couple of months, which demonstrates how we think about M&A: It helps to accelerate our offerings to our customers and what we want to do to serve them. We've got a really strong balance sheet, and the ability to act on that when we think it bolsters our offerings to our customers. We've really accelerated our ability to deliver new products to our customers; we've done 20+ partnerships in the last two years, and so on the 'build, buy or partner' scale, we've gotten really great at partnering. We rarely find ourselves in a position where we have to buy. And so we can use that selectively when we think it helps to accelerate our offerings to our customers, or helps us to go after a market opportunity more quickly. We rarely find ourselves in a position of having to buy. But when we see an opportunity to do so, we've got a great ability to act quickly on it given our really strong balance sheet.
Q: Can you elaborate on specific areas you're targeting?
A: We really look at how on the merchant side of our business, we're providing an end-to-end platform and a total range of commerce needs. We have a really great end-to-end platform today, but there are opportunities to round that out. You've seen us do that with things like iZettle and Hyperwallet that help us to round out the offerings for merchants, while at the same time we can do things that bolster our offerings to our consumer. Anything that helps us to go enhance the connection between consumer and merchant, that's really the thing that sets us apart in the ecosystem. We're the only player in the payments landscape that operates both on the consumer and merchant side in the ecosystem, and where they can control the experience end-to-end and do so at scale globally. So anything that helps to enhance that flywheel effect from consumer to merchant is certainly of interest to us.
Q: What's the latest with the iZettle buy?
A: We expect closing in the back half of the year -- we're signed to close, and as we bring iZettle on board, the thing we're really interested in is in-store mobile payment acceptance. There are 11 new markets we'll be able to enter as iZettle comes on board, which are the 11 markets they are in with in-store mobile payment acceptance that we're not yet in with that offering. We had it in the U.S. and U.K., but not in those 11 markets. And in those markets, we have millions of merchants who are using us for other things, and now we'll have great in-store offerings to bring to those merchants as well.
Q: Venmo is continuing to rack up new subscribers. Given the app's rising popularity, how's the revenue picture looking?
A: The three we have out there are early on, and seeing great receptivity in the market so we have a lot of growth to come in those. Seventeen percent of Venmo users have engaged in a monetized experience so far this year, and you're seeing really noteworthy merchants like Uber, Uber Eats, GrubHub (GRUB) - Get Grubhub, Inc. Report , Seamless, Eat24, Williams Sonoma (WSM) - Get Williams-Sonoma, Inc. Report , all adding dedicated Venmo buttons to their sites and apps. So we're very early innings and think there's a lot left to go but the really great [thing] to see is that there's fantastic customer demand for it, on both the customer and merchant side. So we think there's still tremendous growth left to go in those.