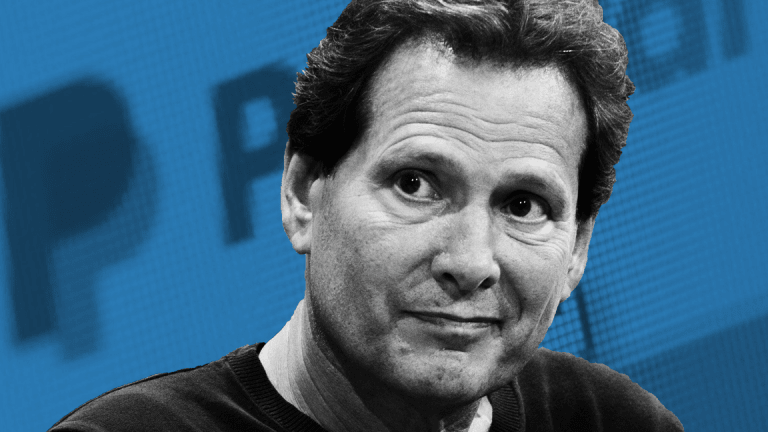 PayPal CEO Dan Schulman: In 20 Years "There Will Be No More Credit Cards"
PayPal CEO Dan Schulman talked cryptocurrency, Amazon and the future of Venmo at TheStreet's Investor Boot Camp conference in New York.
PayPal is more than just a button.
During an interview with Jim Cramer, PayPal Holdings, Inc.  (PYPL) - Get PayPal Holdings, Inc. Report CEO Dan Schulman gave his thoughts on everything from blockchain to Venmo's competitors at TheStreet's Investor Boot Camp conference in New York.
Schulman became president of PayPal in 2014 and has been CEO since 2015. Previously, he served as group president of enterprise growth at American Express Company (AXP) - Get American Express Company Report .
Here are three key takeaways from Schulman's talk:
1. Beware Cryptocurrencies
Schulman said that while he is a big believer in blockchain technology, PayPal and its mobile payments platform Venmo does not offer cryptocurrency exchange to protect its users, unlike competitors like Square's (SQ) - Get Block Inc Class A Report Cash app.
"We don't want to be a part of consumers losing large amounts of money," Schulman said.
PayPal does allow users to transfer digital currency from the cryptocurrency platform Coinbase once it has been transferred into fiat currency, "but we're not going to help mostly scammers hurt consumers around this," Schulman said.
2. Competition Doesn't Faze PayPal
While Amazon.com Inc. (AMZN) - Get Amazon.com, Inc. Report has launched Amazon Payments, a PayPal competitor, and the digital payments app Zelle competes with Venmo, Schulman said that competition "is like gravity -- there's always competition around."
"No one company is going to own digital payment companies, that's for sure," Schulman said.
He also said that Venmo is fundamentally different than Zelle, in that Zelle's average transaction size is about $300 and happen about once a month while Venmo users transfer smaller amounts of money more frequently -- about four to six times a week.
"I never ever downplay what my competitor is doing," Schulman said. "I think we have a healthy degree of paranoia."
3. In 20 Years, Credit Cards Won't Exist
Schulman said that as digital platforms like PayPal and Venmo become more popular in the financial services sector, traditional methods of payment like credit cards will be replaced by digital alternatives.
"Twenty years from now, there will be no more credit cards, really," Schulman said. "Why have them when you can have a QR code or NCR tablet?"
In that time, he said, everyone will have a smartphone, enabling consumers to have "full connectivity at a very low price."
There will always be a "funding instrument" behind these digital payment methods but instead of the color of a credit card, Schulman said consumers will care more about the value proposition of financial service options.