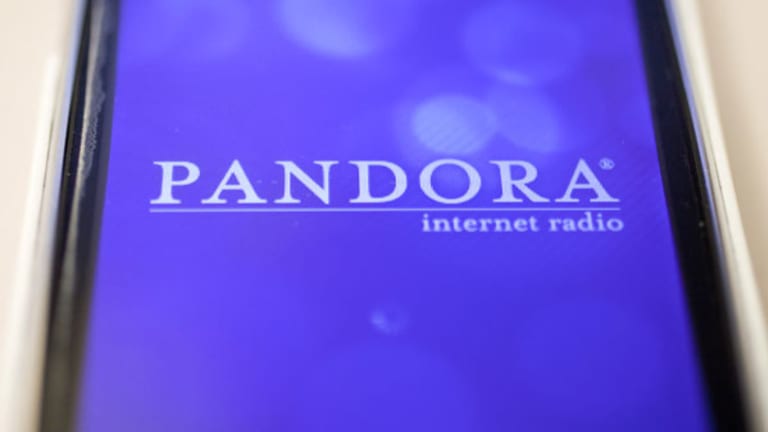 Pandora Throws Investors for a Loop
The streaming media giant posted strong earnings, topping revenue estimates, but guidance for the second quarter and rising costs have investors and some analysts spooked.
NEW YORK (TheStreet) -- Pandora (P) posted a strong earnings report Thursday after the close, but investors were unhappy with the outlook for the upcoming quarter, and were shedding the stock as a result.
For the first quarter of 2014, Pandora reported a loss of 13 cents per share on revenue of $180.1 million in non-GAAP accounting. On a GAAP basis, the company reported a loss of 14 cents a share. Analysts were expecting a non-GAAP loss of 14 cents on revenue of $175 million.
Despite the beat, Pandora lowered guidance for the current quarter to between breakeven and a profit of 3 cents a share. Analysts have been expecting the company to report a profit of 5 cents a share for the second quarter. For the full year, the company raised its guidance by a penny a share to earnings of between 14 cents and 18 cents, from a previously estimated range of 13 cents to 17 cents.
The company reported total listener hours for the first quarter grew 12% to 4.8 billion over the same period last year. Active listeners rose 8% to 75.3 million.
Total revenue was up 69% over the same period last year, with a advertising revenue making the bulk of that. However sales and marketing costs also rose 63% to $61.9 million for the quarter, indicating it may be getting harder to grow the company's market share. Total operating expenses rose 73% over the same period last year. Total cost of revenue, which includes content acquisition costs, was up 30% at $123.25 million.
Analysts widely diverged on the outlook for Pandora shares.
Oppenheimer analyst Jason Helfstein reiterated his $43 price target for Pandora, implying a 52% upside from Thursday's closing price. The analyst indicated he was impressed with the company's growth in what is typically its weakest quarter. In an Oppenheimer note this morning, Helfstein wrote:
Share of US radio now 9.1% vs. 8.6% in 4Q. Ad revenue accelerated to +45% y/y vs. +39% in 4Q, driven by strength in Audio (~65% of ad revenue), 12% above our estimate. We attribute this to solid local execution, with 70% of the local sales force operating at full capacity.
Citing a potentially "significant growth rate decline" Richard Tullo of Albert Fried downgraded the stock to "sell," lowering his price target to $20 from $23. In a report, Tullo said, "Despite strong revenue, Pandora's costs remained high in our view and the loss per share, $0.14, was greater then our $0.13 per share loss estimate."
While noting that Pandora offers a great service and has revenue growth potential, Tullo said "great Companies do not always offer attractive returns for equity investors. In this case . . . we think Pandora is a sell and the easy money was already earned by value investors."
Tullo added, "we think investors need to depart the bus and seek alternate modes of transportation."
Shares of Pandora closed Thursday up modestly at $28.20 but were tanking almost 7% in premarket trading.
-- Written by Carlton Wilkinson in Asbury Park