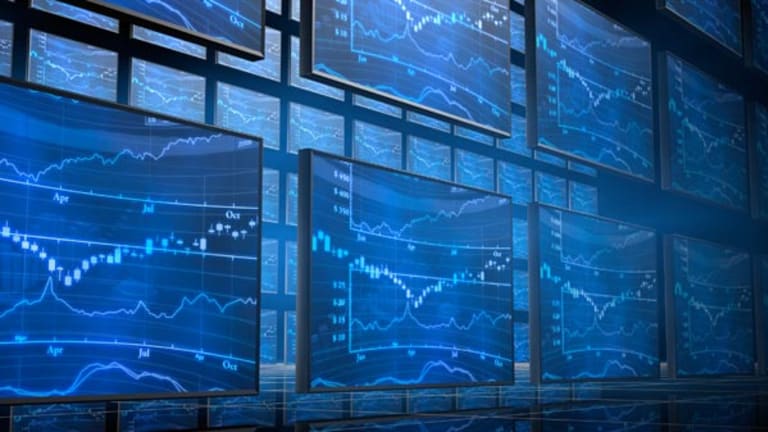 Pandora Shares Sing at Debut, Then Fall
Shares of Pandora, which reached as high as $26 early Wednesday, closed at $17.42.
Pandora IPO story updated with closing share price information.
NEW YORK (
) -- Shares of
Pandora Media
(P)
surged more than 63% in their market debut Wednesday, as strong investor interest in the social media sector continues.
But while the stock hit $26 at one point during morning trading -- which valued the company at more than $4 billion -- shares later fell to close at $17.42. The company raised $235 million in its IPO Tuesday, selling shares at $16 a piece.
Last week Pandora
increased its price to between $10 and $12
, up from its prior range of $7 to $9 a share.
Pandora's IPO comes in the footsteps of other recent Internet IPO successes including
LinkedIn
(LNKD)
, which
saw shares more than double
in its first day of trading, and
Yandex
(YNDX) - Get Yandex NV Class A Report
, the Russian Internet search shop that
saw its stock jump more than 40%
on its U.S. trading debut.
Pandora IPO Pressures Sirius Shares
While Pandora has posted significant growth and a rapidly expanding user base -- it comprises about half the Internet radio market --
it faces losses
and
from tech powerhouses like
Apple
(AAPL) - Get Apple Inc. Report
,
Google
(GOOG) - Get Alphabet Inc. Class C Report
and
Amazon
(AMZN) - Get Amazon.com, Inc. Report
, who are also breaking into the online music space.
Pandora lets listeners create personalized radio stations based on their tastes. Listeners can then provide feedback by selecting "thumbs up" or "thumbs down" to influence the types of songs that are played going forward.
The service is available for free through the Web, tablets and smartphones and is also integrated into the sound systems of several car makers. The company's iPad app is the most downloaded free app in the history of Apple's App Store and its iPhone app is the second-most popular, following
Facebook
.
Pandora generates about 87% of its revenue from display and audio ads. However, users can buy a subscription to the service to bypass ads.
Founded in 2000 by Tim Westergren,
Pandora has suffered several near-death experiences
since its inception including impacts of the dot-com bust, near-bankruptcy and lawsuits from the recording industry.
But despite the company's popularity -- it boasts more than 90 million users, up from 80 million in January -- it has never turned a profit.
"They control 50% of the Internet radio market, but they can't make money on a continuing, sustaining basis," Francis Gaskins, president of IPO Desktop,
told TheStreet.
"What will happen with Pandora is it will open
well, but it won't make any money in the after market -- there will be a lot of people coming in based on sheer enthusiasm."
Skeptics predict that Pandora's price will follow that of LinkedIn and Chinese social network
Renren
(RENN) - Get Renren Inc. Report
, whose shares are down about 20% and 60% respectively since their recent public debut.
Pandora's revenue climbed to $137.7 in fiscal year 2011 from $55.1 million during the prior year. Its net loss narrowed from $16.8 million to $1.8 million over the same period.
Pandora's giant-sized competition includes a new initiative from Apple, which last week
that will let users stream their music across multiple devices, rather than having to synchronize gadgets.
And in March, Amazon
introduced its Cloud Drive service
, an Internet service that lets customers store music and play it on their smartphones or computers.
Google has
also announced a similar service
called Music Beta.
In terms of pure-play Internet competitors, start-ups and apps like
Rdio
and
Slacker
offer services very similar to Pandora's.
Another significant problem facing Pandora: the sustainability of its business as its popularity grows.
The company will be forced to increased pay royalty fees to music labels as its user base expands. In addition, as more listeners gravitate to Pandora's mobile app, the company will need to further utilize audio ads which aren't as lucrative as display ads, said Tom Taulli, an independent IPO analyst.
"I'm bullish short term ... Pandora is tapping into some big trends there," he said. "But long term there are some clear issues with sustainability."
--Written by Olivia Oran in New York.
Readers Also Like:
Top Stocks to Buy and Hold Through 2011